With the 51[SUP]st[/SUP] DACapproaching quickly, I spent some time last week-end to look around about what new trends, technologies and innovations will be most talked about during DAC. Every year, I find some exciting new technologies in the semiconductor industry and the overall semiconductor ecosystem that get wider exposure to the community during DAC. This year I will not be surprised to see MEMS get more attention; more and more MEMS devices are being used for personal, industrial, automotive, security, medical, home and many other appliances.

Some time ago, I had talked about TI'sDLP technology, pico and phone projector. To my surprise, I see many companies working in this area – mini-projector for smartphones, micro-mirrors for many other applications, and others. Above is a picture of Fraunhofer's mini-projection system for smartphone, where a user can operate the smartphone via the projection function or from the display screen. Any portion of an image in the projection can be zoomed in by swiping the projection with your finger in the same way as on the display screen.
Clearly with development such as these, and the overall excitement about other areas such as the Internet of Things (IoT), wearable devices, and ubiquitous sensors there is a bright future ahead for many areas of electronic design – and addressing the entire overall solution from software, hardware, assembly and so on must happen. MEMS are in the center of almost all of this activity, so it reminds me to keep an eye on what MEMS design tools provider Coventoris doing and what they have to say about recent trends– since they are working with the world's leading MEMS developers every day.
When I reviewed Coventor website for their MEMS software tools offerings, I happened to go through some of their blogs and this was another proof of significant amount of R&D happening in developing new MEMS devices like these. A blog on bolometerstells me that there is great momentum around microbolometersand many of Coventor's customers have been asking for evaluation and specific support for these type of devices (which were not so much in demand earlier) in their simulation and design tools. MEMS is an area where every device needs to be customized and in today's business dynamics one cannot survive with the lengthy build-and-test cycles through foundry to qualify a device; simulation tools like SEMulator3D, CoventorWare and MEMS+ are a must to accelerate the process. In fact these tools will be very handy in exploring the development of new devices. I am happy to see that this trend is picking up!
Looking further into another blogby Gunar Lorenz, Director, System Level Simulation at Coventor, I got a bit of a 'sneak peek' at the upcoming release of Coventor's new MEMS+ 5.0 platform (MEMS+ is a very innovative platform for helping designers combine MEMS with traditional ICs, an important trend in electronic design these days). The new release will be announced over the summer and it has many new capabilities for developing cutting-edge devices, about which I can talk later in much detail. But the preview blog post discussed some new features around the design of Micro Scanning and Projection Mirrors.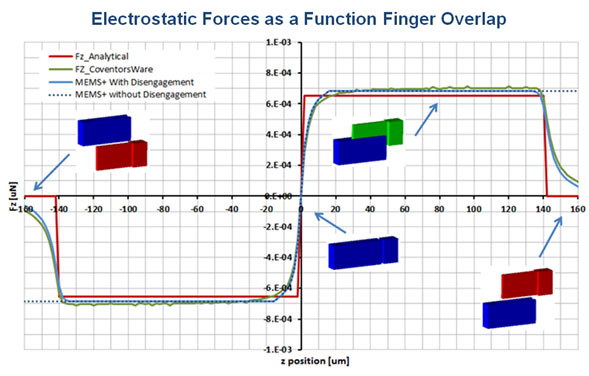 Typically, the electrostatic comb structures, which tilt the mirror out-of-plane, disengage completely during the mirror operation, and it's a big challenge to keep the system in sync. In MEMS+ 5.0, the comb library components stay accurate even with the comb fully disengaged and that is reflected in the above graph where there is excellent agreement between MEMS+ with disengagement and the CoventorWare field solver.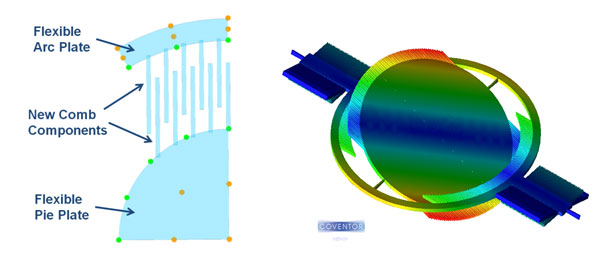 Again, comb fingers between two moving flexible structures, a key modeling requirement for gimbaled two-axis mirrors, is now supported in MEMS+ 5.0 comb finger models.
The new release of MEMS+ will also feature a ROM (Reduced Order Model) export capability that can address the challenge of simulating frequency hysteresis, which typically requires large simulation time due to large number of time steps involved. This capability goes much beyond the typical multi-threading and algorithmic optimization of software to accelerate simulation speed. There is much more to look forward to in MEMS+ 5.0 release, and I'm eagerly waiting to write more about it.
I must say – it's a great two way communication between the device developers and the tool enablers that gives rise to new devices and customizes and refines the existing ones for their application into ever newer smart electronic systems. With such automated tools and plenty of opportunities ahead, particularly in the much-talked about world of IoT, I am sure we will see a multitude of new MEMS devices that will be used in areas we haven't even imagined yet.
More Articles by Pawan Fangaria…..
lang: en_US

Share this post via: