Yes, it's a pleasant surprise; it is Virtual Fabrication Platform, one of the new innovations in 2013. I was looking around for what kind of breakthrough technologies will be announced in DAC this year. And here I came across this new kind of innovative tool which can produce final virtual fabricated 3D structures after following all the complex steps of actual fabrication process based on process parameters and design data. Amazing, isn't it?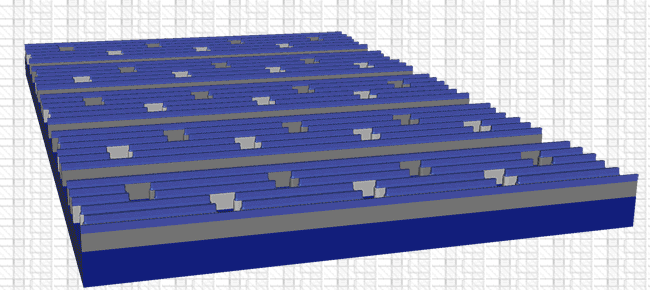 Coventor has introduced SEMulator3D (currently available for shipping) at the right time when we are talking about 3D transistors (Tri-Gate, FinFET and the like), High-k/Metal Gate and sub 22nm processes which come with their own challenges of fabrication. While complexities of process technology are hitting the limits, in order to keep the Moore's law (according to which the number of transistors on an IC will double in every two years) alive, we must reduce the number of iterations and shorten the time between design and final physical silicon.
It's a commendable job by Coventor, who, amid increasing complexities at sub 22nm process nodes and 3D Gates, has come up with this new process modelling paradigm. It handles the complexities of integrated 3D front-end-of-line (FEOL) manufacturing processes quite well. On the virtual automated platform, it reduces the cycle time between fabless design and foundry from months to days or hours, hence seamlessly increasing collaboration between the two teams and reducing cost dramatically.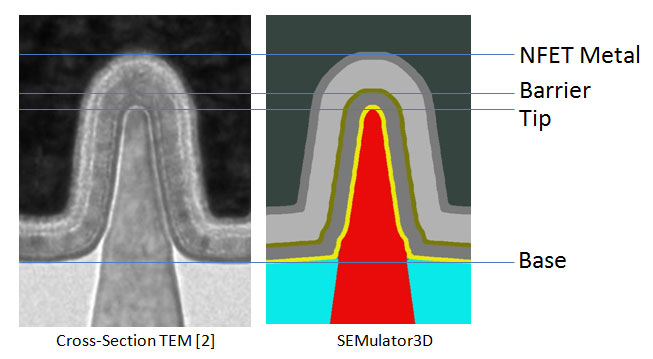 The SEMulator3D engine employs advanced physics-driven predictive modelling techniques, such as voxel and surface evolution, which bring high order of physical accuracy. Voxel modelling is a fast and robust digital approach, capable of scaling to the requirements of integrated processes and large silicon areas. Surface evolution is a more analog approach, capable of modelling a wide range of physical process behaviours. I would like to write more about these technologies in future, but for now I can foresee that the concept of SEMulator3D will gain importance and proliferate widely to meet the challenges of today's semiconductor design and fabrication. SEMulator3D also provides automatic process variation analysis with parallel modelling and virtual metrology that enable in-line, local measurement of critical dimensions, mimicking real metrology operations.
SEMulator3D is a must to reduce silicon learning cycles, faster time-to-market (especially for new 20nm and below process nodes) and saving $$ spent in reaching manufacturing readiness.
For more information –
Visit Coventor booth # 1326 at DAC 2013
Attend a technical presentation by CTO of Coventor, Dr. David Fried on "Virtual Fabrication: Integrated Process Modelling for Advanced Technology" at SEMICON West – San Francisco, CA, July 9 – 12
See Coventor press release here.

Share this post via: