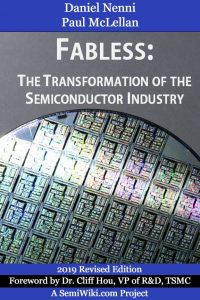 We covered the ASIC business in Chapter 2 of our book "Fabless: The Transformation of the Semiconductor Industry" using VLSI Technology and eSilicon as shining examples. Neither of which now exist. The ASIC business model was a critical steppingstone in the transformation of the semiconductor industry. Many systems companies started with ASICs only to become fabless systems companies who now dominate their market segments.
Apple for example. In fact Apple started with eSilicon for ASICs before moving to Samsung and finally acquiring and building teams internally. The SoC inside the Apple iProducts is second to none, absolutely, and it all started with eSilicon.
Inphi and Synopsys acquired eSilicon, it was formally announced today. The rumor had been swirling for weeks but the final bidder was yet to be determined.
Inphi to Acquire eSilicon, a Leading Provider of 2.5D Packaging, SerDes and Custom Silicon
SANTA CLARA, Calif., Nov. 11, 2019 (GLOBE NEWSWIRE) — Inphi Corporation (NYSE: IPHI), a leading provider of high-speed data movement interconnects, today announced that it has signed a definitive agreement to acquire eSilicon for $216 million in both cash and the assumption of debt.
"I am delighted with these transactions from Inphi and Synopsys, two extraordinary companies in their markets. Our engineering talent, IP and customer relationships in networking, data-center and cloud, telecom 5G infrastructure and AI will help enhance their respective offerings," said Jack Harding, president and CEO of eSilicon. "I thank all our customers, employees, partners and investors for the unwavering support and commitment they have provided eSilicon over the years."
"The Inphi team is excited to enhance our value proposition to our cloud and telecom customers with the addition of the eSilicon team and IP," said Ford Tamer, president and CEO of Inphi. "eSilicon adds to Inphi world-class 2.5D packaging, SerDes, custom silicon and operations teams. Just as we successfully leveraged our Cortina and Clariphy acquisitions, eSilicon will advance our shared commitments in driving successful customer engagement, industry-leading innovation, and best of class execution."
Acquisition Will Expand DesignWare IP Portfolio and Add a Team of Experienced R&D Engineers to Serve Growing AI and Cloud Markets
"Today's complex SoCs require a broad range of IP to address stringent performance, power and area requirements of advanced applications such as AI and cloud computing," said Joachim Kunkel, general manager of the Solutions Group at Synopsys. "The acquisition of eSilicon's IP will expand our portfolio and enable us to meet our customers' need for high-quality IP across advanced FinFET process technologies from a single trusted supplier with common licensing terms and support infrastructure."
The transaction, which is expected to close during Synopsys' first quarter of fiscal 2020, is not material to Synopsys' financials and is subject to Vietnamese regulatory approval and customary closing conditions. Terms are not being disclosed.
In other ASIC déjà vu moments, the once dominant IBM ASIC business (acquired by GlobalFoundries) was spun out and sold to Marvell in May of 2019:
"Our acquisition of Avera enables us to offer the complete spectrum of product architectures spanning standard, semi-custom to full ASIC solutions," said Matt Murphy, president and CEO of Marvell.  "With their highly experienced design team and Marvell's leading technology platform, we will be better positioned to capitalize on our expanding opportunity in wired and wireless infrastructure, starting immediately in the fast growing 5G base station market.  In addition, we are looking forward to furthering our successful partnership with GLOBALFOUNDRIES in the coming years and beyond."
"This transaction is another example of our commitment to focus on our core business of providing differentiated foundry offerings as a manufacturing service provider, while establishing deeper relationships with customers who are leaders in their respective sectors," said Tom Caulfield, CEO at GLOBALFOUNDRIES.  "With this deal and our growing strategic partnership with Marvell, we will forge new opportunities for the teams of both companies to leverage GF's broad set of offerings to capitalize on the 5G infrastructure market as well as other opportunities.  We look forward to becoming a strategic provider for Marvell for decades to come."
Under the terms of the agreement, Marvell will pay GLOBALFOUNDRIES $650 million in cash at closing plus an additional $90 million in cash if certain business conditions are satisfied within the next 15 months.  The transaction is expected to close by the end of Marvell's fiscal year 2020 pending receipt of regulatory approvals and other customary closing conditions.
The "certain business conditions" mentioned above is a deal with Hauwei that is still in limbo.
And the ever popular Open-Silicon was acquired by SiFive in a somewhat secretive $60m 2018 transaction. Naveed Sherwani, co-founder and board member of Open-Silicon was appointed CEO of fabless chip company SiFive in 2017 and the rest as they say is history in the making.
There are dozens of services companies doing ASICs and it has never been easier for a systems company to do their own SoC with the mature EDA, IP, and Foundry businesses. And the semiconductor talent pool has never been deeper.
So the question is: Is the traditional ASIC business model dead?
Share this post via: