I've covered Arm Neoverse updates a few times already, a span of products with application from the cloud through infrastructure to the edge. Logical strategy of course but Arm has been delivering some impressive wins suggesting this is more than just a loose marketing concept. Overlap with NVIDIA in datacenters and supercomputing are also suggestive. Arm strength in communication infrastructure, particularly in 5G potential, is another hint. All driven by systems houses who are getting into chip design because they have to, rather than necessarily want to. Lots of new technology in high value, high margin designs which as chips could justify NVIDIA's $40B investment. Maybe Arm also continues the IP business but the real money is going to come from chips leveraging Neoverse tech and NVIDIA GPU/AI tech for these markets. I should stress that this is purely my speculation.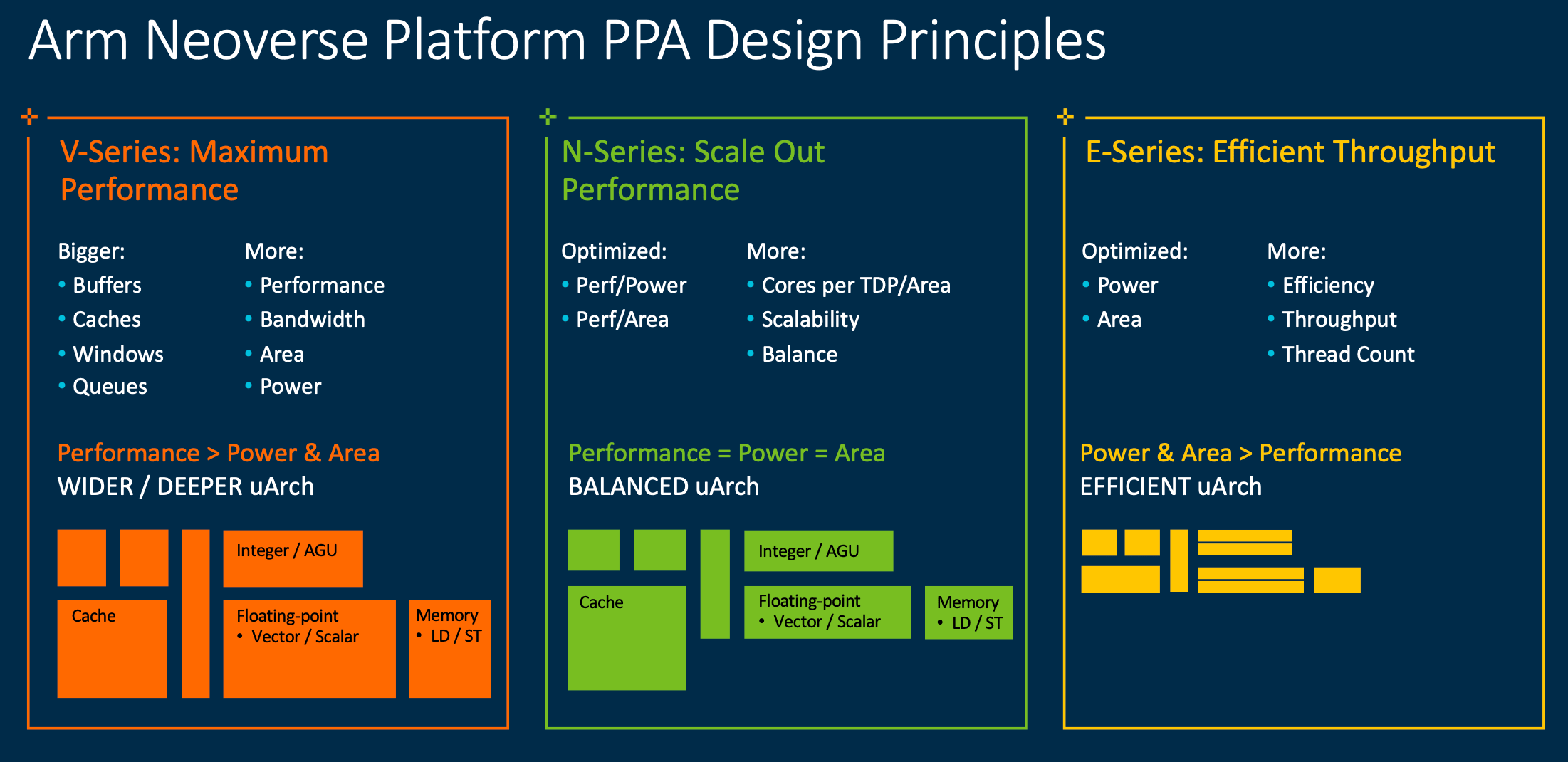 Arm Neoverse progress in the cloud
Chris Bergey, Sr. VP and GM of Infrastructure at Arm (a recent acquisition, previously a Sr. VP at Western Digital) announced the 2020 lineup for Neoverse. He reminded us that there have already been public announcements from 4 of the top 7 hyperscalers about Arm-based server deployments. They continue to encourage cloud-related software ecosystem support through capabilities like Docker and Kubernetes and he referenced work Microsoft has been doing on Open JDK and Amazon has been doing on PHP. All of this folding Arm more and more tightly into the cloud.
V, N and E series processors
When Arm launched Neoverse in 2018 they talked about a roadmap for a series of platforms. In 2019 they refined the structure to an N1 platform for cloud/infrastructure and E1 platform for the edge (the boundaries are a bit fuzzy). AWS built their Graviton processor on N1, introducing the A1 instance to the EC2 menu of compute options. Chris acknowledged that while they talked about a power-performance message in positioning these instances, it didn't resonate strongly since servers aren't battery-powered (I wondered too).
Now they've refined their story. An N series platform balances performance, area and power, as before. An E series platform prioritizes area and power over performance (for the edge). Now Arm are introducing a V series (previously Zeus) with scalable vector extensions (SVE) which puts performance first, allowing for some compromise in area and power. This can deliver approaching a 2X performance uplift over N1, allowing the silicon partner some level of implementation control. It also supports CCIX for cache coherence across die/packages. Since Fujitsu/Fugaku is one of the quoted references on this topic, I'm guessing they depended on that capability. So the V series now directly addresses that earlier datacenter performance concern. For applications that still need power-performance efficiency, later this year they will introduce an N2 platform with 40% higher per-thread performance to further enhance scale-out support.
Arm Neoverse in communication infrastructure
Back to my speculation. A major trend in infrastructure outside the datacenter is to Open-RAN. Network operators desperately need more efficient and cost-competitive solutions over traditional RAN architectures, especially as 5G demand grows. Which is why they are pushing open standards very hard. The default hardware support in many cases is big GP-CPUs and FPGAs, both expensive. Operators are looking for more flexible and competitive solutions to populate central and distributed units and gateways/small cells. Right now, there's a shortage of chips to drive this development. That seems like a pretty compelling opportunity for NVIDIA+Arm.
You can read the announcement HERE.
Share this post via: