This wasn't as much of a big bang announcement as others I have seen. More a polishing of earlier-announced reveals, positioning updates, together with some new concepts. First, you probably remember the Cortex-X announcement from about a year ago, allowing users to customize their own instructions into the standard instruction set. A response to similar flexibility in RISC-V. I get the impression this started as a tactical response to specific customer needs. Understandable, but you could see how that could get of control as interest spreads more widely. Richard Grisenthwaite, Sr VP, Chief Architect and Fellow at Arm talked about rationalizing standardization versus customization in a spectrum of support. Details not revealed yet but makes sense.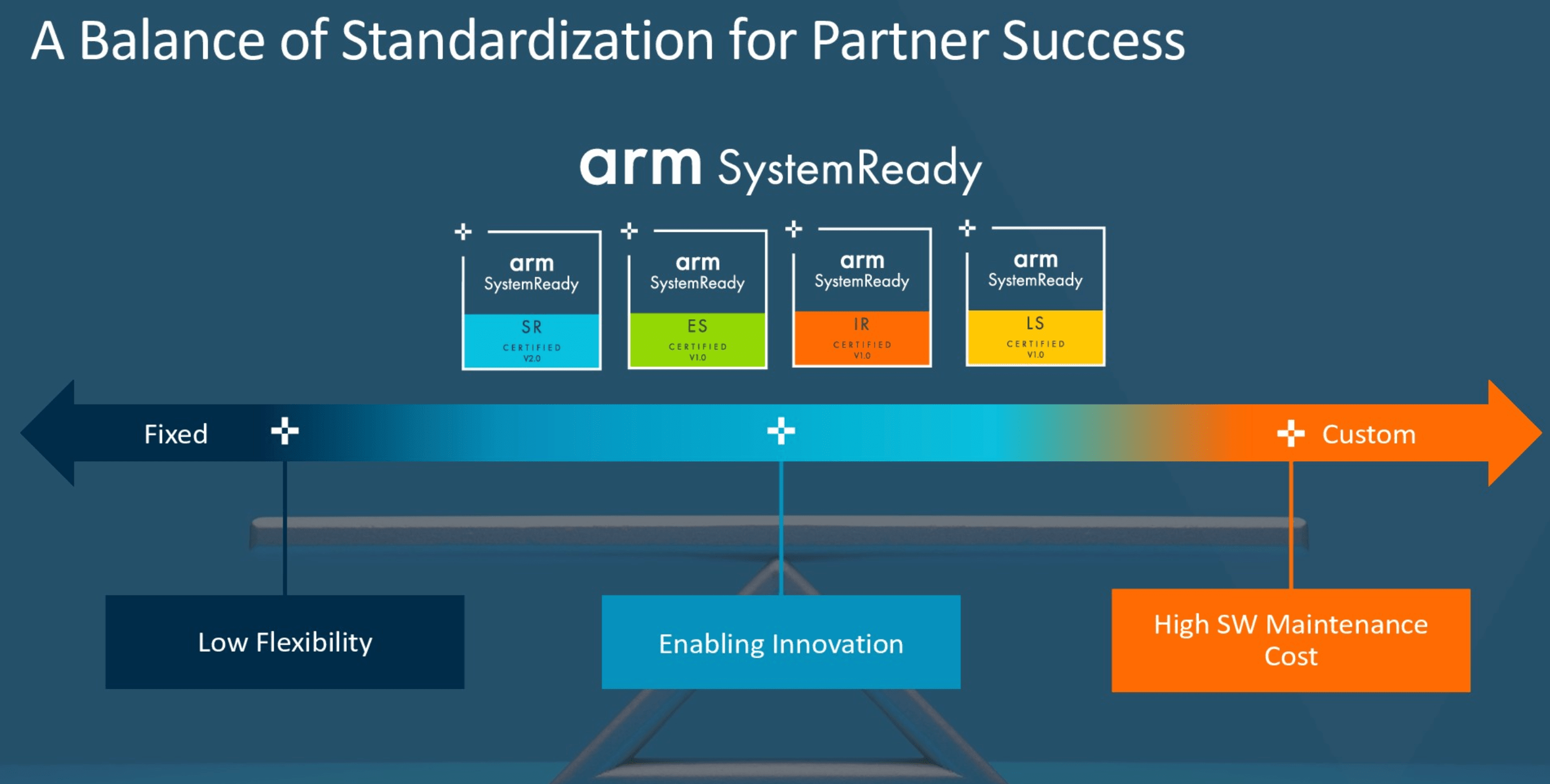 Who's interested?
Richard nodded to the Fugaku supercomputer in his talk, that they possibly took advantage of this v9 flexibility. And he nodded to AWS Graviton2, as another potential beneficiary. But he added that really the rush to differentiate dominates every place we compute, from the cloud to the edge. Hence the balancing act in v9. Preserving all the benefits of standardization and compatibility with a massive ecosystem. While still allowing integrators to add their own secret sauce.
There's more
That's not all there is to v9. They have launched a rolling program with enhancements to machine learning, DSP and security in CPU, GPU and NPU platforms. Take machine learning first. Arm continues to stress that the range of ML-applications can't be met with a one-size-fits-all solution. So they continue to extend support in A, M and R processors, working closely with colleagues at NVIDIA. (Jem Davies followed with more detail on this topic.)
DSPs?
This one took me a little by surprise. Looking backward, Arm didn't make much noise about DSPs. Perhaps because they didn't see a big enough opportunity? But the range of DSP-related applications has been exploding. In automotive for infotainment audio, communication, sensing, driver alertness, road noise suppression, V2X. More in consumer audio (wireless earbuds for example). No doubt again a spectrum of needs where Arm sees an opportunity for enhanced standard processors rather than dedicated DSPs? Richard didn't elaborate.
He did however mention that the scalable vector extensions (SVE) they developed with Fujitsu for Fugaku. Expecting this capability to be extended to a much wider range of applications. He mentioned they have already created SVE2 to work well with 5G systems. I assume baseband applications you might normally expect high-end processors or DSPs to fill today. That can only be good; room for more kinds of embedded solution.
Security
Arm continues to emphasize security and thank goodness for that because I see no other central force to drag us towards building secure distributed systems. Impressively a following panel on this topic included a panelist from Munich RE Group. Investors care about liabilities. The easy-going days of "we can figure this out on our own" are drawing to a close.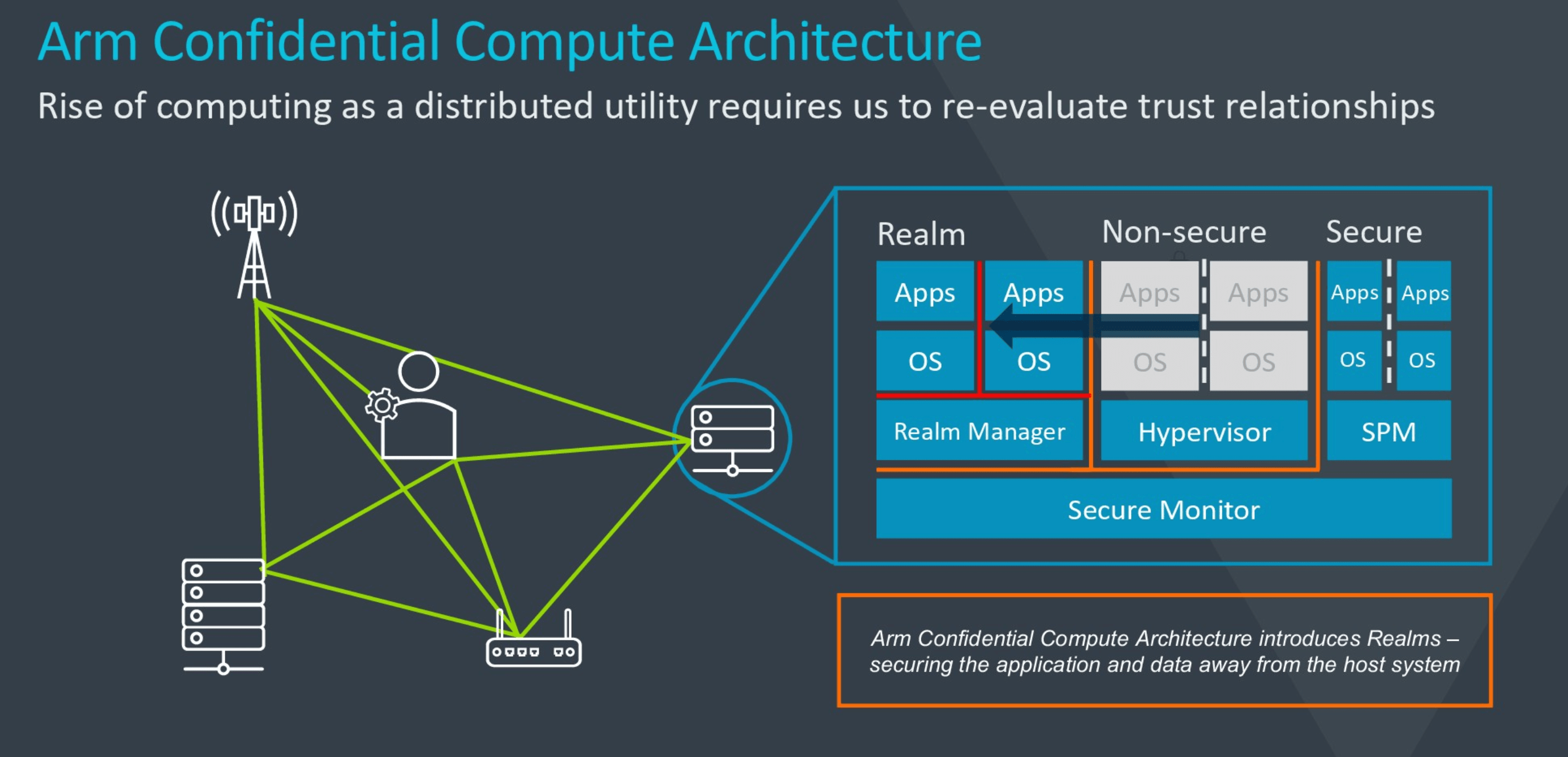 Arm see security stakes being raised by distribution of compute between edge devices and compute nodes through wireless and backhaul networks. Application developers and service providers will want to run tasks where it makes most sense, without having to worry about which compute nodes have what security.
Here Richard talked about a confidential compute architecture to preserve data security. Arm plans to reveal more details on this architecture later in the year. One concept they will introduce is dynamically created realms, zones in which ordinary programs can run safely, separate from the secure and non-secure zones we already understand. Service customer apps and data need to be ensured high levels of security, yet the current view of secure versus insecure zones on a device doesn't really address that need. (Where would such a task run? In the secure zone? Heck no. In the insecure zone? Ditto.) Realms provide a separate computation world outside the secure and non-secure zones, designed to depend on a small level of trust in the rest of the system. Even if a hack compromises components of the system, an app and its data running inside a realm can still be secure.
More security extensions on the way
Arm has also been working with Google on memory tagging extensions to protect against the memory safety issues we will never eliminate in our software. They've been working with Cambridge University on their Capability Hardware Enhanced Risk Instruction-Set Architecture (CHERI) to further bound vulnerabilities, all the way down to the ISA level. And they're working with the UK government on a program called Morello, designed to bound the scope of any breach that does get a foothold.
Lots of interesting work: rationalization of the extensions program, more ML-everywhere and an interesting start into DSP markets. You can read the press release HERE.
Share this post via: