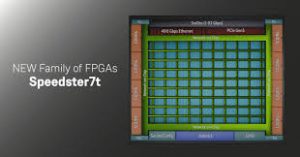 FPGAs, today and throughout the history of semiconductors, play a critical role in design enablement and electronic systems. Which is why we included the history of FPGAs in our book "Fabless: The Transformation of the Semiconductor Industry" and added a new chapter in the 2019 edition on the history of Achronix.
In a recent blog post "FPGAs in the 2020s – The New Old Thing" Achronix reminds us that even though FPGAs are 35 years old the coming age of AI in the cloud represents a new FPGA growth opportunity to which I agree to 100%. In fact, during our first webinar series last year the Achronix ML webinar broke analytic records.
Whether on the edge (eFPGA) or in the cloud (FPGA), programmable technology will play a critical role with the explosive data growth of the 5G era which has just begun.  We started tracking AI on SemiWiki in Q4 of 2015 and have published 182 blogs that have garnered close to one million views which is quite good. We also get to see who reads what, when, and where. Just to net it out, AI is everywhere and companies big and small are consuming AI design enablement information as fast as we can publish it, absolutely.
Back to the Achronix blog post "FPGAs in the 2020s – The New Old Thing", it is full of interesting data and links that will be of great use if you are investigating FPGA use in the 5G era. I have also spent many hours researching AI and have finished several AI projects in collaboration with some big name companies and SemiWiki partners. Hit me up in the comments section if you want to talk more. AI is coming, there is no stopping it, and it is exciting so let's talk.
FPGAs in the 2020s – The New Old Thing, January 8, 2020
FPGAs are the new old thing in semiconductors today. Even though FPGAs are 35 years old, the next decade represents a growth opportunity that hasn't been seen since the early 1990s. Why is this happening now?
There continues to be a data explosion in the world, with IDC predicting over 175 zetabytes of data will be generated annually by 2025. With this much data, there is a tremendous opportunity to analyze it for insights that can change and influence the world. AI will play a huge role in this data mining operation, and companies are growing their workforce with deep skills in machine learning and data analytics to meet the challenges of the future…
And don't miss the upcoming Achronix webinar:
New Block Floating Point Arithmetic Unit for processing AI/ML Workloads in FPGA
Abstract:
Block Floating Point (BFP) is a hybrid of floating-point and fixed-point arithmetic where a block of data is assigned a common exponent. We describe a new arithmetic unit that natively performs Block Floating Point for common matrix arithmetic operations and creates floating-point results. The BFP arithmetic unit supports several data formats with varying precision and range. BFP offers substantial power and area savings over traditional floating-point arithmetic units by trading off some precision. This new arithmetic unit has been implemented in the new family of 7nm FPGAs from Achronix. We cover the architecture and supported operations of the BFP unit. In this presentation, artificial intelligence and machine learning workloads are benchmarked to demonstrate the performance improvement and power savings of BFP as compared to half-precision (FP16) operations.
About the presenter
Dr. Mike Fitton is senior director, strategy and planning at Achronix. He has 25+ years of experience in the signal processing domain, including system architecture, algorithm development, and semiconductors across wireless operators, network infrastructure and most recently in machine learning.
Share this post via: