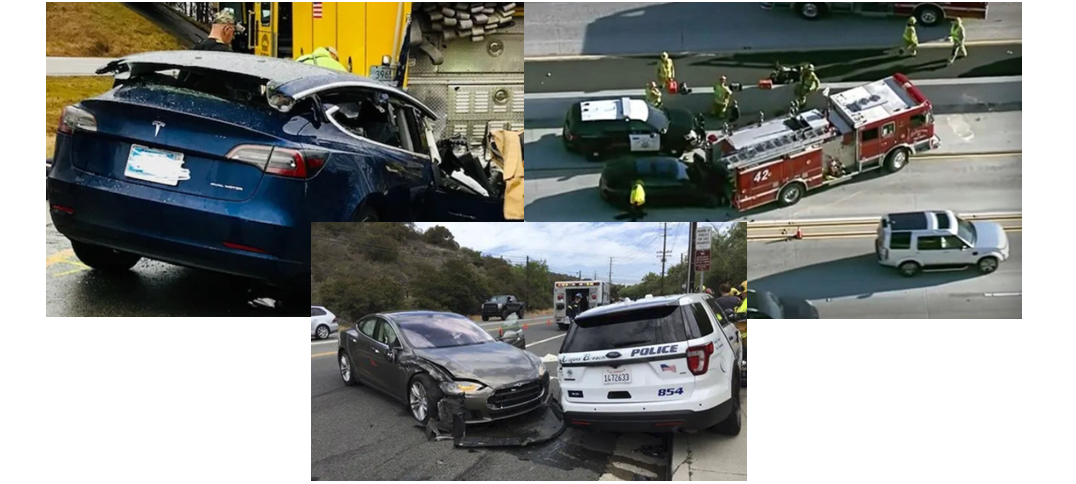 Believe it or not, Tesla Motors is teaching us to be better drivers. One of the most remarkable lessons we are learning is that motor vehicles on public roadways ought to stay away from emergency and other service vehicles. In the U.S., we can all expect to hear more about "Move Over" laws – now enacted in all 50 states.
It sometimes seems as if Tesla vehicles have an uncanny ability, while operating in Autopilot mode, to collide with emergency vehicles parked on highways while on official business. The latest incident occurred on December 29th in Cloverdale, Ind., when a Tesla Model 3 collided with a fire truck on Interstate 70. The fire truck reportedly had its lights flashing while parked in the left lane. A passenger in the vehicle was killed. (Coincidentally on the same day in Gardena, Ca., a Tesla Model S also reportedly operating on Autopilot ran a stoplight and crashed into the side of a Honda Civic, killing its two occupants.)
Let's be clear about one thing. Non-Tesla vehicles get into crashes every day in the U.S. (and around the world) resulting in 100 lives lost daily in the U.S. (3,500 globally). Highway fatalities have become sufficiently routine as to be accepted as the cost of owning and operating our own cars on public rights of way.
Tesla crashes and the associated injuries and fatalities, on the other hand, are news events because the company has introduced computer-based driving into the equation in such a manner as to appear reckless and inspire opposition and outrage. Tesla crashes are also news events because they remain relatively rare.
The unique inclination of Tesla's operating on Autopilot to collide with emergency vehicles, though, has shown a spotlight on a big problem for which a solution may be in the offing. Last week, U.S. Department of Transportation Secretary Elaine Chao announced the commitment of $38M to equip emergency response vehicles and infrastructure with life-saving V2X technology in the 5.9GHz band. Chao noted that emergency response vehicles are involved in roughly 46,000 crashes, causing 17,000 injuries and 150 fatalities annually.
The First Responder Safety Technology Pilot Program described by Chao will provide funding to equip emergency response vehicles, transit vehicles, and related infrastructure including traffic signals and highway-rail grade crossings with V2X technology. Chao did not specify the nature of the V2X wireless technology but her comments were interpreted to be technology agnostic – though she did note the agency's preference that 5.9GHz be preserved for transportation applications regardless of the technology.
Chao's announced plans mirror legislation sponsored by U.S. Senators Dick Durbin (D-IL), and Tammy Duckworth (D-IL) and introduced in 2019 intended to establish a new national safety priority within an existing federal grant program to increase public awareness of "Move Over" laws and encourage implementation of life-saving digital alert technology.
The USDOT's announcement of these initiatives also follows appropriations language secured by Durbin, establishing a $5M pilot program to test and deploy these digital alert technologies to protect law enforcement, first responders, roadside crews, and others while on the job. (Worth noting a demonstration at CES2020 by Veoneer and Verizon equipping roadside workers with 5G infused safety vests for communication with oncoming vehicles.)
Chicago-based HAAS Alert supports the Senate bill. The company has spent years implementing its vision of a "Safety Cloud" intended to aggregate digital alerts derived from tracking devices mounted on emergency response and service vehicles.
The effort by HAAS Alert to create its safety cloud has taken many forms, but progress has been steady. The goal is to deliver a driver alerting system that might integrate with embedded in-vehicle infotainment systems and or smartphones to warn drivers of emergency vehicles stopped in the road ahead or approaching from behind or even approaching perpendicularly at an upcoming intersection.
On January 6, Haas Alert announced a deal with Oshkosh-Pierce Manufacturing whereby HAAS Alert digital alerting technology will be included as a standard safety feature at no additional cost in Pierce's custom fire apparatus and as an available aftermarket solution for apparatus currently in service. HAAS Alert struck a similar deal with vehicle maker RevGroup in 2018.
Other HAAS Alert deals and initiatives include:
Signed a partnership with Code3, one of the largest emergency vehicle and work truck market light manufacturers
Performed a Sprint "5G" test for emergency vehicle to emergency vehicle communication
Surpassed 100M driver alerts in September 2019; now in use in more than 90 cities
Fire Standards committees: NFPA950/951 added Digital Alerting language into standards. NFPA1901 is in public comment to have a standard for Digital Alerting into the fire space.
Integrated head unit digital alerting pilots with multiple automotive OEMs and suppliers
First DOT fleets added in 2019 along with utility trucks, a major U.S. Turnpike, DOT snowplows, a large state tollway. All with flashing light vehicles which will send out Digital Alerts to drivers.
Awarded Department of Homeland Security contractor for First Responder V2X – already commercialized and deployed
NHTSA funded Digital Alerting grant in 2019 for deployment and a study, Michigan's PlanetM funded deployment of digital alerting
Awarded an Air Force SBIR Contract for fleets
Co-founder of non-profit (https://www.arrowcoalition.org/ ) to bring awareness of Move Over Laws
HAAS Alert has learned that it isn't easy to "do the right thing" when it comes to saving lives with driver alerting technology. Secretary Chao's announcement has created confusion emphasizing, as it does, V2X technology. The HAAS Alert safety cloud is not yet a V2X solution – it is a V-2-cloud-2-V solution today. HAAS Alert has had to create a chipset swappable solution capable of supporting 3G, 4G, LTE, 5G, FirstNet, DSRC, and AT&T and Verizon SIMs. (The HAAS Alert solution does provide for inter-vehicle communications between first responder vehicles.)
To help spread the word on its safety cloud HAAS Alert has published a guide describing both the safety cloud and something the company calls FleetFusion (https://tinyurl.com/tthyd3z). The company also integrates with Geotab and ESRI/ArcGIS platforms: https://www.prnewswire.com/news-releases/haas-alert-launches-on-the-geotab-marketplace-to-offer-enhanced-safety-service-300937015.html
By now it's clear that first responder fatalities are a problem for all road users, not just drivers of Tesla's with Autopilot. There were 49 first responders killed in 2019 as a result of 90,000 collisions – the greatest single source of fatalities for this community. Illinois, alone, saw three state troopers die in roadside crashes. The numbers are already on the rise in 2020. Tesla is teaching us to Move Over. HAAS Alert is showing us how… and when.
Share this post via: