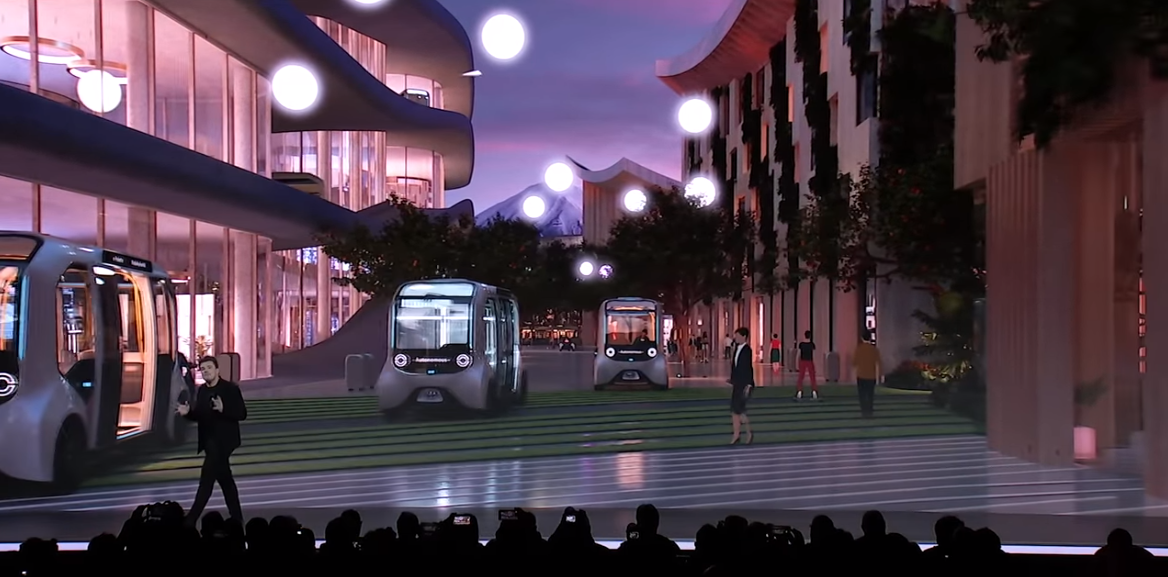 Car companies are interesting creatures in a corporate world increasingly dominated by Internet-centric behemoths from Silicon Valley, Seattle, and China. While the denizens of the Internet have demonstrated their ability to create billions of dollars in shareholder value from the whims and whimsy of browsing consumers, car companies have built their valuations on approximating the desires of their potential customers and selling expensive hardware one unit at a time – usually through networks of dealers.
While Internet-centric companies thrive on instant gratification, building solid foundations of value upon instant consumer feedback, car companies can be seen to be more or less "guessing" what consumers will want or need years in the future – due to the long product development cycle. When car companies get it right they, too, can create massive shareholder value from strong positive responses to their products: the Volkswagen Beetle, the Ford Model T, the Toyota Corolla.
At CES2020, just a few weeks ago, maximum car maker consternation at the future vehicular desires of consumers was on full display with an emphasis on autonomous vehicles and even flying cars. As the maker of the single most popular vehicle of all time, the Toyota Corolla, Toyota was notable for touting its Woven City concept for a living environment enabled by artificial intelligence and ruled by robots and autonomous vehicles.
CES2020 – Toyota presentation of Woven City concept – https://www.youtube.com/watch?v=NME7pGh-7rk
This utopian or dystopian vision, depending on your point of view, reflected Toyota's  desire to both segregate and weave together different forms of human transportation moving at different speeds: from pedestrians on foot to low-speed micro-mobility systems, to e-Pallette autonomous shuttles. Toyota intends to break ground on this vision at a 175-acre former manufacturing facility in the shadow of Mt. Fuji in 2021.
In a press event at CES2020 Toyota's CEO, Akio Toyoda, described the Toyota Woven City vision as a testing facility populated with as many as 2,000 citizens and accessible to scientists from Toyota as well as third parties to test new urban dwelling and transportation concepts. An appreciative audience warmly greeted Toyoda's conceptual vision, but perhaps they were simply being polite. The implications of Toyota's Woven City are both troubling and promising and CES2020 attendees can be forgiven for recognizing innovation.
Toyota is to be applauded for affirmatively proposing a solution to the challenges of supporting human life with all of the economic, energy, and ecological concerns currently confronting policy makers and governments. It is no surprise that Toyota emphasizes hydrogen fuel cells at the heart of its vision along with e-Palette autonomous shuttles.
Toyota was kind enough to create a CGI-type rendering of life in the Woven City showing a complete absence of individually owned and operated vehicles – which have been replaced by e-Pallette shuttles. E-Pallette shuttles are also used as delivery vehicles and mobile retail and service delivery platforms in this city of the future.
Perhaps the strangest aspect of the Woven City video is that the kind of walkable urban space that is imagined looks almost identical to the existing walkable spaces created in the typical Tokyo landscape of today. Tokyo itself is a highly walkable city, with wider pedestrian areas – above and below ground – created for shopping, dining or nightlife. It is almost as if Toyota is trying to compete with and/or replace a cityscape that is already functioning effectively.
We can forgive Toyota for focusing so narrowly on the promotion of its e-Pallette concept in addition to hydrogen propulsion. There are many experts and analysts forecasting a future dominated by autonomous shuttles – but few such visions have suggested the complete exclusion of individually owned vehicles.
More remarkable, from the video shared at CES2020, was the division of transportation below and above ground. In the Woven City vision, utilities and product deliveries are managed below ground, while all people moving appears to take place above ground. In fact, the video shows very little people moving taking place.
It is hard to accept this Toyota vision of the future from a nation where the subway system in the nation's capital, Tokyo, moves more than eight million riders daily. The Woven City has no such subway system in addition to having no cars.
But let's assume, for a moment, that e-Pallette's will take on the role of people moving. This raises the question of what the future of Toyota's vehicle marketing will become. Does the Woven City suggest a future of Toyota selling commercial vehicles in the form of autonomous e-Pallette's to developers and cities?
It is worth bearing in mind that Toyota has a majority owned subsidiary – Toyota Housing Corporation – that is in the business of building detached houses and housing products for Japanese consumers. It's not clear whether the Woven City vision represents an extension of this corporate vision, but it is worth noting – especially given the fact that Toyota Home stores can be found in most Japanese cities.
The only criticism of the Woven City expressed in press reports came in reference to potential privacy violations or to the process of selecting the up-to-2,000 residents of the city. All in all, the entire venture appears far too artificial to address relevant challenges facing urban leaders around the world today.
Transportation is at the core of many of the woes facing cities today. Many of the largest urban centers on the planet have maxed out their ability to accommodate individually owned and operated motor vehicles and are putting policies in place to pry people out of their cars.
The latest initiatives include selling transportation as a subscription or service packaged in segments of hours or days or weeks and aggregated across multiple means of transportation – with an emphasis on public/shared resources. Some cities in the U.S., Europe, and elsewhere have gone further by making public transportation of one kind or another – buses in particular – entirely free.
These strategies, intended to leverage existing infrastructure at minimal cost and maximum impact, are beginning to alter consumer behavior – de-emphasizing the automotive default. Toyota's Woven City, like its hydrogen propulsion obsession, appears completely detached from current realities with no evolutionary path to adoption. And the exclusion of existing mass people movement solutions is particularly glaring coming from a country that is arguably a leader in the massive and high speed movement of people.
Near the end of his presentation, CEO Toyoda notes Toyota's legacy as a manufacturer of looms, a heritage shared by many other large Japanese electronics companies some of which, like Nakajima and Brother, first made sewing machines. Sad for me to say, the Woven City looms as a detached dystopian vision of future living that must be reconsidered in the context of current mass public transportation needs.
More compelling, though arguably more complex, is the almost simultaneous announcement from Toyota of the launch of its Kinto car subscription and mobility portfolio in Europe. This multifaceted approach to expanding transportation options offers the prospect of having an immediate impact on the ownership and usage of existing vehicles. This is probably worth a closer look and more attention than the Woven City. More details can be found here: https://newsroom.toyota.eu/toyota-launches-kinto-a-single-brand-for-mobility-services-in-europe/
Share this post via: