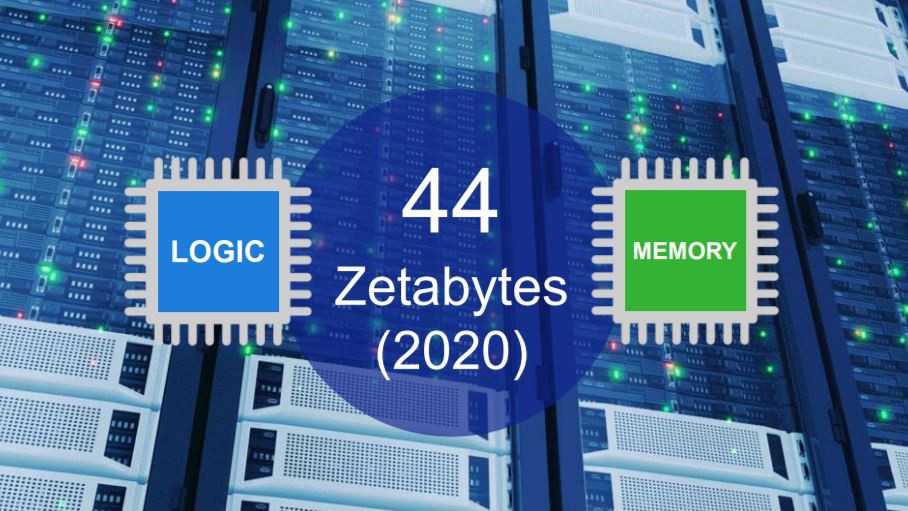 Good Q4 & 2019 despite weak memory
2020 will be up year but memory an unknown
EUV ramp is on track – no China or memory impact
ASML reports an "in line" Q4 despite industry weak 2019
ASML reported sales of 4B Euros and a nice gross margin of 48% resulting in 2.70 Euros per share in earnings.  Orders came in at 2.4B Euros with roughly 80% coming from logic. Despite 2019 being a down year for semiconductor equipment as a whole, ASML managed to have 8% growth during 2019 as spending in the industry shifted back towards lithography purchases,  We expect this trend of enhanced litho spending to hold true in 2020 as the industry continues its EUV adoption.
Logic (TSMC) remains the biggest driver at roughly 80%
It is interesting to note that ASML was able to keep up its growth despite the fact that memory spend went from the majority of sales in 2019 down to roughly 20% of sales at the close of the year. Despite this huge shift in end market demand the company has maintained good growth.
It obviously helps a lot to have strong backlog and a strong order book to be able to more efficiently manage the ebbs and flows of customer mix as 2019 was not an ebb and flow but more of a stampede away from memory to logic/foundry. It also helps that EUV is obviously focused on foundry/logic so the stampede was to ASML's benefit as well.
"Focus" changes from making EUV work to making more EUV…..
It is also very clear that now that we are well over the acceptance and HVM hurdle of EUV, attention is now turning to turning out more systems faster. Getting down cycle times and getting the supply chain cranked up while still hard is not as hard as working out the kinks has been over the last few years.
2020 looks to be about 35 EUV tools with an eye towards 50 in 2021.  These seem like reasonable, "doable" targets.  We don't think we need a full blown memory recovery to get to this years goal of 35 and memory will likely recover soon enough to support a 2021 goal of 50.
There is still a lot of work to be done on high NA but less critical than the original work as high NA is an improvement rather than wholesale change.
Multibeam delay helps KLA
One of the few negative points raised, although minor, was the delay of multibeam.  While not totally unexpected given the complexity, it does give KLA a bit of time to work on their products and counter measures.
In our view now that the war has been won on EUV, ASML can and should shift some more focus and spend to metrology & yield related issues and tools and products as it will also support the infrastructure for EUV going forward.
Memory still an unknown
It was clear from the call and clear in our view that the recovery of the memory industry is very much unclear. While NAND will no doubt recover first and DRAM some time later, the company gave no indication other than "just hoping" that memory recovers.  There was no evidence given nor implied of improved order activity or any other indication of memory spend coming back any time soon.
Like the rest of the industry, the key to a strong up cycle is memory along with foundry/logic both working at the same time….we remain with foundry/logic at roughly 80% of business with memory barely plodding along. This is obviously more of a negative for players like Lam who are much more memory centric.  Even though business at Lam and Applied has picked up of late, its not like the rip roaring memory love fest.
China is a non-issue
There remains a lot of discussion in the press about poor ASML being the ping pong ball in a game between China and the US.  So far we see zero impact from any sales restriction to China.  We expect no near term ill effects on ASML and the real issues and impact are more political than financial.  Though ASML may not be happy to be a pawn it hasn't impacted their profitability or overall sales. We think there is a higher level of risk of the embargo spreading to US equipment companies that would see more financial impact.
The stocks
Given that the quarter was just in line with no surprises, we expect little movement in an already fully priced stock. There was also nothing surprising nor significantly impactful on other stocks that would drive the group one way or another.  The lack of any sign of memory recovery is a little bit disappointing for the group that has seen its shares on a tear despite the weakness.
All in all no impact and we are not motivated to run out and chase stocks that have already run up nor are we tempted to short stocks that have such unusual support.
Share this post via: