Back in May I wrote an article on the new Speedster7t from Achronix. This chip brings together Network on Chip (NoC) interconnect, high speed Ethernet and memory connections, and processing elements optimized for AI/ML. Speedster7t is a very exciting new FPGA that can be used effectively to accelerate a wide range of processing tasks. Naturally with an announcement like this, the question of how to deploy this chip arises. Not everyone who could benefit from this new technology has the skills, time or resources to build it into a system. Data center operators who want to deploy this chip need a ready-to-go accelerator to make this happen.
Fortunately, Achronix just announced a major design win for their Speedster7t that will help end users get this chip into their server farms and data centers. Achronix and BittWare, a subsidiary of Molex, have teamed up to produce the VectorPath S7t-VG6 Accelerator Card. With it there is now an enterprise class PCIe accelerator card that can be used to provide best in class FPGA acceleration for cloud and edge computing.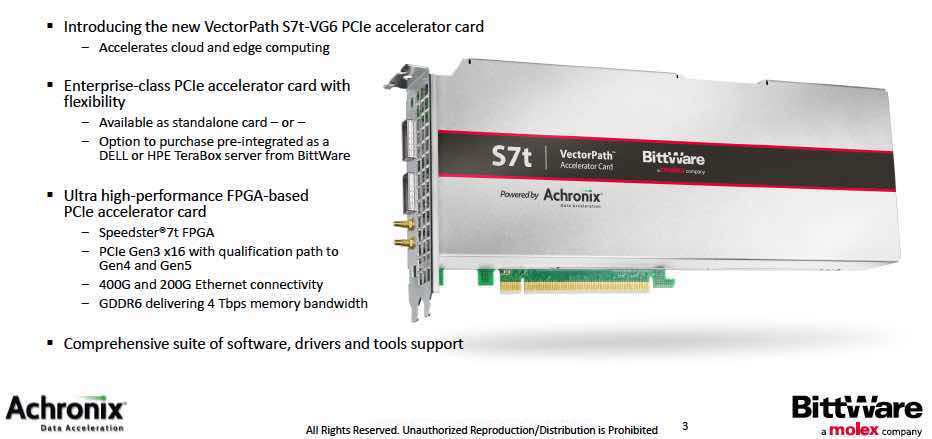 The trend of adding data center accelerators has been heating up recently and the annual market is estimated to be around $2.8B for 2019. Forecasts have this growing to around $21B by 2023. Of this, the FPGA accelerator segment should be the fastest growing with a size of over $5B by 2023. This is because FPGA based accelerators hit on every cylinder when it comes to meeting business and technical needs.
FPGA accelerators offer very high performance per watt for a number of applications. Because they are reconfigurable, they allow the agility to take advantage of new algorithms or to be adapted for new applications. Because the BittWare VectorPath S7t-VG6 uses PCIe, it is easily scalable with the addition of any number of needed cards. Deployment is made easy with a full suite of development tools and BittWare's support resources.
The VectorPath S7t-VG6 is a full height ¾ length (GPU size) double wide card with passive, active or liquid cooling options. The on-board hardware is well thought out. There is 8GB of 4Tbps GDDR6 as well as 4GB of DDR4. The PCIe interface is Gen3 x16. The card is expected to support Gen4 with qualification. The Ethernet interfaces use hard MAC and FEC IP that support a wide range of standard protocols and line rates. There is a 1x 400GbE interface that can be configured as 2x 200, 4x 100, or 8x 10/25/40/50GbE. There is also a 1x 200BgE interface that can be configured as 2x 100 or 4x 10/25/40/50GbE
To make the card even more useful there are clock and interface expansion options. On the front of the card there are clock inputs for 1PPS + 10MHz. On the back there are 3.3V GPIOs that are useful for control, triggers and adding support for legacy interfaces. Additionally, on the back there is an OCuLink expansion port that adds a lot of flexibility. It can be used for PCIe Gen4 or for general purpose SerDes. It offers low latency card-to-card connections for deterministic scaling. Or, it can be used at add extra network ports, add NVMe FLASH, or to define custom serial I/O interfaces.
The news release from Achronix and BittWare has a lot more information about customization options, developer's toolkit and goes into more depth on the advantages of the Speedster7t FPGA. One of the key take-aways is that BittWare has the resources and technology to make deployment of the S7t VG6 accelerator card practical for a wide range of end users. I suggest looking at the full release on their websites to get more information.
Share this post via: