Tuesday July 9th was the first day the show floor was open at Semicon. The following is a summary of some announcements I attended and general observations.
AMAT Announcement
My day started with an Applied Materials (AMAT) briefing for press and analysts where they announced "the most sophisticated system they have ever released".
There are two versions of the system, The Endura Clover system is targeted at MRAM and the Endura Pulse Impulse PVD system is targeted at PCRAM and ReRAM. The fact that AMAT has developed a platform specifically for these emerging memories really speaks to their potential in the market. MRAM for example is now available as embedded memory from Global Foundries, Intel, Samsung and TSMC. It is particularly useful at the edge where memory spends a 99% of the time in standby and MRAM is lower power than Flash and has no standby power draw. PCRAM and ReRAM are more targeted at the cloud.
MRAM requires stacks of 30+ layers with 10 different materials and layers only a few angstroms thick. The new Endura Clover has 7 deposition chambers and each chamber can deposit up to 5 materials with sub angstrom uniformity plus there is a pre clean and an oxidation chamber. A typical MRAM has a bottom electrode, a reference layer, an MgO barrier, a free layer and a top electrode.  The system offers heating to crystallize layers and cryogenic cooling for sharp interfaces, AMAT claims a +20% performance gain and greater than 100x better endurance. The critical MgO barrier is RF sputtered from a ceramic MgO target.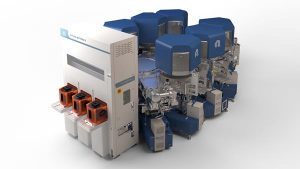 Figure 1. Applied Materials Endura® CloverTM MRAM PVD System. Photo courtesy of Applied Materials.
PCRAM has less layers but compound materials are very sensitive to contaminants. The Impulse PVD system is claimed to offer tight composition control with thickness and uniformity control.
Figure 2. Applied Materials Endura® ImpulseTM PVD System. Photo courtesy of Applied Materials.
The systems offer on-board metrology with a spectrograph with 1/100 nanometer resolution for on-die measurement in vacuum.
AMAT has 5 customers for the MRAM configuration and 8 customers for the PCRAM and ReRAM version. They are expecting a hundred million dollars in system business this year.
Touring the Show
I spent some time walking around the show and I thought it looked busy for the first day. One thing that struck this year is the the trend for the major equipment and materials companies to not have booths any more is continuing. Many years ago the major equipment manufacturers such as ASML, AMAT, TEL, Lam and KLA would have huge booths, they all stopped having booths years ago. The last two years I have seen less and less of the large materials companies on the show floor. Not sure what the long term impact will have on the show, there were certainly a lot of booths for the smaller companies. It may just reflect the industry consolidation to fewer – well know customers.
For an industry going through a down-turn I thought the mood was pretty good. I did talk to one person who thought the equipment companies were surprised by the downturn in capital equipment spending. Apparently, some of the companies geared up production assuming that last years spending levels would continue. Personally, I find this surprising, clearly Samsung spending over $20 billion dollars a year on capital wasn't sustainable.
Leti-Fraunhofer Announcement
Tuesday afternoon Leti and Fraunhofer held a joint press conference to announce a new joint initiative.
The goal of the initiative is to work together on solutions for Neuromorphic computing. They want to achieve a hardware platform that is like open source for software while addressing trust, safety and security. In the US a lot of data goes into the cloud to be processed and people lose control over their data. In Europe there are a lot more regulations and people own their data. They see the need for AI to run at the edge so people can keep their data on local devices. For example medical data stays on your own device.
They looked at what each other can do and also Imec, they see Imec for FinFETs, Leti for FDSOI and Fraunhofer and Leti for 3D Packaging. "If FD12 can't provide the compute power, look to combine FDSOI with FinFET with Imec".
They are approaching this as an Air Bus kind of model and have Fraunhofer work with Imec and Leti and not duplicate what the others are doing. Although imec wasn't present at the press conference they were present at the Leti-Fraunhofer technical symposium that night.
They want to find solutions to opportunities in the market. Other entities can join, it is "an open house built on strategy".
They have gotten positive feedback from the European Commission and there may be national programs as well.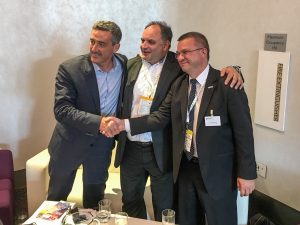 Figure 3. The Leti-Fraunhofer press conference. Pictured from left to right Emmanuel Sabonnadière (CEO of CEA-Leti, France), Patrick Bressler (Managing Director Fraunhofer Group for Microelectronics), and Jorg Amelung, Head of research for Fab Microelectronics (Germany) within the FMD group of Fraunhofer.
Share this post via: