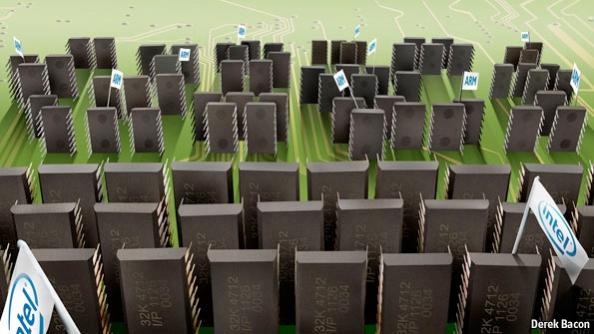 The Economist has a big article (may need a subscription, can't tell because I have one, it's in the print edition too) about ARM versus Intel. It is an interesting read since I think it misses so much of what really drives semiconductor. It tells the story about Intel trying to get into mobile (because it's main market isn't growing, but ignoring margins and memories) and ARM trying to get into servers (ignoring almost everything important).
It is an interesting mixture of perceptive insight into the business combined with total ignorance of technology. How about this for crystallizing the RISC vs CISC argument:Acorn, a then-marginal and now-defunct British computer-maker, had a niche in designing chips good at carrying out only a few types of calculation, but which did so very quickly. This reduced-instruction-set computing (RISC) approach requires software that can make up for the limitations of the chips, but uses less power than other approaches.
And, as a 15-year veteran of VLSI Technology, this paragraph was an painful cut:In 1990 Apple, struggling itself, needed a chip for its Newton, a personal digital assistant that was to restore the company's fortunes. It liked Acorn's chip designs: the two formed Advanced RISC Machines as a joint venture with a chipmaker.
A chipmaker. Whose name must not be spoken. Although to be fair since VLSI was swallowed by Philips and spun out into NXP and then sold to ST-Ericsson (mostly), maybe that is too much of a distraction.
I think the article is clearly written by someone based in London, with a bit of ARM rose-tinted glasses. It portrays Intel as vulnerable and ARM, with its ecosystem, as having high barriers to entry (which it does for someone new, although for Intel maybe not so much).
For a magazine called the Economist, it misses a lot of the economics of semiconductor, namely how much money Intel makes per chip and how little ARM does. Plus the fact that Intel is 1-2 process generations ahead of any of ARM's licensees (well, technically Intel is an ARM licensee having bought Infineon's cell phone business, although it is switching everything to Atom).
But it's nice to see a mainstream coverage of a niche that usually is only covered by less prestigious "newspapers" (as the Economist insists on calling itself) such as…err…SemiWiki. We may not have the prestige but we do, mostly, know what we are talking about.
Share this post via: