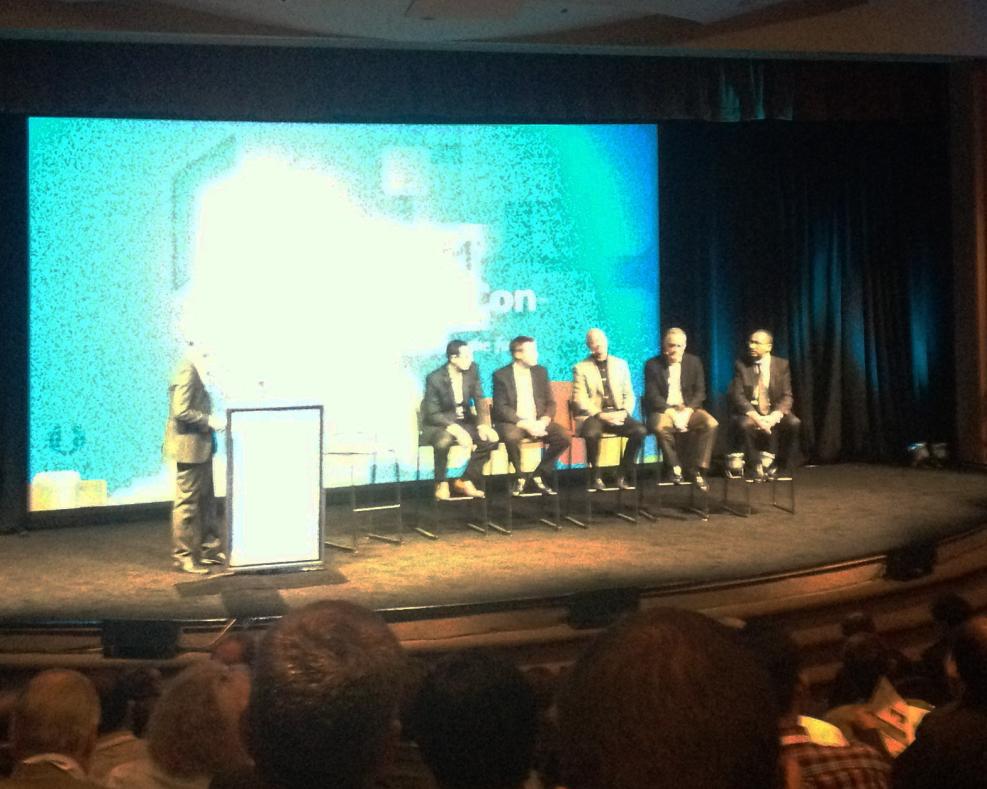 AMD announced yesterday that they would be building 64-bit ARM-based chips intended for use in servers. What was unclear is what the processors would be like. Although ARM had announced that they would move into 64-bit processors they didn't have any that they had actually announced as being available for licensing.
At the ARM conference today, Simon Segars announced their first two, known as the Cortex-A50 family. Not only AMD has licensed these processors, but ARM also announced Broadcom, Calxeda, HiSilicon, Samsung, and STMicroelectronics as licensees. Representatives of these companies answered questions. And unlike what it looks like in my terrible photograph, Simon's head did not explode in the middle of the session.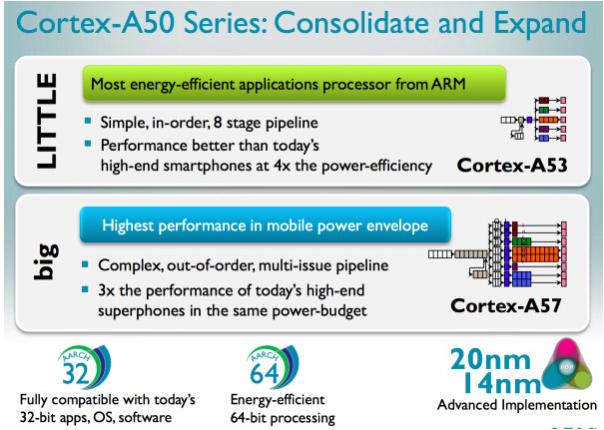 The two cores announced are the Cortex-A57, which will be the most advanced high-performance processor targeted initially at servers. The Cortex-A53 (I don't understand ARM's numbering system either) is ARM's most power-efficient application processor. The two processors can also be used together in big.LITTLE form to get the best of both worlds, performance when you need it, low-power when you don't. ARM had some information on just how much smaller and more power efficient these cores are. Some of the comparisons are a bit apples to oranges, comparing 20nm versions of the new cores against 32nm versions of the old ones. But they do seem to be architecturally more efficient, not just leveraging off the process node changes. Processors using these new cores are not expected in volume production until 2014. Both processors can run both 32-bit and 64-bit code.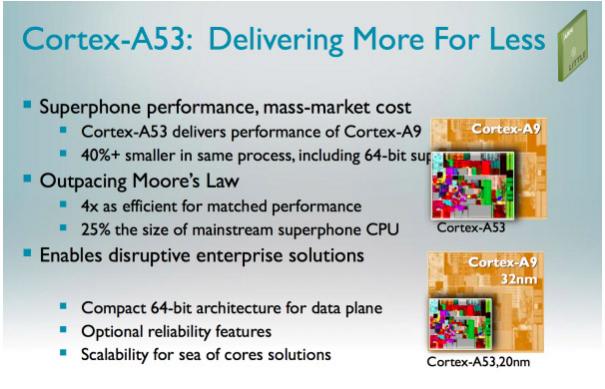 The interesting aspect of this is whether 64-bit ARM processors will get traction in datacenters (and another interesting question is how soon before we have 64-bit processors in our smartphones). At the press-only discussion later it was clear that people knew more than they were letting on. There was even a hint that something in this area might be announced in Warren East's keynote on Thursday. Everyone said that the first place that ARM servers will show up are in the big fast-growing companies that are adding thousands of cores per week. There have been rumors that Facebook has been evaluating ARM. If the datacenters are the profit center for the company, not an ancillary to the main company business, and if the company is growing fast, then they are interested in ways to cost-optimize (including lower power, smaller physical footprint, cheaper to acquire). Companies like this only run a handful of applications and so it would be cost-effective to optimize them for ARM since the hardware costs are not yet sunk since they would initially go into green-field datacenters.

Share this post via: