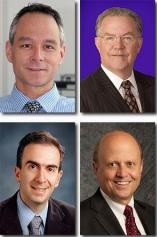 Just two more weeks before the 2019 CEO Outlook Thursday, May 23, at SEMI. If you haven't registered yet, do so today. We're expecting a full house as a result of our powerhouse lineup and networking opportunities.
That lineup includes Ed Sperling, editor in chief of Semiconductor Engineering, who will serve as moderator. Panelists will be John Chong, vice president of product and business development for Kionix, Jack Harding, president and CEO of eSilicon, John Kibarian, PDF Solutions' president and CEO, and Wally Rhines, CEO emeritus of Mentor, a Siemens Business.
The panel's unfamiliar composition is intentional. We are acknowledging our move into SEMI where the focus is on the entire electronic product design and manufacturing chain, not just electronic system design. Two member companies are part of our Governing Council, while two, eSilicon and Kionix, a division of Rohm, have experience in other supply chain segments. Kionix is the third largest supplier of MEMs devices to the electronics industry. eSilicon is a fabless semiconductor design company and a leader in FinFET ASIC design and 2.5D packaging integration.
The evening begins at 6 p.m. with networking, dinner and drinks. The panel discussion begins at 7 p.m. and goes until 8:30 p.m. For anyone who wants to miss the traffic to Milpitas, registration opens at 5:30 p.m. Everyone from the electronic system and semiconductor design ecosystem is welcome to attend free of charge, though advance registration is required.
SEMI is located at 673 S. Milpitas Boulevard, Milpitas, Calif.
ESD Alliance's 10-Member Governing Council
Results are in, votes are counted and we offer a hearty welcome to our 10-member Governing Council who will serve a two-year term.
Returning Governing Council members are:
Aart de Geus, chairman and co-CEO of Synopsys, Inc.
Dean Drako, president and CEO at IC Manage
John Kibarian
Wally Rhines
Simon Segars, CEO at Arm
Lip-Bu Tan, CEO of Cadence Design Systems
New Governing Council members Raik Brinkmann, president and CEO of OneSpin Solutions, Prakash Narain, president and CEO of Real Intent and David Dutton, CEO of Silvaco. Congratulations to all!
As executive director of the ESD Alliance, I am a member of the council as well.
ESD Alliance's ES Design West
We're working hard to make the inaugural ES Design West July 9-11 co-located with SEMICON West 2019 at San Francisco's Moscone Center South Hall a success. As its host, we are working diligently to showcase the design ecosystem's innovation and commercial successes from IP, EDA and embedded software to design services, design infrastructure and the cloud. And, we are continuing to see more companies sign up to exhibit at this inaugural event.
The Advisory Council has done an outstanding job of lining up topics and speakers that will satisfy a broad range of interests. Attendees can expect presentations and panel discussions showcasing electronic system design, its business achievements, commercial technological accomplishments and role in the broader electronics manufacturing supply chain. Exhibitors are enthusiastic and preparing for a great event. The result will be an event that enabled and accelerate conversations, information exchange and collaboration to address common issues, challenges and opportunities that move new electronic products from concept to consumer.
Details can be found at the ES Design West website.
Follow ES Design West on Twitter: #ESDesignWest and @ESDAlliance
Share this post via: