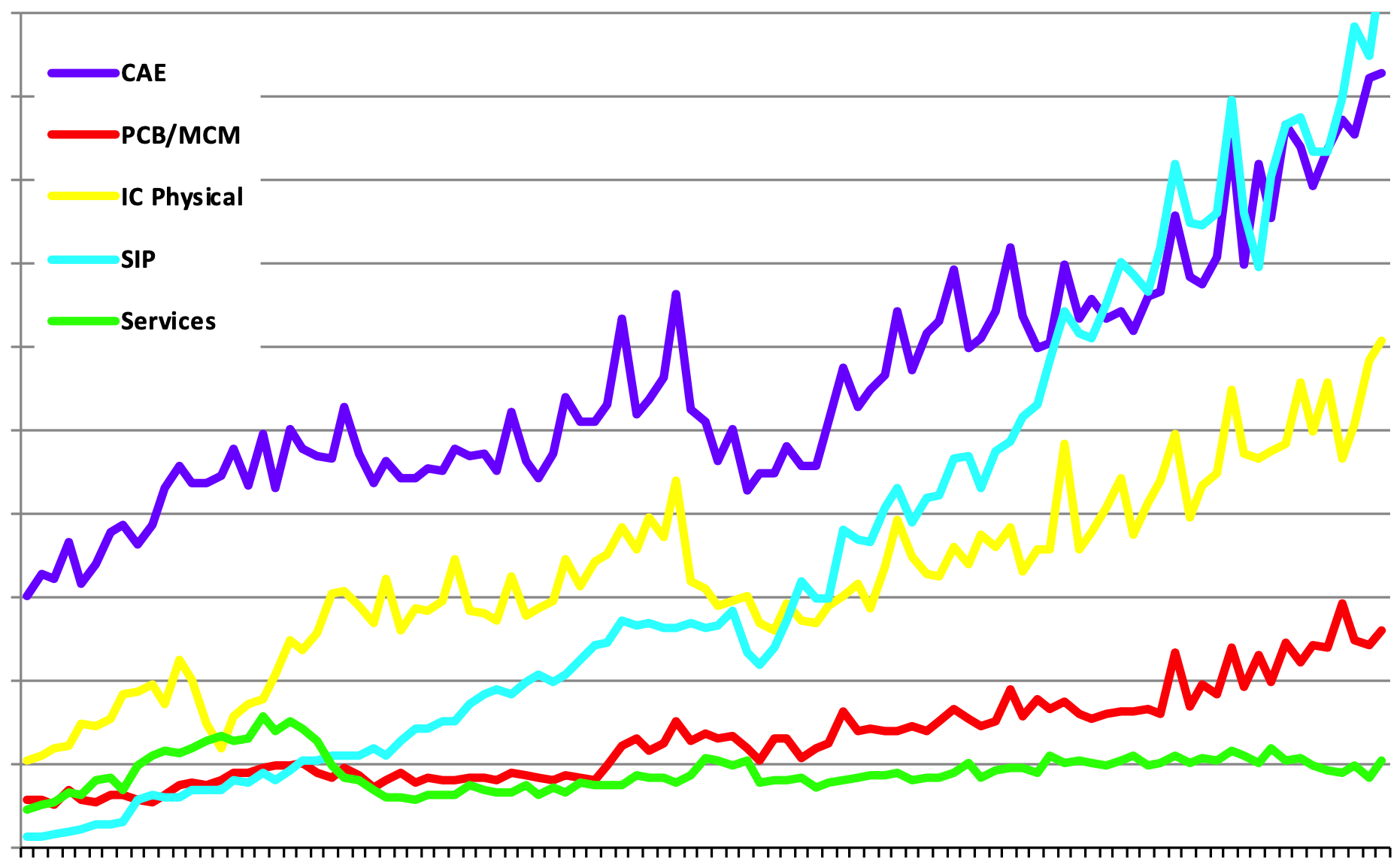 The Electronic System Design (ESD) Alliance (a SEMI Technology Community) recently released their regular report on EDA revenue for Q3, 2020 . While the report is a normal occurrence, the numbers in this particular report are anything but normal. I have been reviewing these reports for many years, and I honestly can't remember a more positive result. There have been plenty of things to remember from 2020 that evoke sadness. If you care about the EDA industry, take heart. There is something to be happy about. Read on to see how the ESD Alliance report for Q3 2020 presents an upbeat snapshot that is up and to the right.
Let's start with some of the basics. EDA revenue increased 15 percent in Q3 2020 to $2,953.9 million, compared to $2,567.7 million in Q3 2019, with all categories logging significant gains. The four-quarter moving average, which compares the most recent four quarters to the prior four quarters, rose by 8.3 percent. The companies tracked in the report employed 47,087 people in Q3 2020, a 4.8 percent increase over the Q3 2019 headcount of 44,950 and up 1.1 percent compared to Q2 2020. Substantial revenue growth and higher employment. Happy days are here again. Before I got too gleeful, I wanted to get some more detail – the story behind the numbers. For that, I was fortunate to be able to spend some time with Wally Rhines, Executive Sponsor, SEMI EDA Market Statistics Service.
Wally always seems to have a substantial amount of detailed information and broad perspective at his fingertips. This discussion was no different. Wally started by explaining there have been three times in the past 15 years when EDA growth has reached 15 percent. So, this is about as good as it gets for recent EDA history. Wally pointed out that perhaps you could see a weakness in services revenue, but that's about it. We talked about that category a bit. Services revenue is defined as support for tool deployment, training and design work. Looking at support and training for tool deployment a positive story can be seen in the numbers, however. EDA tool flows are becoming more user driven. The result of that is a reduction in the need for expert AE support and training, so a reduction in services can signal a good trend.
Looking at the bigger picture, Wally explained that the semiconductor industry will likely grow five to six percent this year. He went on to explain that EDA typically grows one point more than semiconductor. In the last three years, EDA has been growing about four points faster. EDA is exhibiting accelerating momentum. More good news. IP is another bright spot. As a newer market category for EDA, growth has been large, almost 26 percent year on year. IP is now about 35 percent of the total EDA revenue number.
Another somewhat counter-intuitive aspect to the numbers is the impact of consolidation. M&A activity typically brings synergy to the merged company, resulting in lower EDA spend. Yet we're seeing a healthy increase. The impact of all the new players, think Google, Amazon, Facebook and other system companies like that are neutralizing the consolidation effect. As Wally pointed out, in spite of M&A and the associated headcount reduction, designers are still designers. They find opportunity somewhere else, and thanks to the trend for system design companies to bring semiconductor design in house, design folks find a good job market.
Overall, a very positive story for EDA and semiconductors in the face of a challenging year. It was very helpful to get some of the backstory from Wally about how the ESD Alliance report for Q3 2020 presents an upbeat snapshot that is up and to the right.
Share this post via: