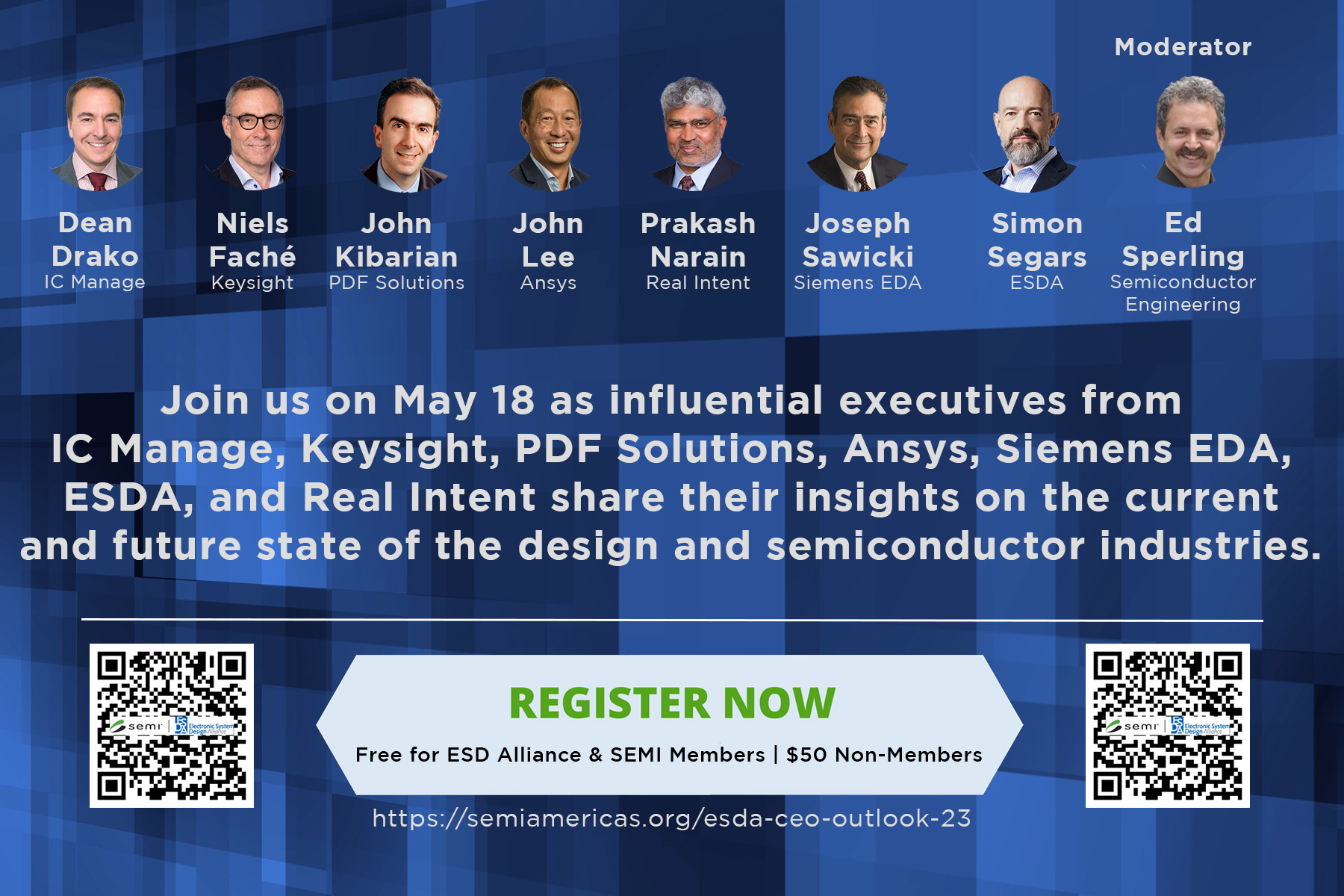 Spring wouldn't be the same without an opportunity to hear from some of the most visible executives of electronic system design (ESD) market segment. The in-person CEO Outlook sponsored by Keysight and hosted by the ESD Alliance, a SEMI Technology Community, will be held Thursday, May 18, in Santa Clara, Calif.
Attendees can expect a lively and far-ranging discussion moderated by Ed Sperling, editor in chief of Semiconductor Engineering. Panelists will be asked for their perspectives about the current state of the market and insights into the future of chip design and verification and semiconductors. Attendees are encouraged to bring questions.
Panelists are:
Dean Drako, President and CEO of IC Manage
Niels Faché, VP and GM at Keysight EDA
John Kibarian, President and CEO of PDF Solutions
John Lee, GM and VP at Ansys
Prakash Narain, President and CEO of Real Intent
Joe Sawicki, Executive Vice President of Siemens EDA
Simon Segars, ESD Alliance Governing Council
Prior to the start of the CEO Outlook will be the ESD Alliance's Annual Membership Meeting. It will begin at 5 p.m. and offer an overview of the past year's activities and a preview of what's to come in 2023. Non-members with tickets to the CEO Outlook are invited to attend.
A welcome reception for networking and food and beverages follows the membership meeting and begins at 5:30pm. The hour-long panel starts at 6:30 p.m. and is open to ESD Alliance and SEMI members at no cost. Pricing for non-members is $50 per person. Details and registration can be found at: https://bit.ly/3UbF1Lf
Th location is Agilent's Building 5 at 5301 Stevens Creek Blvd. in Santa Clara.
About the ESD Alliance
The ESD Alliance, a SEMI Technology Community, has a range of programs and represents members in the electronic system and semiconductor design ecosystem that address technical, marketing, economic and legislative issues affecting the entire industry. It acts as the central voice to communicate and promote the value of the semiconductor design ecosystem as a vital component of the global electronics industry.
Follow SEMI ESD Alliance:
www.esd-alliance.org
ESD Alliance Bridging the Frontier blog
Twitter: @ESDAlliance
LinkedIn
Facebook
Also Read:
Advanced electro-thermal simulation sees deeper inside chips
Keysight Expands EDA Software Portfolio with Cliosoft Acquisition
Big plans for state-of-the-art RF and microwave EDA
Share this post via: