I will be at SEMICON / EE Design West on Tuesday, July 9, 2019, and so should you!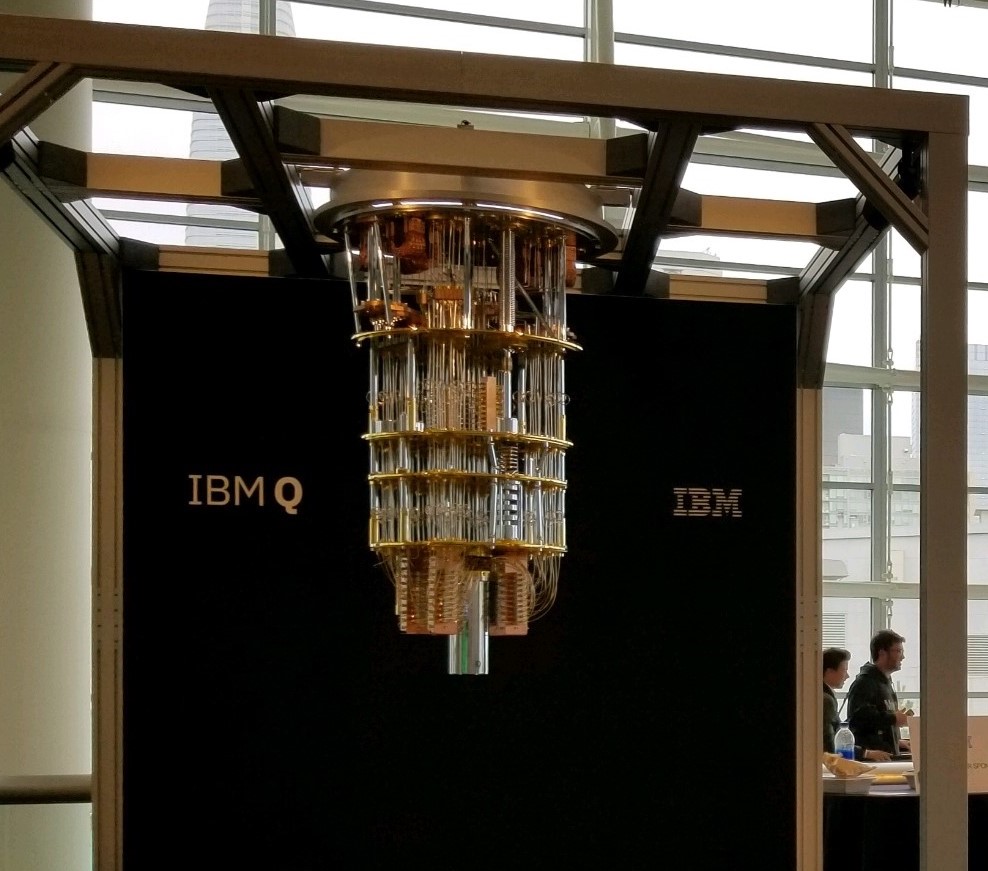 Quantum computing will be a hot topic at SEMICON West and on Tuesday, July 9, the IBM Quantum Computer will be on display at the Smart Design Pavilion in the South Hall (Moscone Center) from 10:00am to 5:00pm. It looks like no other computer I have ever seen and should make for a fun diversion at SEMICON West.
What is quantum computing? It is a new approach to logic, or a new approach to computing, depending on how you look at it. Many of the tougher problems we would like to solve today just cannot be run on even the biggest classical computers. The world needs a new kind of computer. Quantum computers utilize the quantum mechanical phenomena of superposition and entanglement to create states that scale exponentially with number of qubits, or quantum bits. That is more than a bit to wrap your mind around. But we all should starting learning about it now.
Of course, IBM has been developing a Full Stack Quantum Software package since a computer isn't not useful if you cannot program it. You can even try it out now. There's a lot to see and hear about quantum computing at SEMICON WEST, including a TechTALK and a keynote. You can get more info on the IBM Q computer activities at SEMICON WEST here, and more details on IBM's quantum computing efforts here.

Every summer for more than a dozen years, the Heart of Technology (HOT) has thrown a party to raise money for a worthy charity, typically one aiding children or young adults. This year will be no different as the HOT event of the summer will take place on Tuesday, July 9 at the John Colins Lounge located at 138 Minna Street in San Francisco, coinciding with SEMICON West / ES Design West being held at nearby Moscone Center. The event will run from 5:30pm to 10:00pm. Click the link above to register in advance.
Heart of Technology is a charity accelerator helping local charities hold special events, sometimes far larger than any events they would typically undertake. Jim Hogan is the leader and founder of HOT. I have helped Jim with these events for a long time. We now have a large number of volunteers to help us put on these events, and of course, we are very grateful to the companies that sponsor these events.
We seek donations from many local companies in the electronics industry, including EDA and semiconductor IP. The official tally is over $180k since 2012, but I am sure it is much more, we just never really kept track as the funds went straight to the charities. I remember we raised over $30k (from an auction and gate receipts), plus donated food, at an event supporting Second Harvest in San Jose around 2004. Some recent events have given more than $50k to local charities and scholarship funds. I imagine the correct number is likely close to half a million dollars by now.
This year's event will have a slightly different focus. "We are always running into inequality with gender in sciences and engineering. The aim is to get more girls and women interested in the sciences. The SEMI organization has a foundation that has such a program, so that's what we're raising money for this year." Several corporate donations have already come in, but we can use everyone's help. We are expecting a strong turnout this year as the event becomes accessible to an audience far larger than DAC.
This year's venue is also a bit smaller than usual as we deal with the transition year in EDA trade shows. If you are planning to go, badge holders at ES Design West and SEMICON West will be admitted with a suggested minimum $20 donation. Other guests can attend for a donation of $50. The venue is small, so please arrive as early as you can. The Methodics Ensemble, as well as the Dead Sea Fish, will be playing. Members of Jim Hogan's band, Vista Roads, will be in attendance and may sit in with the bands that are playing. And I know from our past events, a good time will be had by all.
Now, go register for SEMICON West.
Share this post via: