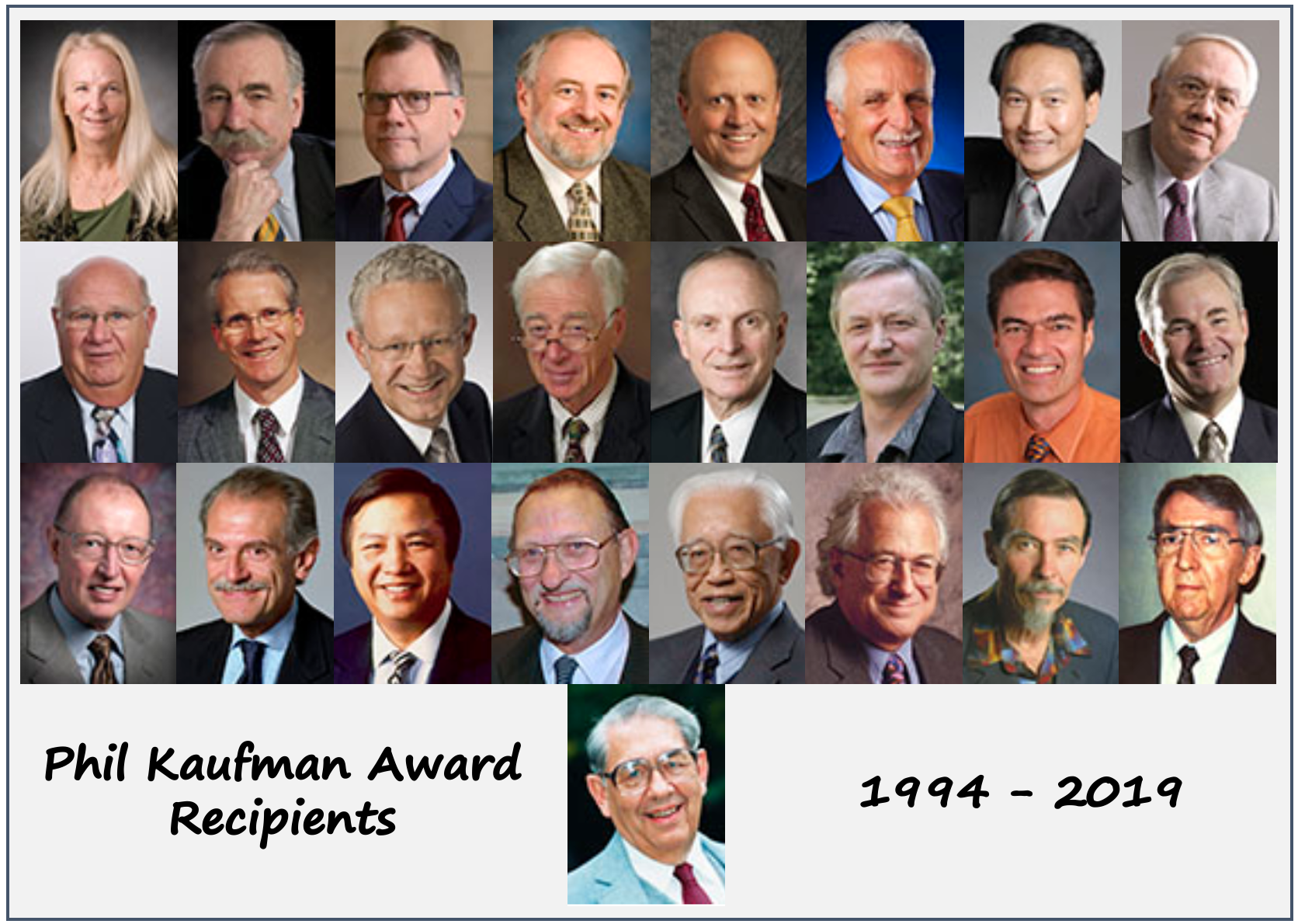 Anyone even remotely associated the EDA industry will know about the Phil Kaufman award. Every industry has its ultimate recognition – the Academy Awards and the Grammys are familiar ones in pop culture. The Nobel Prize gets a bit geekier and the Morris Chang award from the GSA is geekier still. If you're an EDA geek, the Phil Kaufman award is the ultimate recognition. There have been 25 recipients of this prestigious honor since its inception in 1994, pictured above. There's one problem though. Deceased members of the community are not eligible to receive the Phil Kaufman Award, a policy set by the IEEE. A recent decision has changed that. When I saw the ESD Alliance and IEEE CEDA announce a new recognition program – the Phil Kaufman Hall of Fame, I got very interested.
The new program posthumously recognizes individuals who made significant and noteworthy contributions through creativity, entrepreneurism and innovation to the electronic system design industry and were not recipients of the Phil Kaufman Award.  Some of the Kaufman Award recipients above are no longer with us. Each was a significant force in our industry; they are missed. I think it's a great idea to allow other deserving and high-impact contributors who are no longer with us to be recognized. The Phil Kaufman Hall of Fame allows this to occur.
"Many individuals made significant contributions to the semiconductor design industry and helped it grow to where it is today, underpinning the entire global semiconductor and electronic products markets," said Bob Smith, executive director of the ESD Alliance. "Unfortunately, many of these contributors died but should be recognized for their efforts that were instrumental in shaping our community. The Phil Kaufman Hall of Fame is intended to change that."
Nominations for the Phil Kaufman Hall of Fame are now open. Submissions will be reviewed by the ESD Alliance and IEEE CEDA Kaufman Award review committees and approved nominees will be honored for their contributions and achievements in 2021. Nominations will remain open through Friday, March 26, 2021. You can learn more about the program and download the nomination form here. Anyone can submit a nomination and the form is relatively short, so think about deserving professionals who are no longer with us. This is a great way to keep their memory alive.
Inductees will be announced in early April. A special Phil Kaufman Hall of Fame page on the ESD Alliance and IEEE CEDA websites will host their photos, citations and tributes.
A little background on the Phil Kaufman Award and the organizations that support it would be useful. The Phil Kaufman Award honors individuals who have had a demonstrable impact on the field of electronic system design through technology innovations, education/mentoring, or business or industry leadership. It was established as a tribute to Phil Kaufman, the late industry pioneer who turned innovative technologies into commercial businesses that have benefited electronic designers.
After many years as a design engineer and manager at companies including Intel, Phil became chairman and president of Silicon Compiler Systems, an early provider of high-level EDA tools.
Subsequently, Phil became CEO of Quickturn Design Systems, a pioneer in emulation.  Phil passed away from a heart attack during a business trip in Japan in 1992. The ESD Alliance (previously the EDA Consortium) founded the Phil Kaufman Award to honor his memory and contributions to the electronic design industry.
The Electronic System Design (ESD) Alliance, a SEMI Technology Community representing members in the electronic system and semiconductor design ecosystem, is a community that addresses technical, marketing, economic and legislative issues affecting the entire industry. It acts as the central voice to communicate and promote the value of the semiconductor design ecosystem as a vital component of the global electronics industry.
The IEEE Council on Electronic Design Automation (CEDA) provides a focal point for EDA activities spread across seven IEEE societies (Antennas and Propagation, Circuits and Systems, Computer, Electron Devices, Electronics Packaging, Microwave Theory and Techniques, and Solid-State Circuits). The Council sponsors or co-sponsors over a dozen key EDA conferences including: the Design Automation Conference (DAC), Asia and South Pacific Design Automation Conference (ASP-DAC), International Conference on Computer-Aided Design (ICCAD), Design Automation and Test in Europe (DATE), and events at Embedded Systems Week (ESWEEK).  
The Council also publishes IEEE Transactions on Computer-Aided Design of Integrated Circuits & Systems (TCAD), IEEE Design & Test (D&T), and IEEE Embedded Systems Letters (ESL). The Council boasts a prestigious awards program in order to promote the recognition of leading EDA professionals, which includes the A. Richard Newton, Phil Kaufman, and Ernest S. Kuh Early Career Awards. The Council welcomes new volunteers and local chapters.
Download the nomination form and get involved as the ESD Alliance and IEEE CEDA announce a new recognition program – the Phil Kaufman Hall of Fame. You'll be glad you did.
Share this post via: