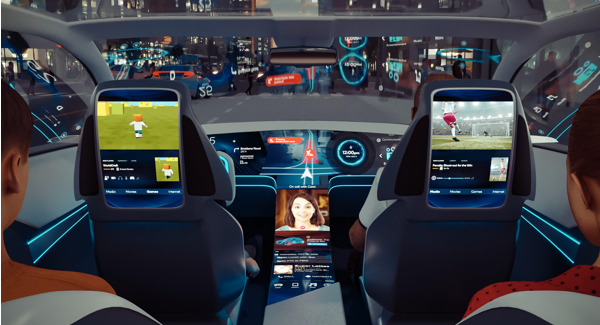 Qualcomm took center stage in the automotive industry this week to state its intention to dominate future dashboard infotainment systems. Long known for its wireless connectivity presence, Qualcomm took the wraps off its ramping up infotainment design wins for its Snapdragon 3 platform while revealing its next generation Snapdragon 4 solution.
The range of announcements, which included multiple strategic collaborations with car makers and suppliers, highlighted Qualcomm's successful convergence of connectivity, safety, and infotainment technology into a single device thereby tipping a hat to the architectural transformation sweeping the automotive industry. Qualcomm is leaning in to the cockpit domain controller movement that is integrating functionality to enhance driving safety and pleasure.
Suitably, Qualcomm thrust General Motors to the forefront of its announcement. GM is the go-to partner to highlight infotainment innovation as the company provides the optimal combination of volume vehicle deliveries with innovation and risk taking in dashboard designs.
GM provided the added impetus this year of highlighting its own thrust into electrification – with the launch of the Ultium EV platform – and its aggressive moves into driving automation, also a highlight of Qualcomm's announcements. Qualcomm's partnership with GM had the added benefit of emphasizing the importance of China's automobile market, the largest in the world. For years, GM has sold more cars in China than it has in the U.S. (GM is second only to Volkswagen among foreign auto makers.)
An important element of Qualcomm's launch was the inclusion of its Snapdragon Ride Platform portfolio of safety-grade system-on-chips (SoCs) designed for automotive safety integrity level D (ASIL-D) systems. These chips embody the essential integration of safety, connectivity, and artificial intelligence capabilities suited to fulfill requirements for New Car Assessment Program (NCAP) Level 1 advanced driving assistance systems (ADAS) systems and Level 2 automation systems. Seeing Machines, Arriver, and Valeo (Park4U) were all mentioned as Qualcomm strategic partners.
A further roster of essential partners mentioned as part of Qualcomm's announcement were key tier collaborators including Garmin, Google, Harman International, Joynext Technology, LG Electronics, Panasonic, AlpsAlpine, Maxim Integrated, Micron, and many others.
Qualcomm's multifaceted announcement marks a critical changing of the guard in the automotive industry and the conclusion of a decades-long battle to tackle the automotive infotainment market. Prior to Qualcomm's late arrival with high profile design wins across the globe, the company watched from the sidelines as first Intel and then Nvidia sought to conquer the automotive infotainment opportunity.
Intel notched strategic wins with BMW, GM, FCA (Stellantis), Volvo and Tesla while Nvidia touted wins at Audi. Both companies ultimately shifted their focus almost exclusively toward advanced driver assistance and autonomous drive systems.
Qualcomm's climb to the top was also complicated by its failed $44B acquisition of fellow automotive semiconductor supplier NXP – a deal initiated in October 2016 on the cusp of President Donald Trump's election and finally abandoned in the face of Chinese objections more than a year later. The rejected acquisition may or may not have delayed Qualcomm's rise, but its official arrival was completed this week.
(Similar roadblocks have emerged to SoftBank Group's attempt to sell U.K. chip designer Arm to U.S. chipmaker Nvidia, according to Nikkei.com The proposed $40B acquisition "is hitting regulatory roadblocks in major markets, as the blockbuster deal has raised antitrust and national security concerns among policymakers.")
The onset of in-dash Snapdragon solutions marks the simultaneous rise of Qualcomm and China in the automotive market. It will be interesting to see Qualcomm's performance in the automotive market both inside and outside China – given the company's massive intellectual property portfolio.
As a major advocate of protecting intellectual property, Qualcomm stands at the fulcrum of the world's largest automotive market as a rising force in automotive and wireless semiconductors setting the stage for unique opportunities and outcomes. Given the substantial contributions to Qualcomm's announcement from Chinese partners it is cleare the company is committed to a massive in-market presdence.
Making Qualcomm's announcements this week even more important is the potential impact on vehicle electrification, connectivity, and driving automation. Converging all of these experiences in the fourth generation Snapdragon platform sets the stage for entirely new driving experiences – in mass market vehicles – intended to save lives, fuel, and time while enhancing the overall in-vehicle experience.
Announcements and endorsements highlighted in Qualcomm's Automotive Redefined Technology Showcase 2021 event are available here: https://www.qualcomm.com/news/media-center/press-kits/automotive-redefined-technology-showcase-2021
Share this post via: