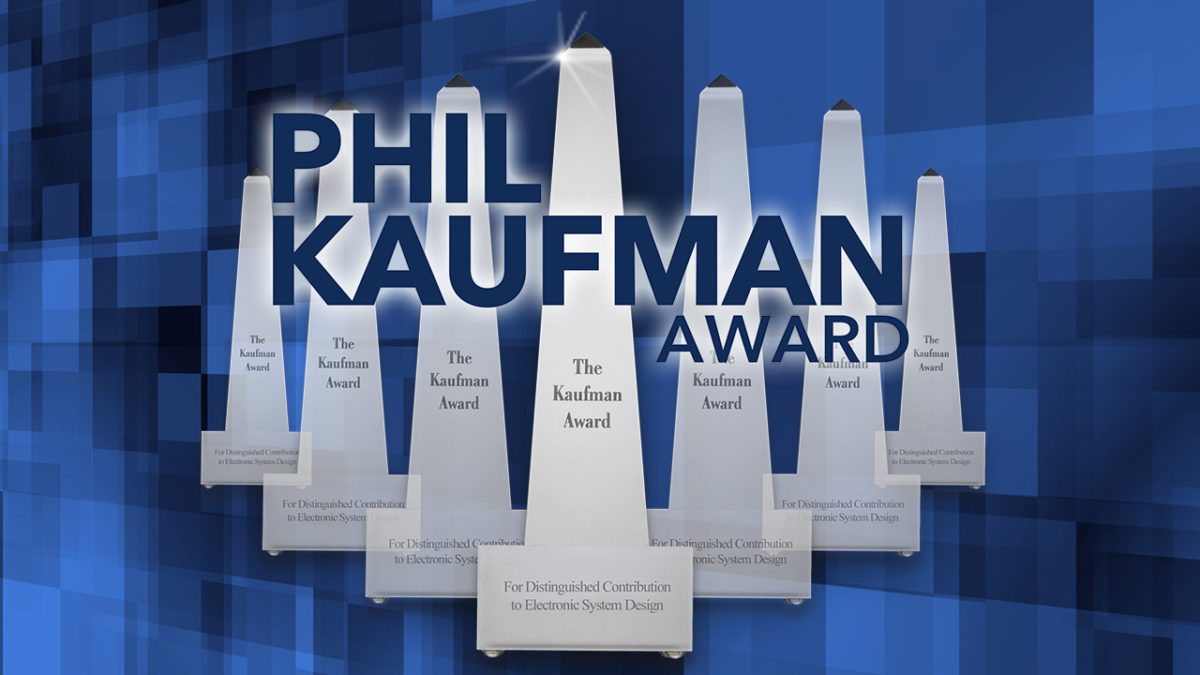 Plan ahead now because Friday, June 30, is the deadline to submit nominations for the Phil Kaufman Award and the Phil Kaufman Hall of Fame for anyone you think is deserving of these honors. If you haven't given it any thought, please consider nominating someone.
Before we look at both and the nomination requirements, here's a thumbnail sketch of Phil Kaufman (1942-1992) and the reasons why we continue to honor his memory. Phil Kaufman was an industry pioneer who turned innovative technologies into commercial businesses that have benefited electronic designers. At the time of his death, he was president and CEO of Quickturn System, developer of hardware emulators. Quickturn's products helped designers to speed the verification of complex designs. Previously, he headed Silicon Compiler Systems, an early provider of high-level EDA tools that enabled designers to efficiently develop chips.
The annual Phil Kaufman Award for Distinguished Contributions to Electronic System Design was first presented in 1994 to Dr. Herman Gummel (1923-2022) of Bell Labs (now Nokia Bell Labs). Since then, an impressive list of notables from across the spectrum of our ecosystem have received the award.
Sponsored by the Electronic System Design Alliance (ESD Alliance) and the IEEE Council on Electronic Design Automation (CEDA), it honors individuals who have made a visible and lasting impact on electronic design. Their influence could be as a C-level executive or someone setting industry direction or promoting the industry, a technologist or engineering leader or a professional in education and mentorship. Dr. Gummel, for example, was honored for his fundamental contributions to central EDA areas including the integral charge control model for bipolar junction transistors known as the Gummel-Poon model.
Per a policy set with the IEEE, only living contributors are eligible to receive awards. Thus, the Phil Kaufman Hall of Fame was introduced in 2021 by the ESD Alliance and the IEEE CEDA to honor deceased individuals who made significant and noteworthy creative, entrepreneurial and innovative contributions and helped our community's growth. As Bob Smith, executive director of the ESD Alliance, said at the time: "Many contributors to our success died before being recognized for their efforts shaping our community. The Phil Kaufman Hall of Fame changes that."
Our first recipients in 2021 were Jim Hogan (1951–2021) and Ed McCluskey (1929-2016). Jim Hogan was managing partner of Vista Ventures, LLC., and an experienced senior executive who worked in the semiconductor design and manufacturing industry for more than 40 years. Ed McCluskey, a professor at Stanford University, sustained a relentless pace of fundamental contributions for efficient and robust design, high-quality testing and reliable operation of digital systems. Mark Templeton (1958-2016) was the 2022 recipient. Artisan Components (now Arm), where he served as CEO, catalyzed the increasing use of IP as major components in chip designs. At the time of his death, he was managing director of investment firm Scientific Ventures, and a Lanza techVentures investment partner and board member.
How to Nominate
Selections for the Phil Kaufman Award and the Phil Kaufman Hall of Fame are determined through a nomination process reviewed by the ESD Alliance and IEEE CEDA Kaufman Award selection committees. To download a nomination form, go to: Phil Kaufman Award or Phil Kaufman Hall of Fame.
About the ESD Alliance
The ESD Alliance, a SEMI Technology Community, acts as the central voice to communicate and promote the value of the semiconductor design ecosystem as a vital component of the global electronics industry. With a variety of programs for member companies, it represents the electronic system and semiconductor design ecosystem for technical, marketing, economic and legislative issues affecting the entire industry.
Follow SEMI ESD Alliance
ESD Alliance Bridging the Frontier blog
Twitter: @ESDAlliance
Also Read:
SEMI ESD Alliance CEO Outlook Sponsored by Keysight Promises Industry Perspectives, Insights
Cadence Hosts ESD Alliance Seminar on New Export Regulations Affecting EDA and SIP March 28
2022 Phil Kaufman Award Ceremony and Banquet Honoring Dr. Giovanni De Micheli
Share this post via: