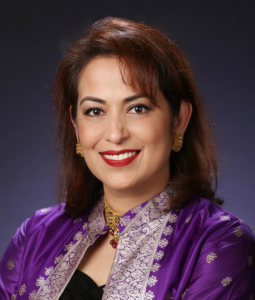 Maheen Hamid, a member of the ESD Alliance (a SEMI Technology Community) Governing Council and a member of SEMI's North America Advisory Board, is an astute business executive. Together with her husband Adnan Hamid, they founded Breker Verification Systems, a company developing test synthesis solutions. She serves today as COO and CFO.
We recently talked about her journey into the tech industry, how she's able to leverage her MBA and her thoughts on leadership. We finished our conversation discussing the industry trends she is seeing and how Breker is reacting to those trends.
Smith: What's on your mind these days?
Hamid: Any executive is always concerned with growing the business while optimizing investment opportunities. The tactics are dynamic with changing trends, but the strategic ambition is static.
A long-term high-profile customer who has been familiar with the evolution of Breker recently said that he couldn't imagine taping out a chip without using Breker solutions. If I had to pick any one thing that keeps me up at night, that is: How do I get all my customers to say exactly this?
Introducing innovative approaches for novel capabilities is challenging in a mature market entrenched with legacy methodologies. We observe a growing convergence with unmet needs with test synthesis solutions across various verticals and design processes. Due to the initiative supported by Accellera since 2015, Portable Stimulus has become a desired solution space, especially with developing needs in generative AI applications, RISC-V, and leading-edge applications requiring increased compute power. Some of those applications are in healthcare such as genomic sequencing and cancer treatment, aerospace and various simulations in research labs.
Breker is helping push the boundaries of verification technologies for complex chips. In line with our customer-centric, forward-looking positioning, I am focused on bringing agility to how we respond to the diverse demands of our users.
Smith: How do you perceive leadership?
Hamid: Leadership is 90% inspiring individuals to reach their potential and 10% in setting the examples. As the leader, you have to model the behavior you wish for the subordinates to emulate. I strongly believe in this, whether I am the owner of the business or a mid-level manager at a larger organization. There is nothing more solid than establishing the work ethos that propels your company to keep moving forward with excellence.
I have been at the helm of cutting-edge technology companies in Silicon Valley, working with the best of minds. I have also led technology and operations teams in developing countries, where the crop of employees has more variability in their academic backgrounds and qualifications. The unifying factor for success remains in establishing a shared vision, nurturing a sense of ownership over the impact individuals can create as a team, and providing the guard rails so they can focus on doing the tasks they can excel at.
Every business should be mission driven in its own ways. If a business isn't serving a real need or making things better for some segment, it isn't creating real value that moves humankind forward. At Breker, this defines our leadership style as well as our entire company culture.
Smith: What was your career journey getting into the business world to leading Breker?
Hamid: Both my parents are entrepreneurs in a country that has an entrepreneurial spirit as it only became independent in 1971 after a bloody war. While my father built his business industries with the vision to build Bangladesh in ways he could, my mother is a social entrepreneur. I have worked with them since I was a teenager and sat through business meetings with international partners from before I was 10. Our dinner table conversation revolved around stories my father told of navigating his various business dealings with supporters and detractors alike. A very simple man in how he lives, his business altruism has always been generous to his community. Hence, the need to have a philosophical reason behind a career that goes beyond maximizing returns is ingrained in me.
My intuition for business and leadership skills is partly innate, partly absorbed, and partly honed through formal education and my own experiences in investment banking in an emerging market and in social enterprise building.
My husband and Breker co-founder Adnan Hamid was bitten by my family's entrepreneurial bug after we married. We both completed our MBAs at the same time and thought it the best time to try and commercialize the product idea he had been exploring. What sold me on it was his one statement, "This can positively change how people do things." He was willing to take the risk and I was willing to support the journey. We had complementary strengths with his technical depth and my operational experience. I naturally evolved into leading initiatives in non-engineering functions.
Smith: How has your MBA helped inform your leadership style?
Hamid: In its most basic form, the MBA provides a solid, conceptual framework for how the various moving pieces in a business fit together. With a concentration in finance and entrepreneurship, the program at University of Texas Austin is very good at promoting thought leadership, critical analysis and team-building skills.
I was "fresh off the boat" when I entered the program, having been in the United States only for a year by then. I was the youngest in my class, a brown female who still wore traditional ethnic clothes, and found myself in a competitive program dominated by white men. What could have been an intimidating experience was quite enlightening, and I learned to focus on the human element –– Basic human emotions and interests are invariant of culture, upbringing, economic prowess. To this day, it is my strongest skill to be able to map human interests as I engage in diverse forums across industries and workspaces.
Smith: What advice would you give someone wanting to grow into a management role or to budding entrepreneurs?
Hamid: The operative word in the question is "wanting to grow" into a management role. I put stock in people who have innate leadership skills. These manifest in many ways through demonstrable focus on quality work, ambition and creative ideas with follow through, eloquent and articulate presentation of ideas, people skills, and more. Even though I start a team by giving them access to comparable opportunities as well as equal access to my time, it becomes obvious quickly who is willing to go that extra mile to ensure a job well done. This is the group that receives the higher-level tasks and, ergo, the best opportunities to learn and grow.
The entrepreneurial journey is as limitless as it is constricting. Every decision will have important trade-offs and learning that early helps to create an organization that remains rooted in optimization of given opportunities.
Smith: What trends are you seeing?
Hamid: Changing economics directly impact market dynamics. Traditional chip companies are facing stiff competition from large customers building their own chip divisions, and emerging competitors fueled by the advent of RISC-V, AI applications in the cloud, and more. Ask ChatGPT about its potential impact on chip sales and it lists factors such as increased demand for server/data center chips, advancements in AI-specific chips, integration of AI capabilities into consumer devices, impact on edge computing, and even more. This pressures the need to shift traditional design and verification methodologies toward productivity-driven approaches.
Companies like Breker are riding the benefits of this transition with easy-to-use tools to expand verification capabilities and productivity by orders of magnitude.in We are heavily involved in helping to drive this shift with SystemVIP solutions for complex SoCs to application-specific solutions such as cache coherency, power and security and new approaches to comprehensive RISC-V verification.
One thing that never stops being trendy is the realization that complex worlds require simple solutions. Our business philosophy has always been to craft solutions that fit into our customers' unique environments as opposed to forcing them to fit into our predefined product idea. This requires tremendous investment in flexible technology, with extensive configurability at the customer's fingertips. We are reaping the benefits of this customer-centric approach because nothing drives better development than direct customer feedback on usability and desired features. This, in turn, drives us to continually improve and expand our solutions in the most efficient manner.
Also Read:
Optimism Prevailed at CEO Outlook, though Downturn Could Bring Unpredictable Challenges
Nominations for Phil Kaufman Award, Phil Kaufman Hall of Fame Close June 30
SEMI ESD Alliance CEO Outlook Sponsored by Keysight Promises Industry Perspectives, Insights
Share this post via: