RF and microwave design is no longer confined to a few defense and aerospace EEs huddled in dark cubicles working with spreadsheets and primitive circuit simulators. Now, areas like 5G and automotive demand complex RF systems. Advanced RF and microwave EDA tools are taking on electromagnetic (EM), thermal, and power simulation, and everyone from systems engineering to foundry partners touch the workflow.
Quantitatively, the opportunity is drawing interest rapidly. Market analyst Yole Développement pegs CAGR for RF front-end components at 8.3% through 2026. Digital EDA companies are scrambling to incorporate RF-aware technology into their EDA mix – and finding they need many different pieces, not just point products, for a complete RF design workflow.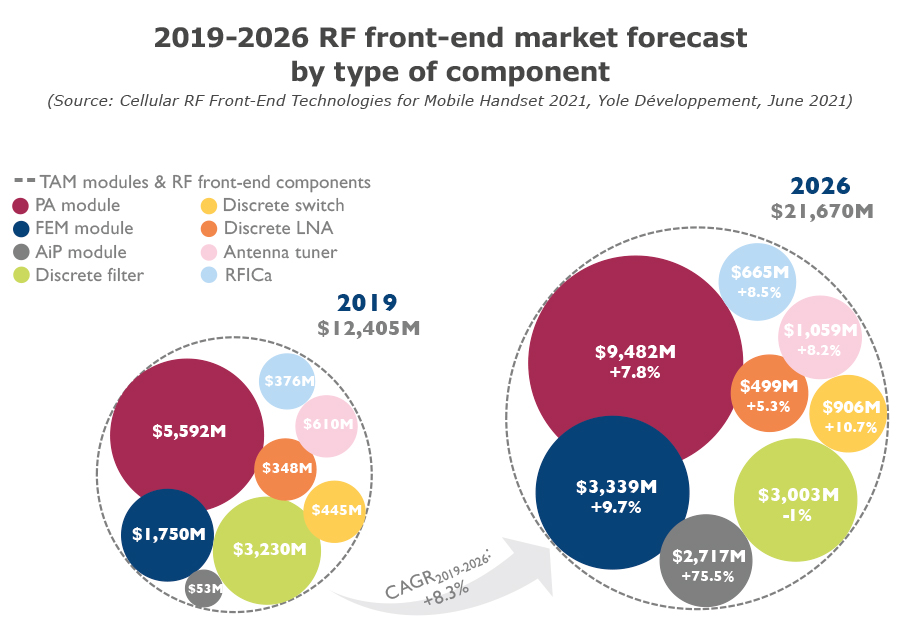 As a long-time leader in the RF and microwave design and test business, Keysight has proven tools and experience customers have counted on for decades. Its state-of-the-art RF/microwave EDA solutions will drive integration, openness, and scalability for anyone looking to innovate – even designers and systems engineers from digital-first backgrounds with less RF knowledge. Nilesh Kamdar, Senior Director and Portfolio Manager for RF/Microwave, Power Electronics & Device Modeling products, sat down to give us a sense of what's coming in 2023.
On a journey together with customers to first-pass success
Kamdar sees his business and its mission with customers hinging on collaboration and trust, going back to its HP EEsof origin story four decades ago. "We've been #1 in RF/microwave EDA for decades because our customers trust us," he says. "Now, it's time to expand that trust and offer solutions that take existing customers – and new ones – into the future." Keysight portfolio teams meet regularly with Tier 1 customers, and their list of pain points is weighty.
Time-to-market is shrinking, especially where consumer life cycles dominate,
Complexity is also growing exponentially, with more integration, advanced packaging and foundry processes, and higher expectations for user experience
Packing more into less space is causing multi-domain interactions, detuning RF performance, and putting pressure on managing heat and power consumption
Scale is now immense, with billions of devices produced from a single design
Open environments and platforms are redefining boundaries in ecosystems and workflows
Maybe it's stating the obvious, but Kamdar says another theme for Keysight is design to verification to manufacturing. "We help people simulate it. We help people build it. We help people measure it. No other RF/microwave EDA company really offers all three phases," he observes. The link between advanced measurement science in virtual and physical space, giving the same results any way a user chooses to work, is unique in the industry. In RF and microwave design, the destination counts, and Keysight gives customers the best chance of first-pass success with fewer schedule-killing hardware re-spins.
Doing more with automation, interoperability, and simulation
There's also a few unknowns lurking beneath the surface. One is the "talent shortage." It's a case of not having the right talent with the right RF EDA tools at the right moment in the workflow. It could show up on teams spread in different departments, across facilities, across continents, or across organizations working together.
If a digital design is needed, many people and mature EDA tools can handle even complex designs on advanced processes with smooth handoffs. But introduce mixed-signal technology – CPU, memory, and RF in the same chipsets – and it's a different game. "Designs can cross technology domains, with roundtrip loops between tools and people for changes and approvals,"  notes Daren McClearnon, RF and Microwave Product Marketing Lead at Keysight. "Co-design with less RF-centric people requires another level of interoperability, or else it can degenerate to 'trick-or-treating' manually around an organization, trying to close design issues."
To Kamdar's earlier point, this looks different to an RF EDA install base versus a prospect who hasn't embraced the right tools for one of several reasons. "We like it when our customers surface their challenges, and Keysight usually has more to offer them," Kamdar says. Fundamental changes like using industry-standard file formats, or incremental changes like scripting a frequently-used procedure, can have a big payoff for customers.
RF design prospects face what they think are tougher decisions. Changing a workflow can be painful, and learning curve costs exist. Kamdar boils it down to one question: are your existing solutions achieving your goals? He suggests it's not always about switching tools per se but more about bringing in a tool that integrates with the mix of tools in service and delivers value without disrupting workflows and adding extra steps.
Kamdar says people know Keysight for RF and 5G design and electromagnetic simulation technology but not so much for other solutions in the portfolio, like thermal simulation, packaging design, and multi-physics analysis. Trust is vital, and Kamdar wants more prospects to experience what customers already see with real-world simulation accuracy. But the emphasis on automating processes and making everything interoperable to help the talent shortfall is equally important in the Keysight 2023 strategy.
Three areas where new Keysight RF and microwave EDA innovation is coming
Kamdar walked us through three focused areas for RF EDA innovation his R&D teams are aggressively pursuing, with rollouts expected throughout 2023.
Multi-technology and Open Platforms. Streamlining physical co-design and verification in an all-Keysight environment or in workflows paired with Cadence, Synopsys, and other EDA tools is a top priority. There are also ongoing improvements in foundry PDK offerings, with developments coming from several new or enhanced foundry and semiconductor partnerships.
6G and mmWave Technology Leadership. Keysight is deeply committed to active participation in specification development for 5G-Advanced and 6G and supporting early-stage research working with customers. Improvements to the core EM simulation engine in several product lines target densification challenges, pushing state-of-the-art forward.
Enterprise Scale and Transformation. Cloud and high-performance computing platforms are having enterprise-wide productivity impacts. Keysight is bringing them to bear on RF and microwave engineering, scaling up for peak demands at critical moments in the development life cycle. The "all Python, all the time" message drives enhancements for scripted automation of repetitive tasks.
Looking further ahead, Kamdar also sees a more prominent role for AI/ML in modeling and simulation. A decade of Keysight AI/ML research is starting to weave its way into its RF EDA solutions. One exciting application for artificial neural network (ANN) technology is the datasheet curve-to-model work from Alex Petr's team.
Kamdar concludes that with in-person tradeshows restarting, he and his team are excited to get out and see customers face-to-face again. Keysight's RF and microwave EDA vision and latest announcements will be on full display this year at several major industry events, including IEEE's IMS 2023 in San Diego in June and the 60th DAC in San Francisco in July. On the virtual event front, Keysight will speak on February 15th in an online panel moderated by Microwave Journal, pairing with Analog Devices, featured in a new Keysight case study on reference designs for RF front ends.
Microwave Journal Online Panel:
What is the Best Beamsteering Antenna Array and Repeater Technologies for 5G mmWave?
Also Read:
Higher-order QAM and smarter workflows in VSA 2023
Advanced EM simulations target conducted EMI and transients
Seeing 1/f noise more accurately
Share this post via: