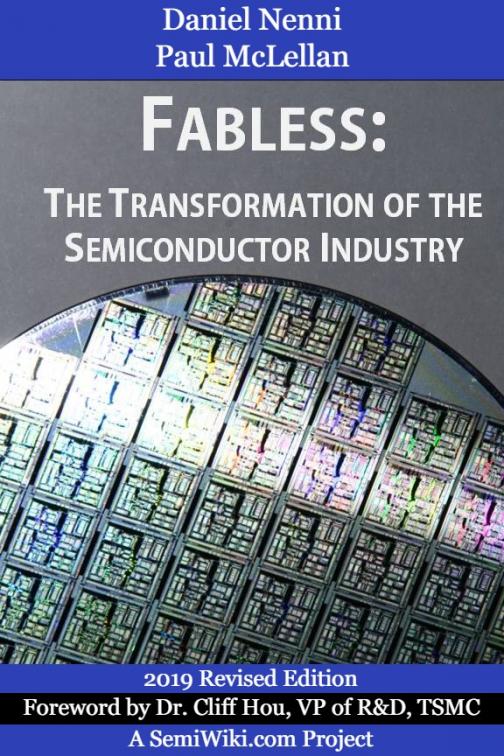 Reason number ONE:The next five DACs will be in San Francisco and this will probably be the last one held in Las Vegas so you absolutely do NOT want to miss it. One of my most memorable DACs was in Las Vegas in 1985. My wife came with me for our second honeymoon and, by definition, it was just that, a honeymoon. This year we will probably spend more time at the conference but you never know, it is Las Vegas.
Reason number TWO:The release of an updated version of our groundbreaking book "Fabless: The Transformation of the Semiconductor Industry". It has grown more than 60 pages and includes updates from eSilicon, Synopsys, Mentor Siemens, Cadence, ARM, and new "In Their Own Words" entries from Achronix, Methodics, and Wave/MIPS. Also included are industry updates on: FPGA, Foundry, EDA, IP, TSMC, GLOBALFOUNDRIES, and a new sub chapter on IP Management. Most importantly there is a NEW chapter 8: "What's Next for the Semiconductor Industry" written by EDA icon Dr. Walden Rhines.
At 56thDAC I will be speaking in booth #1321 and signing copies of the book courtesy of Methodics. A free PDF version will be available on SemiWiki.com after 56thDAC.
Reason number THREE:The program. Rob Aitken is the Chairperson and he definitely thinks outside of the box as you can see from the keynotes. Rob is a great guy, if you have not met him you should, he is a tireless contributor to the semiconductor industry. Rob and I talked about the keynotes and I can't remember a better line-up. Seriously, Thomas Dolby?!?! I grew up with his music and I am always up for a DARPA talk. Reverse engineering the brain? I hope I remember to attend that one!

Game Changers: How Automation Has Changed the Gaming Industry
Monday, June 3 | 9:00am – 9:20am
Mark Yoseloff, PhD – Univ. of Nevada, Las Vegas, NV
Cutting Edge AI: Fundamentals of Lifelong Learning and Generalization
Monday, June 3 | 1:00pm – 1:45pm |
Hava T. Siegelmann, Defense Advanced Research Projects Agency (DARPA)
Hors D'Oeuvres from Chaos
Tuesday, June 4 | 9:20am – 10:00am
Thomas Dolby, Musician, Producer & Innovator, Johns Hopkins Univ.
Thomas Dolby – Youtube
March of the Machines – Building Ethical AI
Tuesday, June 4 | 1:00pm – 1:45pm |
Carolyn Herzog – Arm, Ltd
From student project to tackling the major challenges in realizing safe & sustainable electric vehicles
Wednesday, June 5 | 9:20am – 10:00am |
Bas Verkaik, Founder, SPIKE
The Memory Futures
Wednesday, June 5 | 1:00pm – 1:45pm |
Gurtej S. Sandhu, Micron Technology, Inc.
Reverse Engineering Visual Intelligence
Thursday, June 6 | 9:20am – 10:00am | N250
James DiCarlo, MD, PhD, Massachusetts Institute of Technology
RESEARCH TRACK HIGHLIGHTS
To accommodate this year's large number of accepted papers, we have organized forty-four technical sessions conducted in five daily parallel tracks. A few highlights from this year's conference include twenty-two papers (four sessions) on machine-learning and artificial-intelligent architectures. For example, session 31, Emerging Technologies Meet Intelligent Machines, highlights recent advances in emerging device technologies for hardware implementation of neural networks. While session 61, ET meets AI: Emerging Technologies for Accelerating AI, explores emerging memory technologies such as RRAM and 3D die-stacked memory, and novel computing ideas such as stochastic computing to achieve low power consumption while improving performance and maintaining sufficient accuracy.
Other highlights from this year's conference include twenty-eight papers (five sessions) dedicated to hardware, embedded and cross-layer security. For example, session 41, Hide and Seek: Encryption and Obfuscation, presents methods and tools for quantum-resilient cryptography and piracy-resilient hardware. While session 52, Secure and Private Embedded System Design, focuses on security and privacy of future embedded systems in the context of consumer privacy solutions and secure communication/computation.
In terms of core EDA technical paper highlights, RTL and high-level synthesis continues to be a popular research area with twelve papers (four sessions). For example, session 34, What happens in logic synthesis stays in logic synthesis, presents advances in traditional logic synthesis and emerging applications.
This year, physical design and verification, lithography and DFM continues to be another popular core EDA topic area with sixteen accepted papers (three sessions). For example, session 64, Deep Manufacturing : Design, Data, and Machine Learning, where you will learn how deep learning is opening doors to new approaches for Design for Manufacturing.
For a complete list of technical sessions, please visit this year's online DAC program.
Research Panel Highlights:
7 research panels in machine learning, security/privacy, autonomous systems, architecture, design and CAD, provide exciting opportunities to hear internationally renowned experts from industry, academia and government debate critical controversial topics, such as:
Will revolutionary computing hardware and software such as Quantum Computing lead a major paradigm shift for future EDA?

Is open-source EDA making a comeback to lead the future or is it just another hype?

Will open-source hardware live up to the promise of offering better security against malicious attacks than traditional proprietary architectures?

Will in-memory computing for machine learning ever become reality or is it all just a fallacy?

Can we ever trust AI to provide robust cybersecurity given that the machine learning models and algorithms are themselves vulnerable to adversarial manipulation?
And please someone have an Elvis impersonator in your booth…. Viva Las Vegas!
Share this post via: