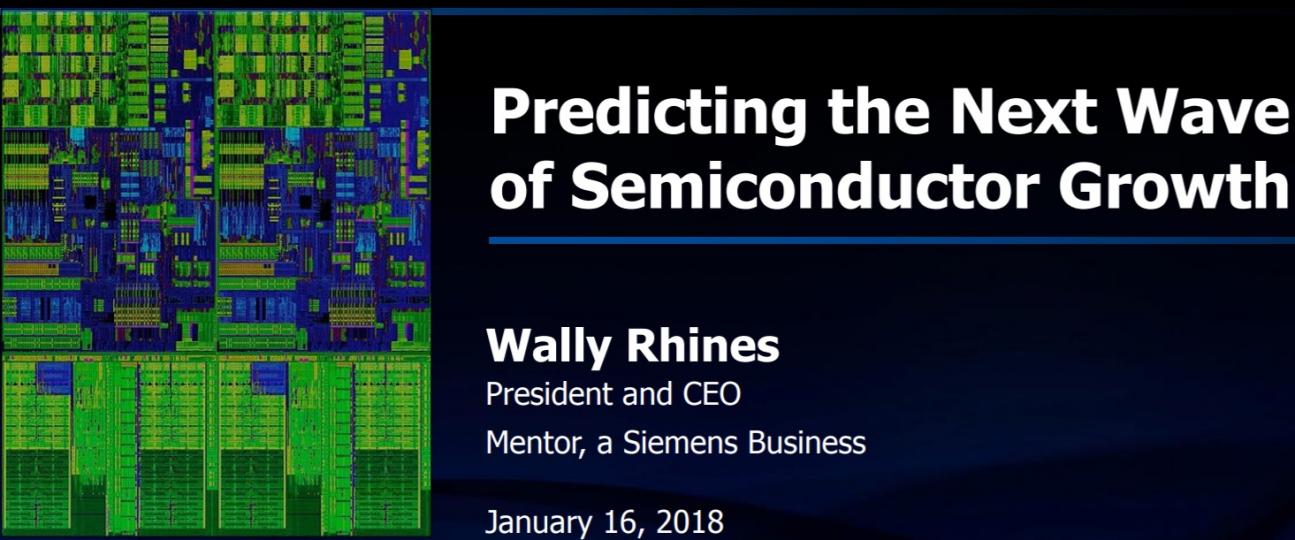 Wally Rhines, President and CEO of Mentor, a Siemens Group, did another one of his famous deep learning presentations at SEMI ISS 2018. Using the Gompertz Curve Lifecycle to forecast the future growth of semiconductor markets, Wally looks at: Image sensors, Desktop PCs, PC Notebooks, Cell Phone Subscribers, Smartphones, and IoT products (smart meters, wearables, fitness trackers, and medical wearables). Wally then applied Gompertz to the limitations of growing markets: 3D TVs, Automotive Night Vision, and Drowsiness Systems.
Next Wally used Gompertz to answer the ever burning question: Where are we in the life cycle of semiconductor manufacturing? As it turns out we still have quite a bit of room to grow before we need an alternative to the silicon transistor switch.
Wally and I have discussed the non-traditional semiconductor chip company phenomena many times and he gave a couple of prime examples: Automotive, there are hundreds on new car companies with products in development. Consolidation will come very quickly but not before EDA and IP companies collect their chip design toll. Medical, remember the Google contact lens project that can potentially track hundreds of bio markers including glucose for the hundreds of million people with diabetes? There are a slew of health and wellness related chips and devices coming. IoT, there are thousands of companies buying EDA tools and IP making chips that will be in just about every device we will touch in the coming years.
In his "Where's the Money" section Wally focused on IoT Data Center, Gateway, and Edge Devices, and rightly so. Here is the "IoT As a Source of Future Semiconductor Revenue Growth" bullet points:
IoT data owners will make most of the money
Traditional semiconductor companies will attempt to capture data ownership value
Growing semiconductor/sensor capability will create new semiconductor applications and bring new companies into semiconductor design
Wally sent me a copy of his presentation which is available HERE.
During breakfast Wally and I discussed a wide variety of topics both personal and professional. I met Wally in my early blogging days when my mantra was "I blog for food". Wally invited me for lunch and we have been friends ever since. While it is important that I do not play favorites (as the founder of a mega semiconductor media channel) what I can tell you is that Wally is my beautiful wife's favorite EDA CEO, absolutely. She says Wally is charming…
At the conference Wally was much more relaxed and upbeat than ever before. Engineering the most incredible EDA exit of all times (Siemens) is only part of it. The transformation of Mentor, a Siemens Business, over the last year is something I feel honored to witness. Seriously, in the last 30 years I have seen nothing like it! It is a shame Siemens does not break out IC Design revenue because my guess from customer visits in 2017 is that Mentor, a Siemens Business, is consuming EDA market share at an unheard of rate.
Share this post via: