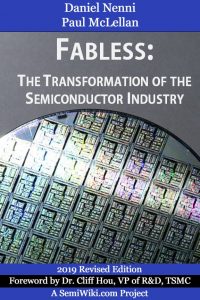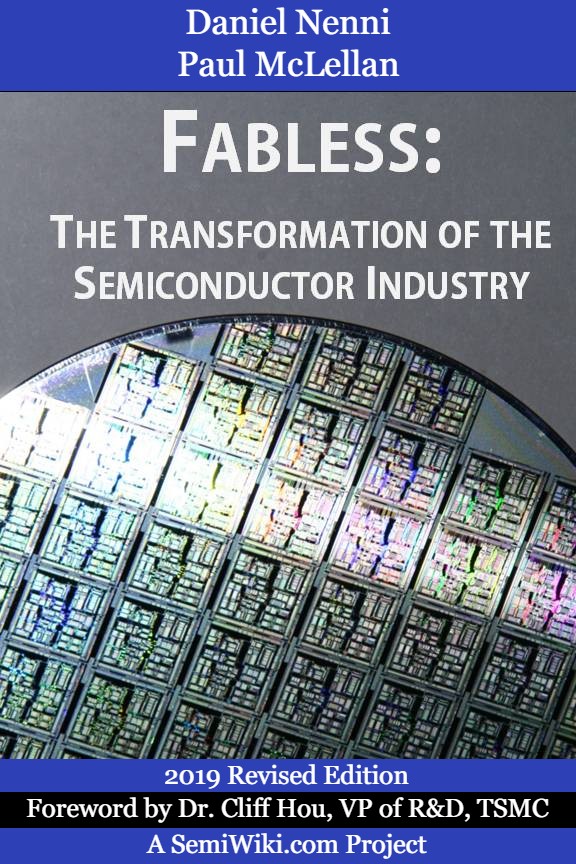 As more than 343 people (and counting) know, we will be releasing the 2019 updated PDF version of our first book "Fabless: The Transformation of the Semiconductor Industry" via handout at a live webinar. The response has been overwhelming and I want to personally thank you. The webinar will be a brief overview of the book with a question and answer session. Co-Author Paul McLellan will make a brief video cameo as well. You can register for the webinar replay here. I hope to see you there, absolutely.
REPLAY: Fabless: The Transformation of the Semiconductor Industry Thursday August 22nd 7pm PDT.
The last 9 years really has been a personal and professional journey. It started in the summer of 2010 after my oldest son finished his undergraduate degree. He had 6 months before his graduate program so we spent that time in our living room creating SemiWiki.com which officially went online January 1st, 2011.  The rest as they say is history (in the making).
Here is the introduction to the book:
Paul McLellan, Daniel Payne, and I have more than 100 years of combined experience in the semiconductor industry. We started sharing our observations, opinions, and experiences when semiconductor blogging was just getting started. Many semiconductor bloggers followed, peaking at more than 200 in 2010. We literally brought blogging to the semiconductor industry, which was very disruptive at the time. Blogging is hard work and only the company (employee) bloggers would survive without independent blogger compensation. In 2011 Paul, Daniel, and I joined our blogs together to create a crowdsourcing platform (SemiWiki.com) to not only appeal to a wider audience, but to also get compensated for our efforts.
At first we were chastised for pretending to be journalists, in fact we were not allowed press passes or access to press rooms at conferences. The tide turned, of course, and now blogging is the media mainstay for all industries including semiconductors. Don't be fooled by fancy executive editor titles, the majority of the news today is written by people like us who share observations, experience, and opinions. The difference of course is that most mainstream semiconductor bloggers do not have deep semiconductor experience like the SemiWiki contributors.
Dozens of people have blogged on SemiWiki and more than three million people have visited. SemiWiki has published more than five thousand blogs since 2011 garnering more than thirty-three million views.
The result is a trove of content and analytics of who reads what, when, where, how, and why. Several of the regular SemiWiki bloggers have launched off into bigger and better things but most are still here to stay active in the industry that we all love.
On June 1st, 2019 we launched SemiWiki 2.0 which will include an IP
Enablement Portal. We will talk about this more in the Semiconductor IP
Chapter update so keep reading. It will be another SemiWiki disruption and
we hope you will be part of it, absolutely.
SemiWiki has also published seven books, with more planned. This particular book started it all when Paul McLellan, Beth Martin, and I decided to document the history of the fabless semiconductor industry as published on SemiWiki.com. It was a labor of love since we posted a free PDF version and have given away thousands of print copies over the last six years.
A lot has happened in the semiconductor ecosystem since we first published in 2013 so we decided to do a revised edition. It has grown more than 50 pages and includes updates from eSilicon, Synopsys, Mentor Siemens, Cadence, ARM, and new "In Their Own Words" entries from Achronix, Methodics, and Wave/MIPS. Also included are industry updates on: FPGA, Foundry, EDA, IP, TSMC, GLOBALFOUNDRIES, and a new subchapter on IP Management. Most importantly there is a NEW chapter 8: "What's Next for the Semiconductor Industry" written by EDA icon Dr. Walden Rhines. Thank you again for reading and I hope to see you on www.SemiWiki.com.
Daniel Nenni
Founder, SemiWiki.com LLC June 2019

Share this post via: