Unless you are new to SemiWiki you should be familiar with Scotten Jones, founder of IC Knowledge, semiconductor process expert, and blogger extraordinaire. Scott joined SemiWiki in 2014 and has been blogging ever since with 130 posted thus far.
Scott's, company, IC Knowledge LLC, is the world leader in cost modeling of Semiconductor and MEMS products with five different cost models covering low power silicon ICs, high power silicon and compound semiconductor ICs and discrete devices, MEMS products, assembly and test, and future IC technologies. Their cost models produce detailed cost and price projections. Models such as the MEMS and future IC – "Strategic Model" also produce details equipment and materials requirements. The forward-looking strategic model also includes a detailed roadmap of semiconductor technologies for the next decade and beyond.
IC Knowledge also produces a database of all the 300mm fabs in the world including both currently operating fabs and announced new fabs. The 2019 – revision 03 version is available now and includes detailed profiles of 190 fabs.
As of the end of 2019 IC Knowledge expects 146 – 300mm fabs to be operating made up of 14 development fabs and 132 productions fabs.
It is interesting to track the progression of capacity by country. In 2010 Taiwan had the most installed capacity followed by Korea, Japan, the US and China. By 2020 IC Knowledge is forecasting the capacity by country to switch to Korea at number one followed by China, and then Taiwan, with Japan and the the US in a distant 4th and 5th place respectively.
In terms of companies, the five largest in terms of currently installed capacity are Samsung followed by TSMC, SK Hynix, Micron and Toshiba. With the exception of TSMC at number two all of the top five companies primarily produce memory products.
In terms of the average size of fabs, the average foundry fab is just over 34,000 wafers per month, the average DRAM fabs is just over 80,000 wafers per month and the average 3D NAND fab is almost 88,000 wafers per month.
Worldwide 300mm wafer capacity has increased from 37.8 million wafers in 2010 to an estimated 83.2 million wafers in 2020.
In terms of number of fabs by product type, foundry has the most operating fabs followed by Flash and then DRAM. Foundry also has the most installed capacity followed by Flash and then DRAM.
The 300mm Watch database includes detailed profiles of each fabs with company, location, product, key dates, cost, cleanroom size, linewidths and capacity by year from 2010 to 2030. The database also includes analysis pages of capacity by linewidth, country, product and company, also number of fabs by type, and product and finally average fab capacity by year and type.
The following figure is an example from production fabs by type sheet that includes numeric values and two different graphs.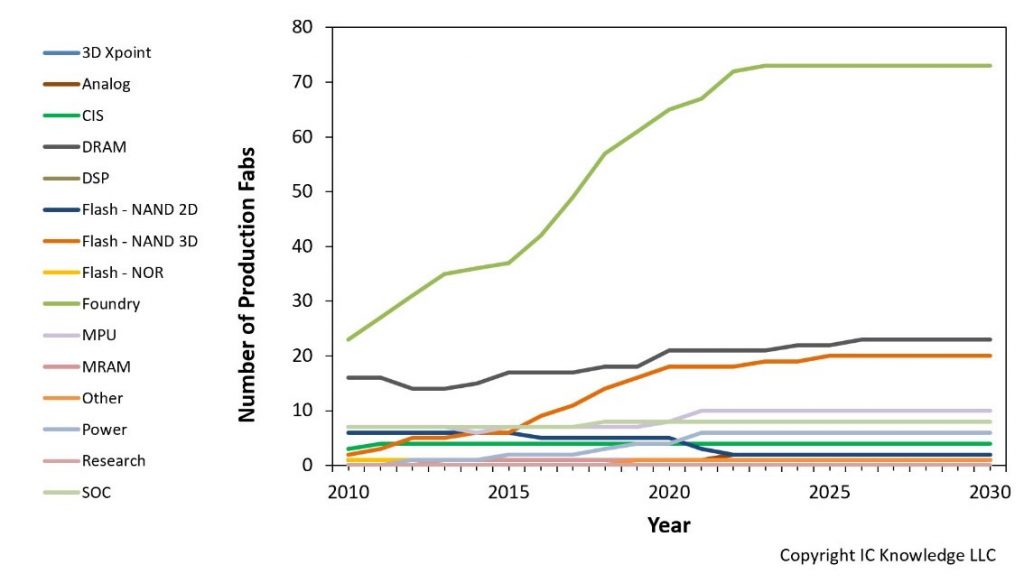 Figure 1. Worldwide number of 300mm fabs by type and year
The IC Knowledge 300mm Watch database is an essential source of information for anyone interested in tracking 300mm fabs.
For more information as well as pricing on any IC Knowledge product please go to www.icknowledge.com
List of blogs by Scotten Jones
Share this post via: