To me the major idea of ISO 26262 compliance is ensuring that requirements can be traced throughout the entire design and verification process, including the use of IP blocks. The first market application that comes to mind with ISO 26262 is automotive, with its emphasis on safety because human lives are at stake. Since necessity is the mother of all invention, we have software vendors that have focused on automating this big challenge of traceability of requirements, design data and verification results. Methodics is a software vendor focused on this area, and they are organizing a webinar:
Achieving a Traceable Semiconductor Design and IP Methodology for ISO 26262 Compliance

Tuesday, May 14, 2019 at 10AM

Pacific Time
Percipient is the IP Lifecycle management tool discussed in the webinar, and it provides a fully traceable environment for tracking IP in a company while engineers go about their design and verification tasks: analog, digital, software, embedded software, final assembly. The beauty of using Percipient is that traceability is already built-in to the process.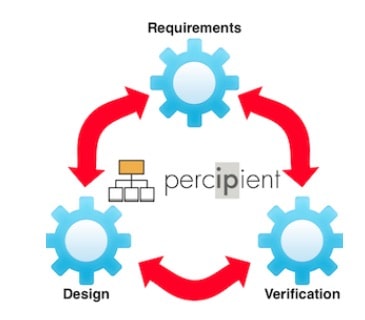 Speakers



Michael Munsey
VP Business Development and Strategic Accounts
Methodics Inc.

Michael Munsey has over 25 years experience in Engineering Design Automation and Semiconductor Companies. Prior to joining Methodics, Michael was Senior Director of Strategy and Product Marketing for semiconductors, software life cycle management, and IoT at Dassault Systemes. Along with strategic initiatives, he was responsible for business development, partnerships, and cross-industry initiatives such as automotive electronics, and M&A in the above areas. Michael began his career with IBM as an ASIC designer before making the move over to EDA where he has held various senior and executive-level positions in marketing, sales, and business development. He was a member of the founding teams for Sente and Silicon Dimensions, and also worked for established companies including Cadence, VIEWLogic, and Tanner EDA. Michael received his BSEE from Tufts University.




Rien Gahlsdorf
Director of Application Engineering
Methodics Inc.

Rien Gahlsdorf is the Director of Application Engineering at Methodics where he endeavors to create a clear customer understanding of the product, and a clear product alignment with the customer. Rien brings over 20 years of experience in product development and support, technical sales, and analog and RF design to his role at Methodics, which he joined in 2016. Rien received his MBA from Boston University.




Vishal Moondhra
VP of Solutions Engineering
Methodics Inc.

Vishal Moondhra has over 20 years experience in Digital Design and Verification. He has held engineering and senior management positions with innovative startups including IgT and Montalvo, and large multinationals including Intel and Sun. In 2008, Vishal co-founded Missing Link Tools, which built the industry's first comprehensive DV management solution, bringing together all aspects of verification management. Methodics acquired Missing Link Tools in 2012.
Share this post via: