So you've decided to buy a new car? First you need to research, compare, and test drive before you finally get to drive that shiny new car home. Engineering teams choosing their preferred electromagnetic analysis tool face similar challenges. Historically, electromagnetic problems and analysis tools were relegated to a few "gurus" within an organization, however, more recently, tools are becoming more automated and easily used by the entire electrical engineering design team.
When exploring options for electromagnetic solutions, one of the first criteria for comparison is to look at the latest model. You wouldn't compare the features and capabilities of the latest SUV with that of a five- or ten-year-old model. The latest SUV has all the best safety features, performance, and efficiency features that are just not present in older models. The same is true for analysis tools. The latest versions of electromagnetic solvers use current numerical methods for matrix solutions, the latest in meshing technology, as well as the most efficient use of HPC resources. Along with the latest version, it helps to be using the best known methods for setting up a design. Just like you no longer change out the spark plugs every tune up like you used to do to your 1976 Plymouth Duster, conditions that used to be "rules of thumb" when you used the tool back in college evolve over time, and some best-known methods turn out to be counterintuitive, or even counter to your previous practices. Check out this article discussing some of the best methods for Ansys HFSS.
One of the main selection criteria for EM solvers is how fast you get your answer, so that includes model setup and definition, analysis setup, solve, and post-processing. For the solve piece of that decision, you should make sure you're using the same set of compute resources to run all your solutions. Whether you use existing company "on-premise" compute hardware or you are accessing cloud resources, it's best to make sure you are performing an apples-to-apples comparison. This is just like taking those competing SUVs for test drives on the same roads. You want to see how they're going to perform whether running errands in the city or commuting to the office on the highway.
One last consideration when making comparisons between electromagnetic solvers, and cars, is their efficiency, or how well they utilize resources. There are times where you may be limited to certain hardware resources inside your company environment, but with cloud resources readily available, it's important to understand how much faster you could design if those constraints were removed. For Ansys HFSS, it's a simple matter of choosing Ansys Cloud for the job submission, and you are open to almost unlimited possibilities. An example of solving an automotive radar array module is shown in the images. By using the cloud resources, this model solved almost five times faster. To read about these possibilities using Ansys HFSS in the Ansys Cloud powered by Microsoft Azure, check out this Microsoft post.
Automotive Radar Antenna Array Module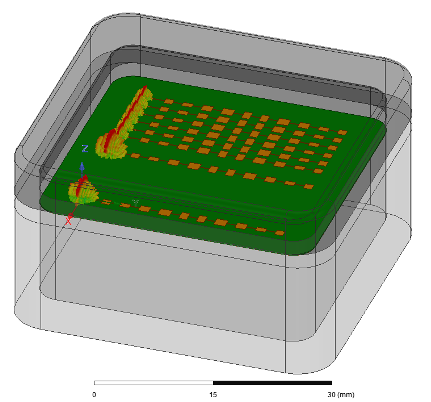 Automotive Radar Antenna Array Simulation Performance

Just as you have to research, compare, and test drive that new car before you get to enjoy the benefits, so should you take your electromagnetic solver out for a test drive. When you use the latest version combined with the best-known methods for problem setup and solve, combined with the virtually unlimited power of HPC with the Ansys Cloud, you will find that HFSS shines brighter than others in the industry. To find out more about HFSS, please find more information here, or join the world's largest engineering simulation event, Ansys Simulation World.
Also Read
Electromagnetic and Circuit RLCK Extraction and Simulation for Advanced Silicon, Interposers and Package Designs
Need Electromagnetic Simulations for ICs?
Webinar: Electrothermal Signoff for 2.5D and 3D IC Systems
Share this post via: