Intro
For 22 years now Tanner EDAhas been in the business pf offering tools for AMS and MEMS designers. I learned what's new at DAC on Tuesday morning.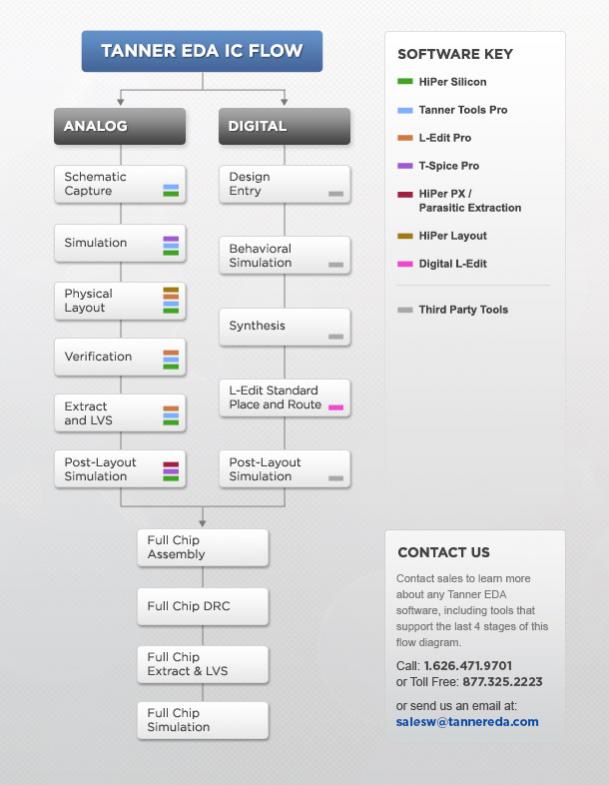 Notes
Nicholas Williams – Director of Product Management
Tanner EDA front end: S-Edit integrates with Berkeley Fast Analog Simulator
W-Edit – is the waveform viewer
Who is Tanner – full suite for custom IC design
– 22 years in industry
– AMS focus
– First on Windows (also Linux)
– 20K licenses, 67 Countries
S-Edit – Schematics (Import Mentor and Cadence legacy data)
– Cross probe between schematics and layout
– Checking
– Launch simulation, make measurements
Berkeley Analog Fast Spice (AFS)
– About 5 to 10X faster than SPICE
– 10M element capacity
W-Edit – setup measurements
– Scripting for sophisticated measurements
– Built in measurement functions
Layout editor – L-Edit
SDL – schematic driven layout
HiPer DevGen – layout generators
HiPer Verify – Netlist extraction tool (Takes Calibre or Assura decks as inputs)
HiPer PX – parasitic extraction
Why choose Tanner?
– Economic price
– Installed base
– PDKs
Why not your own Fast SPICE?
Easier to partner with a leader already.
John Zuk
Last year – Hiper DevGen (Dublin based, IC Mask)
– This year added: Resistor arrays for matching, adding mosfet array generators, adding current mirrors
– Focus is on analog blocks
SDL – read in netlist analyze it, find current mirrors, use Hiper Devgen automatically
Interactive DRC – close enough to final rules, then HiPer Verfiy in batch to complete the layout verification
Open Access – in integration now, L-edit is first, S-edit is next. PC –based we donated technology that they didn't even have.
– Took more effort than anticipated.
– Working with Si2 to define what OA should be
– iDRC and iLVS are in the future, after L-edit and S-edit, waiting to be embraced
– IPL Constraints – looking at that as well, designer notes, will be part of S-edit
– V16 is due in October and will be the first to support OA
iPDK – Looks more practical than Open PDK
– In V17 this would be supported in 2012, beta by June 2012
Resell BDA tool – 1st line of support,
OEM – parasitic extraction tool (Tuo Delft in Netherlands, HiPer PX extraction)
– Hiper devgen
Tanner version – scaled down version limited by processors and total elements, lighter version, token based
– Worldwide sales agreement
– First copy to be sold very soon
Fiscal Year – 140 new customers in 2011
Greg
3D field solver as an upgrade
V16 – multi user now available
OA – realtime collaboration on the same database
ClioSoft – what is the cost of this?
Share this post via: