The semiconductor industry has been responding to increasing device complexity and performance requirements in multiple ways. To create smaller and more densely packed components, the industry is continually advancing manufacturing technology. This includes the use of new materials and processes, such as extreme ultraviolet lithography (EUV) and 3D stacking. To meet performance requirements, the industry is developing new chip architectures that enable more efficient data processing and power consumption. This includes open-domain-specific-architectures (ODSA) incorporating specialized processors and artificial intelligence (AI) accelerators. To reduce costs and improve performance, the industry is integrating more components onto a single chip, resulting in System on Chip (SoC) designs or opting for multi-die systems using chiplets-based implementations. There is also increasing levels of collaboration within the ecosystem including the equipment suppliers, foundries, package and assembly houses.
At the same time, time-to-market (TTM) is taking on more and more importance for product companies. In today's fast evolving markets, the market window for a product may be just two years. A company cannot afford to be late to any market, let alone these kind of fast moving markets. Thus, each company utilizes its own tested and proven ways of deriving TTM advantages to get to market first. Of late, deep data analytics is being leveraged by many companies to accelerate their SoC product development efforts. By leveraging deep data analytics, design issues can be caught early in the development process, reducing the need for expensive and time-consuming re-spins. It can also identify potential performance bottlenecks and optimization opportunities. In essence, deep data analytics can not only reduce TTM but also help improve product performance, increase power efficiency and enhance reliability of a product. The product company gets to enjoy bigger market share at significantly improved return on investment (ROI) and longer term customer satisfaction.
proteanTecs is a leading provider of deep data analytics for advanced electronics monitoring. Its solution utilizes on-chip monitors and machine learning techniques to deliver actionable insights during development through production and in-field deployment. The company hosted a webinar recently where Rich Wawrzyniak, Principal Analyst for ASIC and SoC at Semico Research, presented a head-to-head comparison of two companies designing a similar multicore SoC on a 5nm technology node. One of the two companies in this comparison leveraged proteanTecs technology in its product development and gained a six-month TTM advantage over the other.
The webinar is based on a Semico Research white paper, which we covered in the article, "How Deep Data Analytics Accelerates SoC Product Development."
Here are some excerpts from the webinar.
The Cost Edge
Below is a design costs comparison table for two competing solutions for the same application based on current industry design and production costs. Company A's solution leveraged proteanTecs analytics-based design methodology and Company B's solution used standard methodology. The solution is a data center accelerator SoC product, details of which are shared by Rich in the webinar. Company A's cost savings amounted to about 9% over Company B.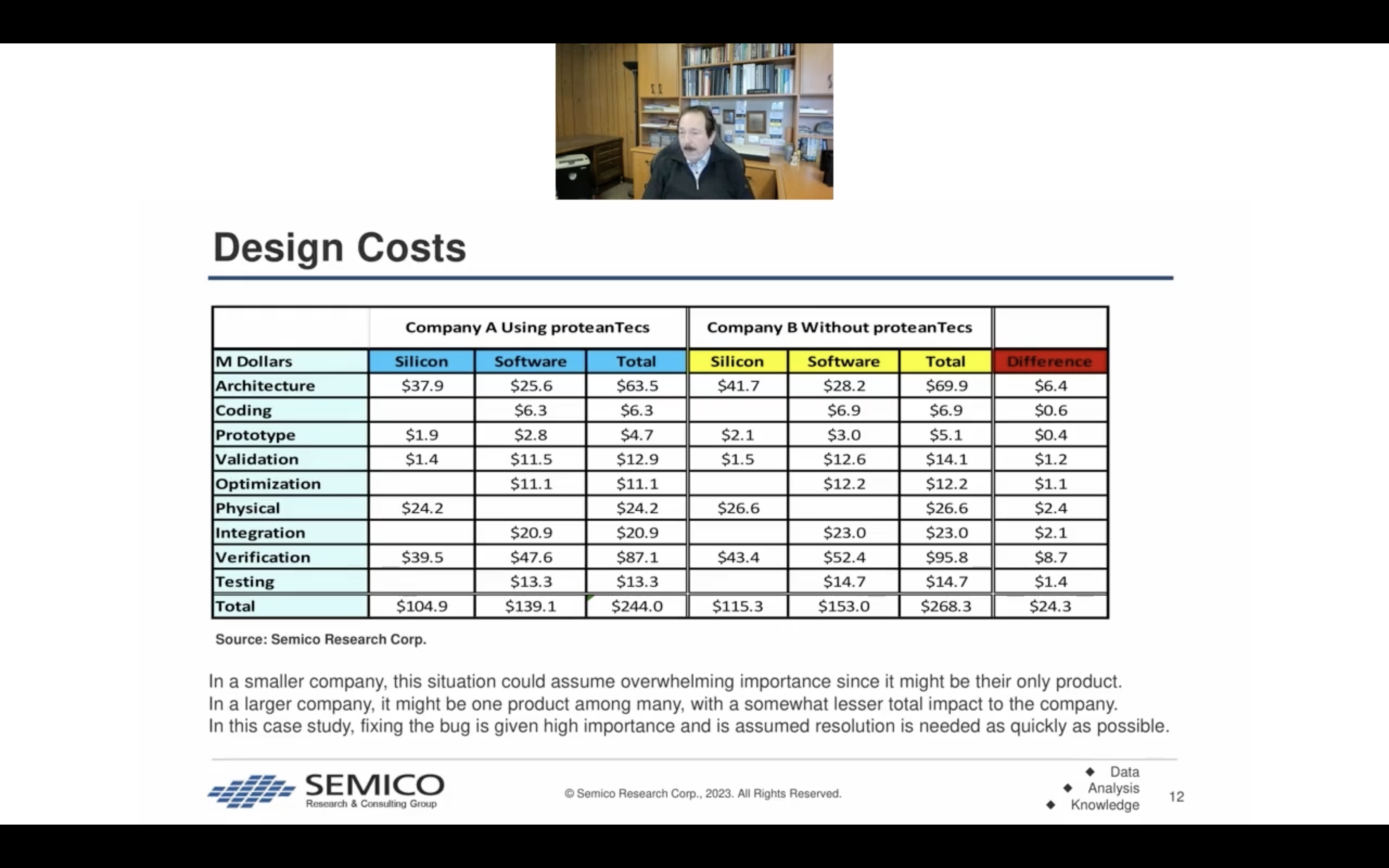 The Time-to-Market (TTM) Benefit
Using proteanTecs approach for deep data analytics, Company A met their market window with on-time entry, allowing it to capture the majority of the target market. The company gained a 6-month TTM advantage over Company B. It also recovered its design investment even as their market was still growing, allowing for increased revenues and profitability.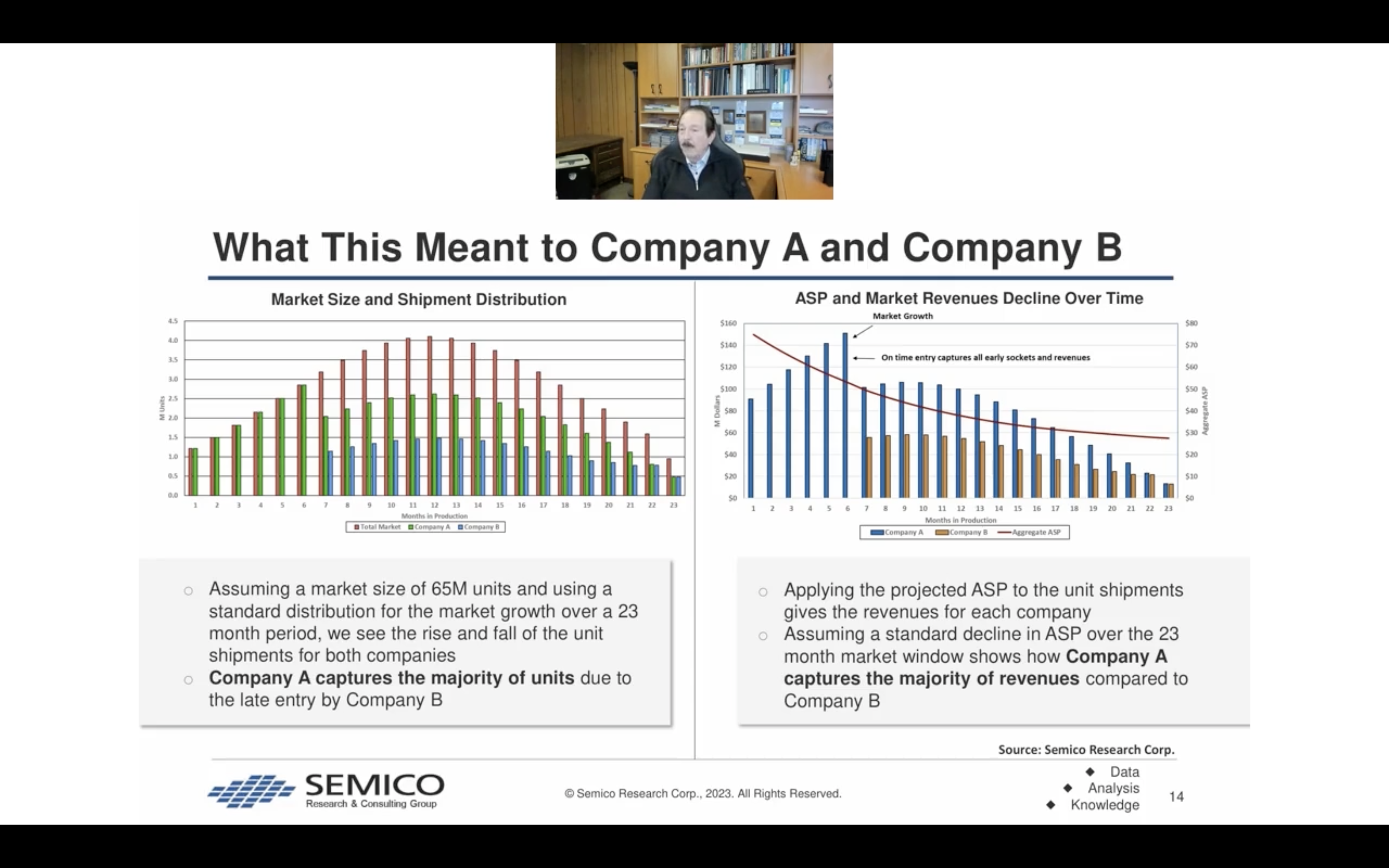 In-Field Advantage
As highlighted in the Figure below, proteanTecs analytics solution not only helps during design, bring up and manufacturing phases but also after a product has been deployed in the field. This helped Company A monitor for and correct potential problems in the field under real world operating conditions. This kind of analytics insights could be used for preventive maintenance and fine tuning for power consumption and product performance in the field. Marc Hutner, Senior Director of Product Marketing at proteanTecs, presented this information during the webinar.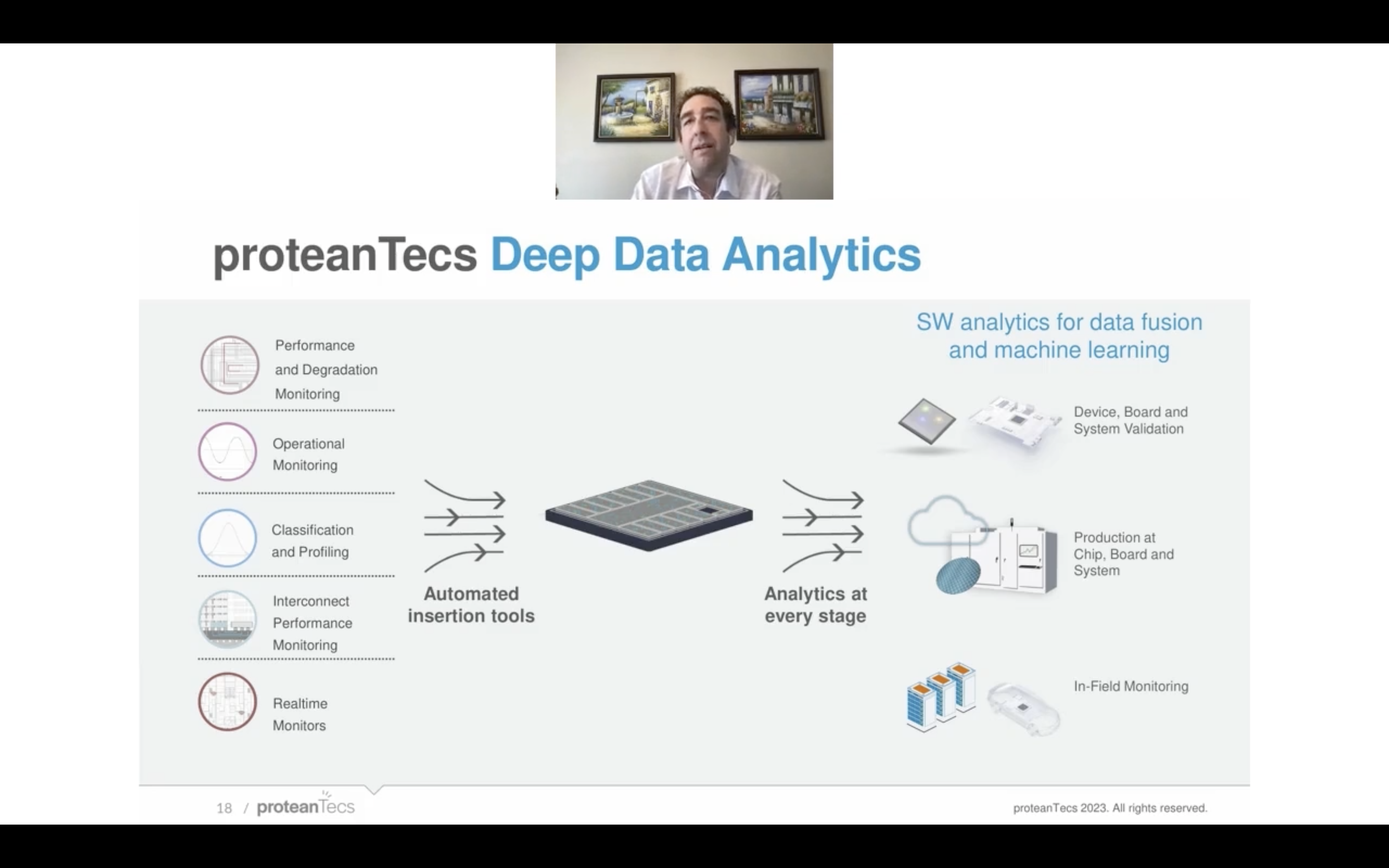 Cloud-Based Platform Demo
To conclude the webinar, Alex Burlak, Vice President, Test & Analytics at proteanTecs, showed a demo of the proteanTecs cloud-based analytics platform. He highlighted the platform's capabilities and revealed the different types of insights users receive from proteanTecs' on-chip monitors, also called Agents.
Summary
Anyone involved with semiconductor product development will find the information presented in the webinar very useful. You can watch the webinar on-demand here.
Also Read:
Maintaining Vehicles of the Future Using Deep Data Analytics
Webinar: The Data Revolution of Semiconductor Production
The Era of Chiplets and Heterogeneous Integration: Challenges and Emerging Solutions to Support 2.5D and 3D Advanced Packaging
Share this post via: