The automotive industry is undergoing a major transformation; it is not about just connectivity and convenience anymore. Data is emerging as the driving force behind innovation and safety with vehicles becoming sophisticated data-driven machines. By unlocking the power of data, we can create safer vehicles and roads and usher in the era of semi and fully autonomous vehicles.
The Data Revolution in the Automotive Industry
The automotive industry has always been at the forefront of technological advancements with integration of electronics and computer systems. Over the recent years, proliferation of sensors, connectivity, and advanced computing has ushered in a new era of data-driven transformation. Advanced Driver Assistance Systems (ADAS) technologies, such as adaptive cruise control, lane-keeping assist, and automatic emergency braking, rely heavily on data from various sensors, cameras, and radar systems. These systems help drivers by providing real-time data about their surroundings and assist in avoiding accidents. Autonomous vehicles, of course, have pushed the industry to the pinnacle of data-driven automotive technology. These vehicles rely on a constant stream of data from sensors, cameras, lidar, and radar to make real-time decisions and navigate safely. Features such as vehicle-to-vehicle (V2V) and vehicle-to-infrastructure (V2I) communication are crucial to improving safety and rely on modern vehicles being connected to the internet. Cloud-based platforms enable communications between vehicles and infrastructure for sharing real-time data.
How Data Enables Automotive Safety
Avoiding unexpected breakdowns
Maintenance alerts have come a long way in the automotive industry.  From the primitive warning lights on the dashboard to the flex maintenance alerts over the last couple of decades. With the data revolution discussed in the earlier section, automotive safety can be taken to a whole new level. Telematics systems can collect information about a vehicle's performance and usage patterns. The data collected can be analyzed to not only provide predictive maintenance needs but also provide prescriptive measures to even extend the useful life of vehicles. This reduces the chances of mechanical failures causing accidents.
Accident prevention
Data can be used to monitor driver behavior, such as distraction and drowsiness detection. Advanced systems can alert drivers when they exhibit dangerous behaviors, reducing the risk of accidents. Data-driven safety systems, like ADAS, can detect potential collisions and provide warnings or take corrective actions, such as applying brakes or steering, to prevent accidents. Autonomous vehicles use vast amounts of data to make split-second decisions. They can analyze the behavior of nearby vehicles, pedestrians, and road conditions to make safer driving choices. Road conditions data collected can help reduce the risk of accidents by enabling efficient traffic flow and routing management.
This topic is the context for a talk given by Nir Sever at the recent TSMC Open Innovation Platform (OIP) Forum that was held in Santa Clara, California. Nir is a senior director of business development at proteanTecs. His presentation focused on how software-defined vehicles are driving innovation, as well as enabling new levels of safety to future automotive systems.
Software-Defined Vehicles (SDV) Drive Innovation
At its core, a SDV relies on software for controlling various vehicle functions. SDVs are driving innovation in the automotive industry by redefining the role of software in vehicles. With over-the-air updates, they enable continuous enhancements and adaptability without physical modifications. SDVs also lead autonomous driving innovation through advanced software algorithms, while their connectivity enables innovations in traffic management and safety. Vast data generated by SDVs fuel advancements in analytics and machine learning, enhancing vehicle performance and safety features.
Decoupling software functions from hardware
Decoupling software functions from hardware is a cornerstone of SDVs. This separation allows SDVs to embrace hardware-agnostic software, ensuring compatibility with diverse platforms. It promotes modularity, facilitating the reuse of software modules across different vehicle models, ultimately reducing development time and costs. SDVs exhibit scalability, effortlessly adapting to evolving hardware configurations and accommodating various feature levels. Customers can personalize their SDVs without hardware modifications, and AI and machine learning enhancements become simpler.
Modular development practices
SDVs lend themselves to modular development practices that simplify the integration of hardware and software components. They become highly adaptable, accommodating various configurations, and feature sets while facilitating over-the-air updates for ongoing enhancements. The modular approach encourages third-party integration, fostering a healthy ecosystem of software offerings for customization purposes. This practice helps future proof SDVs by allowing easy integration of new modules as technology advances.
Enabling new business models
SDVs are reshaping the automotive industry by introducing innovative business models. Mobility-as-a-Service (MaaS) is flourishing through smart-hailing, ridesharing, and subscription-based models that offer on-demand access to SDVs, reducing the need for vehicle ownership. Data generated by SDVs are monetized through analytics services and personalized advertising. Manufacturers generate post-sale revenue with software upgrades and app stores. In essence, SDVs unlock a new era of business opportunities, adapting to evolving consumer demands and technological advancements.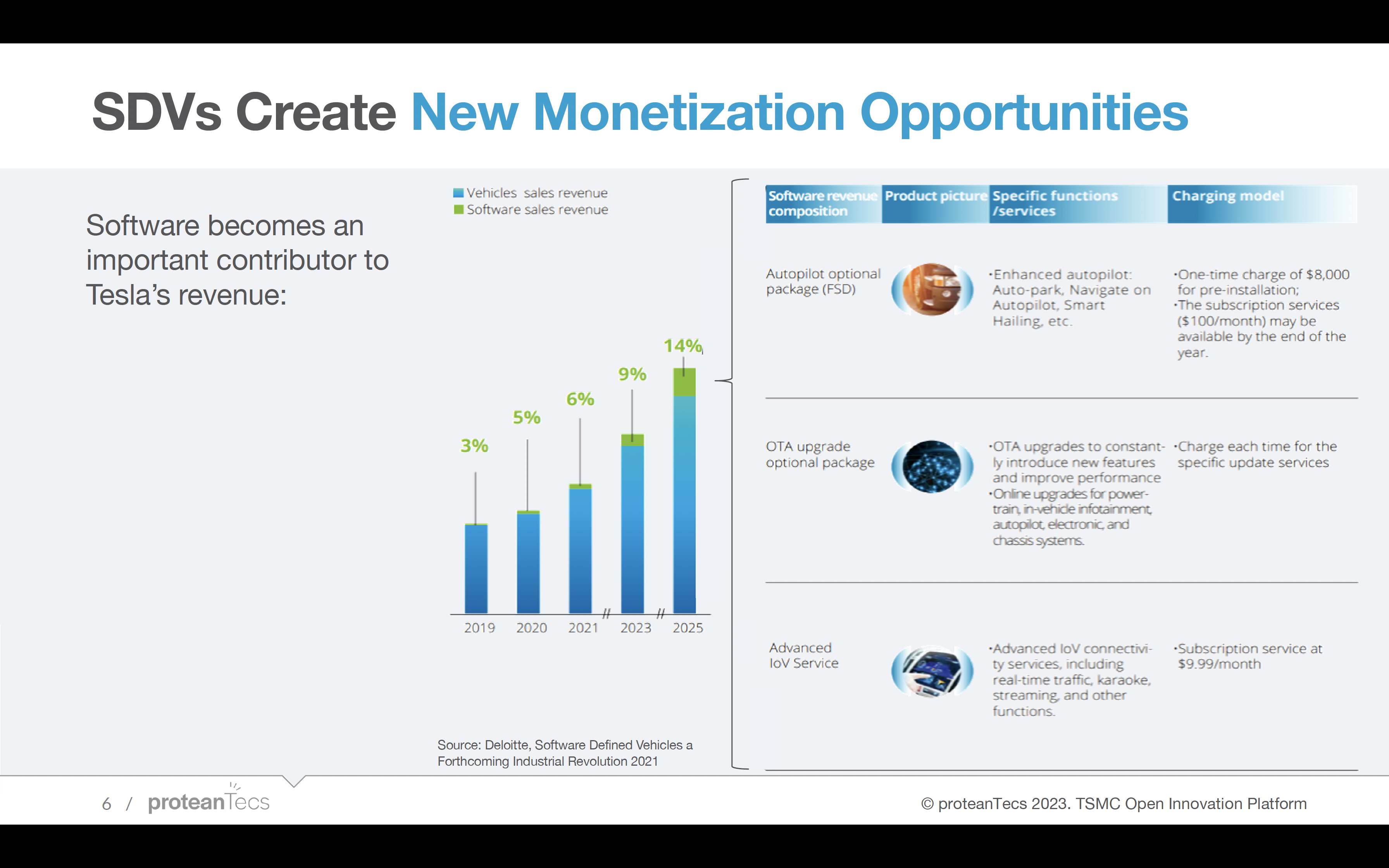 Health and Performance Monitoring of SDV Electronics
The primary objectives and growing challenges of Electronic Control Units (ECUs) and System on Chips (SOCs) in SDVs are reliability and functional safety, extension of mission profiles, power usage reduction, and security/authentication. These objectives can be achieved only through continuous health and performance monitoring.
By combining chip telemetry with advanced ML-driven analytics, proteanTecs provides embedded and cloud SW solutions to predictively monitor vehicle electronics during their lifetime operation, under functional workloads.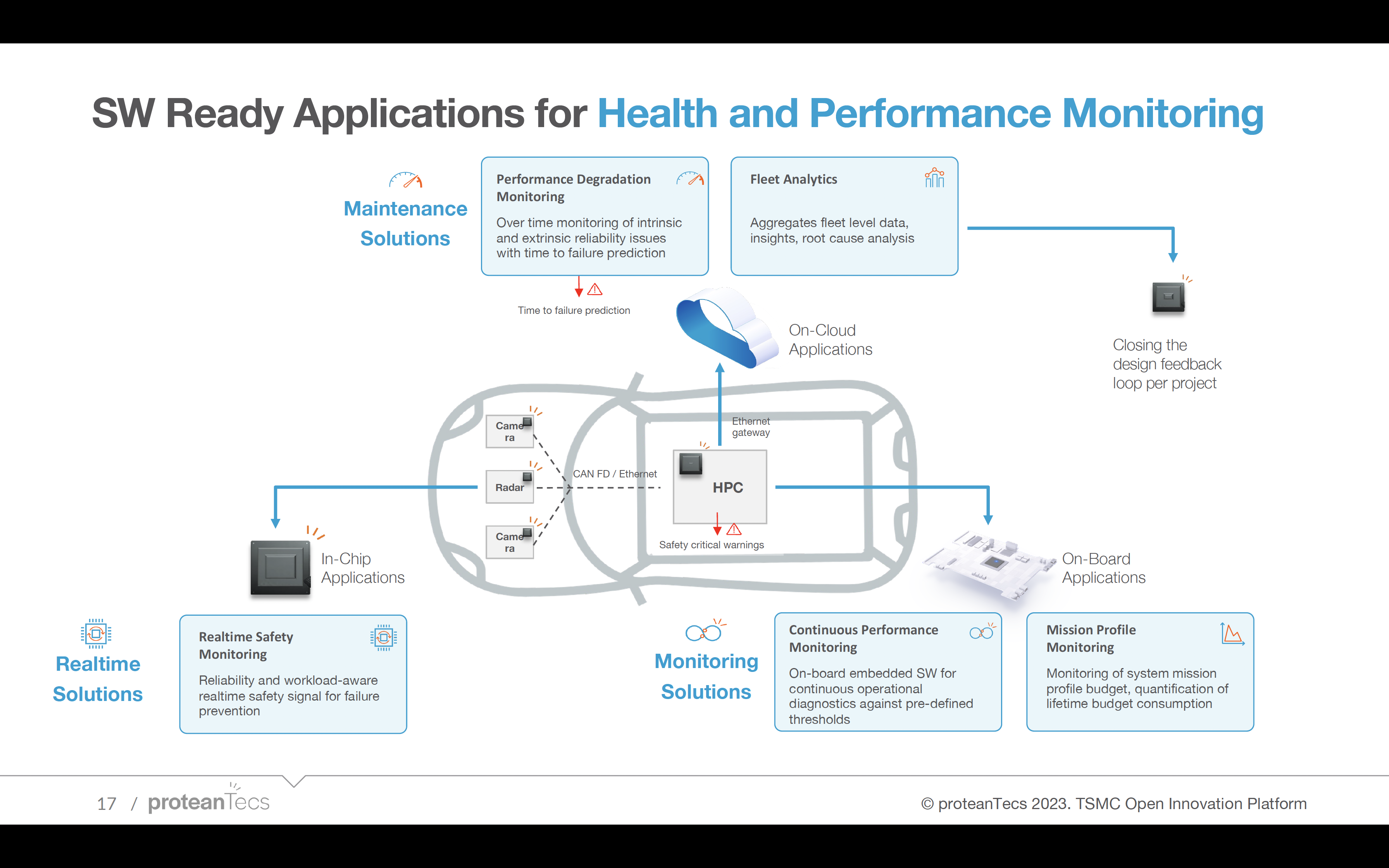 At the TSMC OIP forum, proteanTecs showed a demo of their health and performance monitoring solution for SDVs. Following is a screenshot from that demo, showing operational diagnostics in mission-mode, against pre-defined thresholds, therefore providing real-time safety signals and system optimization.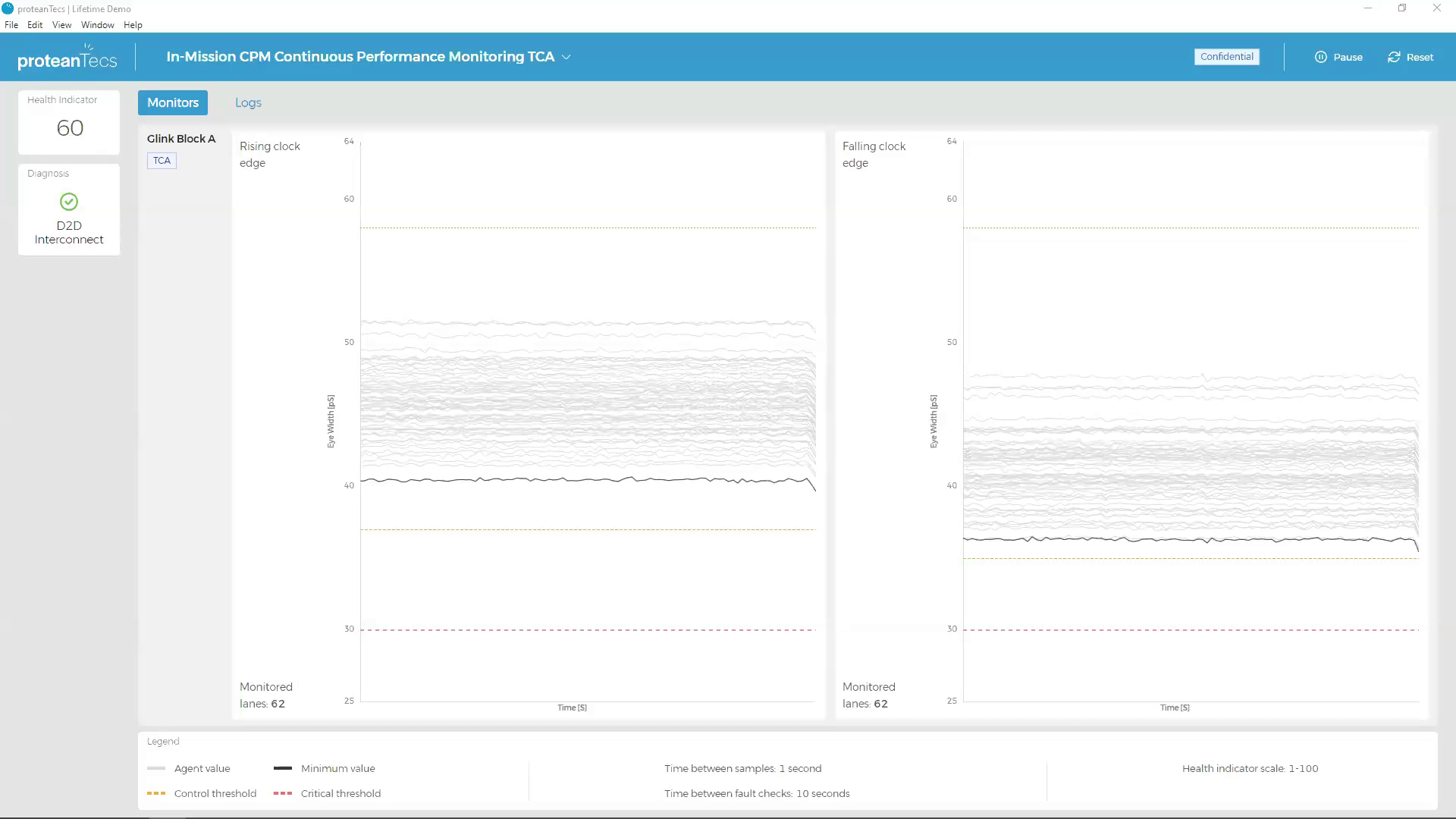 In the example above, the die-to-die (D2D) interconnect lanes are monitored in an advanced chiplet-based package. When the health score of any of the many data lanes on the D2D interconnect that are being monitored falls below a threshold, the software is programmed to switch out the failing data lane to a pre-identified spare lane. This prevents faulty interconnect lanes from being the cause behind faults elsewhere in the system. Customers can easily implement such a solution utilizing proteanTecs on-chip monitors and deep data analytics software.
proteanTecs offers an Automotive SW stack and an extensive IP portfolio of on-chip agents that are part of the TSMC, Samsung SAFE and Intel IFS IP Alliances.
For more details, visit www.proteanTecs.com, or download proteanTecs' white paper on predictive and maintenance in the context of automotive functional safety.
Summary
The automotive industry is in the midst of a data-driven revolution that has the potential to significantly enhance safety on our roads. From advanced driver assistance systems to autonomous vehicles, data is the cornerstone of future innovations in automotive safety. Health and performance monitoring solutions implemented in SDVs unlock the power of data to enhance the safety of future automotive systems.
Also Read:
proteanTecs On-Chip Monitoring and Deep Data Analytics System
Predictive Maintenance in the Context of Automotive Functional Safety
Semico Research Quantifies the Business Impact of Deep Data Analytics, Concludes It Accelerates SoC TTM by Six Months
Share this post via: