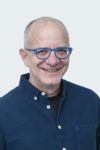 Shai Cohen is an entrepreneur and industry veteran, with vast experience in building technology companies from the ground up. He is a co-founder and CEO of proteanTecs, which develops revolutionary Universal Chip Telemetry™ for electronic systems throughout their entire lifecycle. Prior to founding proteanTecs, Shai co-founded Mellanox (acquired by NVIDIA), a global leader of end-to-end InfiniBand and Ethernet interconnect solutions for servers and storage. He served as Mellanox's Chief Operations Officer from 2011 and before that as VP of Operations and Engineering, from 1999. While at Mellanox, Shai oversaw all internal operations and production, and co-led the company's research and development activities. He served as a member of the Mellanox Board of Directors from 2015 to 2018. From 1989 to 1999, Shai worked at Intel Corporation, where he was a senior staff member in the Pentium processors department and a circuit design manager in the cache controllers group. Shai holds a B.Sc cum laude in Electrical Engineering from the Israel Institute of Technology, Technion.
Can you tell us a little about proteanTecs?
proteanTecs was founded with a mission to enable the electronics industry to continue to scale. We've developed deep data analytics for advanced electronics in the Datacenter, Automotive, Communications and Mobile markets.
The company provides solutions for health and performance monitoring, in production and during lifetime operation, based on Universal Chip Telemetry™ (UCT). By applying machine learning to novel data created by on-chip UCT agents, our customers gain visibility and actionable insights on the cloud or edge – leading to new levels of performance, quality and reliability at scale.
How do you provide deep data insights on chips and systems?
The technology is comprised of several key pillars. First and foremost is the deep data generation. We've developed Universal Chip Telemetry (or UCT) which provides on-chip monitoring, based on agents that are built for analytics. These UCT agents operate in both test and mission modes and provide extremely high coverage of key parameters at every stage. They are strategically placed during design, using automated insertion tools, after a thorough analysis of the design and process technology.
Measurements from the agents are extracted and uploaded to a software platform, for data fusion and domain-infused machine learning inference. At the end of the day, our customers get advanced analytics, with actionable insights and alerts, on a cloud-based platform, for continuous health and performance monitoring. We also provide applications that are deployed at the edge: whether on the tester during production, or on-board when the system is in the field.
How essential is electronics analytics and predictability?
We are addressing application markets that are mission-critical, uptime-critical and safety-critical. Datacenters, automotive and communications – all of these markets are transitioning to as-a-service business models. They have zero tolerance for unplanned downtime or errors, and require extremely high performance, low power and increasing functionality.
So, manufacturers are introducing highly advanced technologies to enable this. We're talking about sophisticated architectures, complex designs, shrinking process technologies, heterogeneous packaging, and more.
All of these create new challenges in the industry. Quality and reliability are harder to achieve, especially without giving up performance or competitiveness. Costs are rising, and mainly there is a lack of visibility throughout the lifecycle. Add to this a very fragmented value chain, with data siloes in and between the different stages, and what we're seeing, are new problems.
We see very long development cycles, a huge dependency on product warranty, and if something does go wrong – an extremely high rate of "No Problem Found" with inconclusive and long root cause analysis. And at the end of the day, we also see problems and reliability issues in the field.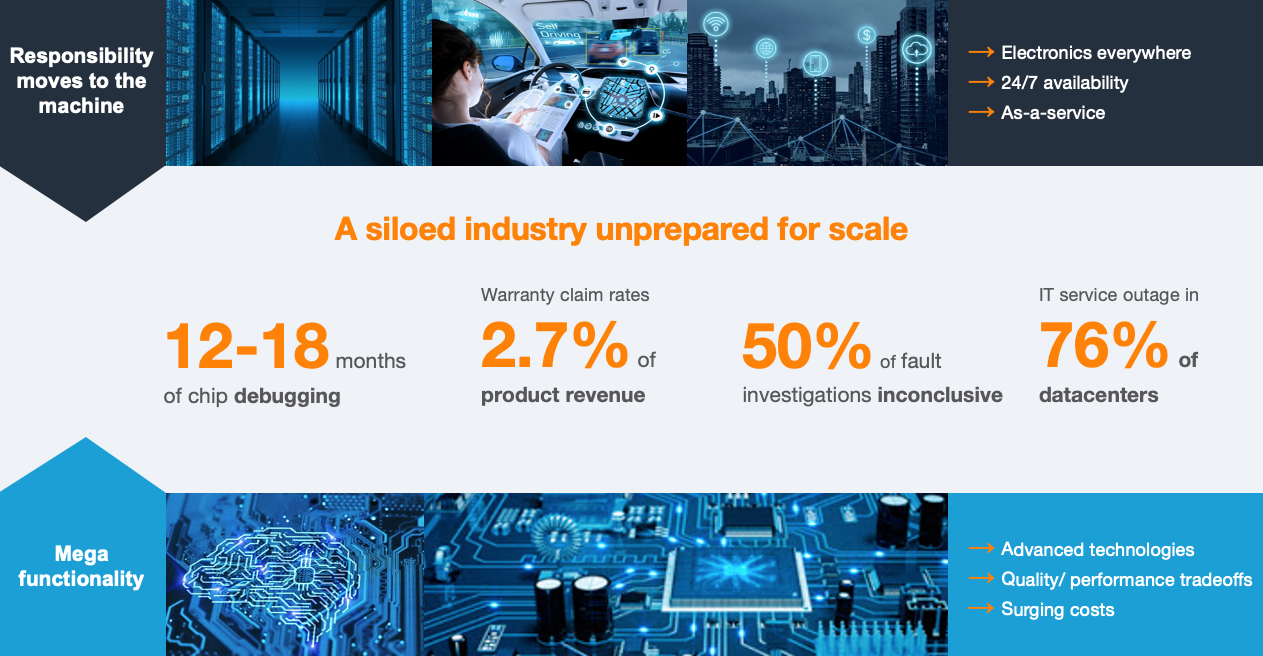 What types of challenges can this solve?
We're hearing more and more from hyperscalers and OEMs about new issues that they encounter in the field, all stemming from undetected or latent manufacturing defects or issues that manifest in the field and are hard to predict and prevent.
In the case of advanced electronics, system performance becomes a sensitive matter. Add to this the fact that certain parameters will change after extended use, especially given application stress and environmental effects, and you have the recipe for issues that can be as difficult to pinpoint as they are costly to endure.
In some cases, these errors happen in a way that cannot immediately be detected or flagged.  Sometimes a calculation will give the wrong result.  Other times an instruction doesn't behave exactly as it should. In certain cases, the error is inconsistent, making it even more difficult to find.
These service providers want for their systems to be able to recognize these errors and report them. It would be even better if they could be predicted. Imagine that you could see the actual performance margins of the electronics while the application is running, and act on it.
What are the benefits of your platform and how is it different from what others are doing in the industry?
We're introducing a new approach. proteanTecs has developed a way to provide end-to-end visibility, based on deep data analytics. With this new technology, manufacturers and service providers gain a new understanding of design, production, system, applications, and environmental issues, throughout the lifecycle of the system.
Since the same agent-based technology is applied at every stage, starting from chip characterization, qualification and volume production, through to system integration and optimization, and then to in-field operation – it creates a baseline of common datasets throughout the industry. This provides backward-and-forward correlations, insights and predictions, and for the first time creates a common 'data' language for the value chain.
What are the use cases for proteanTecs' technology?
We're giving chips the ability to report on their own health and performance so that at every stage, from production to the field, users gain significant insights and benefits.
During production, chip and system vendors can reduce Defect Parts Per Million (DPPM) by 10x, optimize power-performance per application, improve performance yields, optimize and track reliability margins and significantly shorten time to market.
Once deployed in the field, service providers can be alerted on faults before failures, significantly lowering maintenance costs, optimize system performance, and extend product lifetime.
Who are some of your current customers/users?
We serve leading electronics vendors across multiple industries, including Datacenter, Cloud Computing, Automotive, AI and Communications. Our customers include first tier customers for chips that include AI, switches, servers, storage, HPC, communications, and ECUs.
How much funding have you raised in total to date?
Nearly $200M. We are backed by some of the leading investors in the electronics and SaaS industries. I am happy to share that we've recently closed two extensions to our Growth Equity round, with the addition of Porsche-SE, MediaTek and Advantest to our investor portfolio – each one being a market leader in their own industry vertical.
Are there any previous or upcoming milestone you'd like to talk about?
We recently expanded into mobile and have launched solutions for supply chain security and real-time power-performance management.
Also read:
CEO Interview: Vaysh Kewada of Salience Labs
CEO Interview: Chuck Gershman of Owl AI
CEO Interviews: Dr Ali El Kaafarani of PQShield
Share this post via: