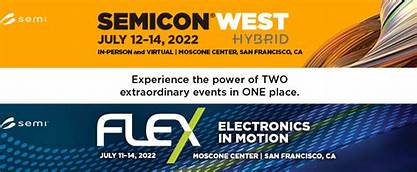 -SEMICON good conference -No news but perceptibly nervous
-Memory chip warnings & memories of cycles past haunt us
-Can we turn the clock back 20+ years on China Chip Policy?
-Last ditch efforts on Chips for America before government vacation
SEMICON West Conference
Attendance at the show was good, better than last Decembers attempt at a Covid make -up event. We saw fewer people from Asia, except vendors, as well as fewer people from US companies like Intel, Micron or GloFo.
The show floor remains the domain of small companies selling bits and pieces of technology with a couple of exceptions. The vast majority of the real show goes on in nearby hotels with meeting rooms for private one on ones with customers. The big three US companies Applied Materials, Lam and KLA had little to no real presence and neither did ASML.
Nervous anticipation – The calm before the storm?
Most every company we spoke to reacted the same way….rather than saying "business is great" they almost all said that "we haven't seen any evidence of a downturn yet, no cancelations, business remains strong".
That response certainly gives away everyone's fears that we are on the precipice of the down cycle hitting equipment makers. When asked about Micron or LG warnings the response was "we haven't seen any push outs or cancelations yet". Adding the word "yet" says a lot.
Everyone is still reporting huge backlog and lead times, but in the same breath admit that those orders could easily vaporize as they have in the past.
This would certainly lead us to believe that the second quarter that is about to be reported by most companies should be more or less in line with expectations and normal "beats". We got no wind of any misses, no pre-announcements etc; , its still business as usual….very strong…..for now.
CHIPS Act, last ditch, Hail Mary- slimmed down version Is is small enough to squeeze through before vacation?
As the desperation to get anything passed before congress leaves on summer recess the sponsors of CHIPS for America Act are taking hatchet to all the extra stuff attached to it to try to get down to a simple version that has a chance of getting past all the political nonsense.
This week, Mitch McConnel ( Doctor No) let it drop that he might be willing to think about a slimmed down version of the bill he previously voted for then rejected. Raimondo quickly picked up on that sentiment, seeing an opening and said she would "cleave off" all the extraneous stuff.
Link to Raimondo on "Cleave off" CHIPS Act
It now looks like Schumer may want to bring the slimmed down version to the table next week. Time is running out and we are at the 11th hour before congress turns into a pumpkin and goes on summer vacation. As congress will be in full blown election mode when they are back from vacation its now or never
Scare tactics are now being employed. We have been talking about the risk to the semiconductor industry from China for at least 7 years now, and no one paid attention, and finally, at the last minute, when CHIPS Act backers are getting desperate, people are finally waking up to the risk.
Legislators should have been smart enough to be aware of these issues a long time ago and it shouldn't have taken an 11th hour panic before everyone woke up.
NY Times- Chips "a very dangerous situation"
We certainly hope the CHIPS Act gets passed but it should not have been this hard nor long. This should have been a "no brainer" but the problem is that politics and politicians got in the way and had "no brains"…..
Back to the future and the Chip equipment China Embargo of the past
We have mentioned several times in our newsletters that we have been in the industry long enough to remember things from the 1990's.
Back then, we were working on the SMIC IPO which was in itself revolutionary as it was the first IPO of a foundry in China and the company that put China on the map in semiconductors.
Way back then SMIC was restricted to only buying semiconductor equipment and technology from the US that was at least 3 generations behind or older (N minus 3). Export licenses and restrictions were in place and the defense and commerce areas of the government enforced things., China got the equipment as was happy to make chips for watches, dishwashers & TVs. It seemed to work fine for a while until the restrictions faded away.
"N minus 3" We seem to be back in a 1990's position and may codify it
N minus 3 means 3 nodes behind the leading edge node. Today, the industry is more or less at 5NM (in production) and in China, 14NM, which SMIC is running at (more or less) is about 3 nodes behind, 7NM and 10NM being in between.
So in effect we are still where we were back in the 1990's which had strict rules to keep China 3 nodes behind. We have heard rumor that there is thought and motion to go back to codifying and enforcing N minus 3 restrictions (embargoes) on China. This would essentially enforce where we are today, in law.
Certainly not the worst thing in the world except from China's position. It could stop some equipment sales but not a whole lot as most of China is trailing edge that is N-3 or older….in some cases much older. China's semiconductor industry could happily make chips for toys, appliances and cars just not leading edge for military or 5G or AI or processors.
Maybes the 1990's weren't so bad after all
The Stocks
The stocks will likely see a bump up if CHIPS act passes. The Hail Mary pass being contemplated looks potentially viable (unless Dr No has another change of heart).
We think the actual dollars are less important than the tax credits and the signal it sends.
If the US couples that with some further restrictions on China that would be positive for chip companies and slightly negative (in the short term) for equipment companies, but likely not much near term impact as any restrictions would not likely apply to orders in the pipeline or may be phased in.
The bigger issue leaning on the stocks is the macro economic issues and concerns and how that will impact demand (obviously negatively but how negative).
We don't know if we are going to get more warnings like Micron….we nay not, but the fear has already taken root. We could see a bit of a bounce as good earnings come in without warnings but one or two warnings from and Intel or AMD or similar could trash things again.
We would get involved on a short term basis on some of those stocks that had an overly negative reaction or haven't seen any bounce but we still see the second half of the year as being cloudy at best.
About Semiconductor Advisors LLC
Semiconductor Advisors is an RIA (a Registered Investment Advisor), specializing in technology companies with particular emphasis on semiconductor and semiconductor equipment companies. We have been covering the space longer and been involved with more transactions than any other financial professional in the space.
We provide research, consulting and advisory services on strategic and financial matters to both industry participants as well as investors.
We offer expert, intelligent, balanced research and advice. Our opinions are very direct and honest and offer an unbiased view as compared to other sources.
Also Read:
ASML- US Seeks to Halt DUV China Sales
Micron kicks off the down cycle – Chops 2023 capex – Holding inventory off street
Semiconductor Hard or Soft Landing? CHIPS Act?
Share this post via: