I plan to attend to the GSA European Forum in Munich (April 15-16), so I first looked at the event description and at the impressive speakers list. In such event, the goal is at 50% to listen, and 50% to network with the speakers and the other attendant. The center of gravity is clearly semiconductor, but the event involved speakers from all the ecosystem around the semi industry.

We can start by naming the semiconductor heavyweights, Samsung, Infineon, TSMC, ST Micro, NXP or ON Semi, but it's interesting to notice that their customers are also part of the speakers. We are in Munich, a place where the automotive industry is part of the land DNA, so it's not surprising to see that BMW, Robert Bosch or Continental will participate.
And also, AImotive (founded in 2015, the company target autonomous level 5) and Smart Eye (developing solutions based on eye tracking technology to address safety related needs in automotive) or AnotherBrain (who has created a new kind of artificial intelligence, called Organic AI) targeting automotive, industrial automation and some IoT.
The networking industry is well represented with speakers from Nokia Mobile Networks, Mellanox and Huawei. This Chinese company help bridging with the service part of the ecosystem, with another well-known company, Canyon Bridge, a Chinese fund with HQ in the Silicon Valley.
I rank in the service category the EDA big 3, Cadence, Mentor and Synopsys and I realize that Soitec is providing SOI wafer, another kind of service, but rather hardware! HIS Markit and Mc Kinsey will be part of the speakers too.
You can register to the GSA Forum here, or just take a look so you will have the opportunity to read this abstract:
This year, we're focusing the conversation on how to best take advantage of unprecedented opportunities that are available to us today – AI, Automotive, IoT, 5G, High Performance Computing, Cloud, AR/VR, etc. – while darker clouds seem to be appearing on the horizon: trade wars & tariffs, signs of industry inventory buildups and of a slowing Chinese economy. And at the same time with the industry ecosystem shifting and expanding, blurring the lines between semiconductors, software, services, solutions and systems.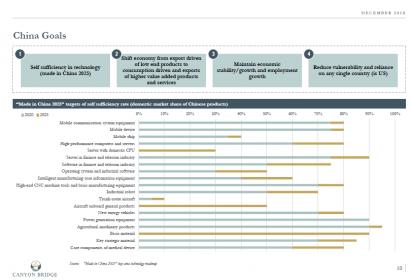 Thanks to Sandro Grigolli from GSA, I could have a look in advance to a couple of presentations that were recently delivered internally to the GSA board on two topics that will be presented also at the European Executive Forum in Munich. I don't want to spoil the event, so I have just extracted two slides from Canyon Bridge presentation "China Semiconductor Market Overview", that I find extremely informative about "China Goals" and "Fab capacity in China".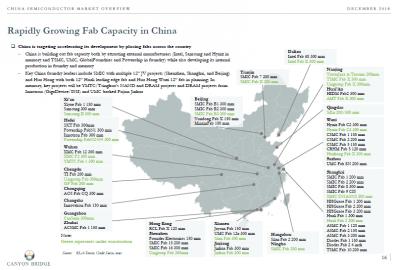 The GSA Executive Forum is clearly networking oriented, but the quality of some presentations make it closer of a geopolitical conference than just a pure marketing event.
Share this post via: