The GSA IP Working Group will meet today in San Jose, and the Group has asked IPnest building a presentation dedicated to Interface IP. The timing was perfect, as I have just completed the "Interface IP Survey" version 5, and I was able to use fresh market data. The IP working group will discover the IP vendor ranking, protocol by protocol, by IP License revenue, for USB, PCI Express, HDMI, SATA, MIPI, DisplayPort, Ethernet and DDRn Memory Controller. In fact, IPnest is the only analyst proposing such a granularity and this approach has allowed building a large customer base, including IP vendors, ASIC Design House, Foundries, Fabless and IDM. Ranking of the numerous IP vendors by protocol is very useful, but not enough! Thus, IPnest has decided to also propose a competitive analysis, by protocol, as well as a 5 years forecast. In other words, insert market intelligence and not only raw data!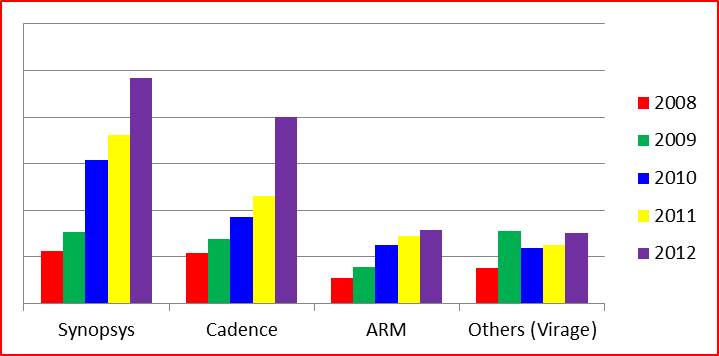 Just take a look at these two pictures: the DDRn Memory Controller IP market analysis (2008-2012) and vendor ranking is complemented by a forecast (2013-2017), splitting the DDRn PHY and Digital (Memory Controller), as this is the only way to understand this market segment dynamics. Because this survey is the fifth version, we think that the forecast is now pretty accurate: IPnest has fine-tuned the various parameters, using the actual data (from the past) as a feedback loop to build this 5 years forecast, year after year.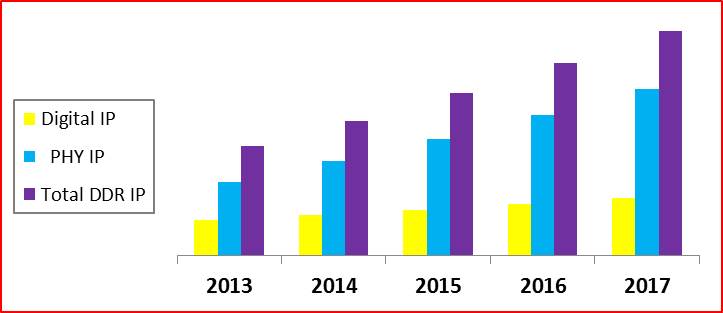 IPNEST has proceeded the same way with the various protocols surveyed, and we can tell that each of these protocols exhibit his own market dynamics. This justifies the initial approach: scrutinizing the Interface IP market protocol by protocol. Nevertheless, this market taken globally clearly grows, continuously since 2005 (with a clear weakness in 2009, but the reason is well-known), and will continue up to 2017, at least. Moreover, IPnest think that we are seeing the strongest growth rate now, in 2013, going on this way in 2014 and 2015, with growth rate in the high teens. The IP market today is really amazing; the competition between Synopsys and Cadence is starting, as Cadence has decided to invest very seriously (Tensilica, Cosmic Circuits, Evatronix recently, Denali a while ago – 2010) to close the gap with Synopsys. How long will it take is a good question, but the only way to get a share of this fast growing IP market was to invest, resource and money, and the market size justify acting this way.

Eric Esteve from IPNEST –
Table of Content for "Interface IP Survey 2008-2012 – Forecast 2013-2017" available here
lang: en_US
The type of answers IPNEST customers find in the "Interface IP Survey" are:
2013-2017 Forecast, by protocol, for USB, PCIe, SATA, HDMI, DDRn, MIPI, Ethernet, DisplayPort, based on a bottom-up approach, by design start by application
License price by type for the Controller (Host or Device, dual Mode)
License price by technology node for the PHY
License price evolution: technology node shift for the PHY, Controller pricing by protocol generation
By protocol, competitive analysis of the various IP vendors: when you buy an expensive and complex IP, the price is important, but other issues count as well, like

Will the IP vendor stay in the market, keep developing the new protocol generations?
Is the PHY IP vendor linked to one ASIC technology provider only or does he support various foundries?
Is one IP vendor "ultra-dominant" in this segment, so the success chance is weak, if I plan to enter this protocol market?
You probably better know why IPNEST is the leader on the IP dedicated surveys, enjoying this long customer list:
Synopsys, (US)
Cadence, (US)
Rambus, (US)
Arasan, (US)
Denali, (US) now Cadence
Snowbush, (Canada) now Semtech
MoSys, (US)
Cast, (US)
eSilicon, (US)
True Circuits, (US)
NW Logic, (US)
Analog Bits, (US)
Open Silicon,(US)
Texas Instruments, (US)
PLDA, (France)
Evatronix,(Poland)
HDL DH, (Serbia)
STMicroelectronics (France)
Inventure, (Japan) now Synopsys
"Foundry" (Taiwan)
GUC, (Taiwan)
KSIA, (Korea)
Sony, (Japan)
SilabTech, (India)
Fabless, (Taiwan)
Eric Esteve from IPNEST –
Table of Content for "Interface IP Survey 2008-2012 – Forecast 2013-2017" available here
Share this post via: