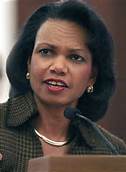 The US Executive Forum hosted by the Global Semiconductor Alliance was held last night at the beautiful Rosewood Sand Hill Hotel in Menlo Park. We all have memorable events in our professional lives and this is one of mine, absolutely. The audience was filled with semiconductor executives from around the world who chatted freely at lunch and during the breaks. At the end of the night my pocket was filled with business cards and my mind was filled with friendly faces to remember. I may forget names but never a face.
When I first started writing I jokingly said I blogged for food. After that the lunch offers and forum invitations poured in. At last count I have attended 23 events this year and I still have many more on my calendar. Engaging with the fabless semiconductor ecosystem face to face is everything. It's what you know AND who you know, absolutely. My business model is different on this event however. If you want to know the details you have to buy me lunch.
Dr. Rice shared her views on technology, the global economy, and conflicts around the world. Dr. Rice also reminded us of something that we should never forget: America is the only country that you can immigrate to and become an American. You can't immigrate to Japan and become Japanese or Germany and become German, right? This is definitely something to be proud of and something to protect.
The most memorable session was the panel moderated by Aart de Geus with the CEO's of Altera, Micron, and Marvell plus the President and CSO of Samsung.
This Panel Discussion will spotlight CEOs from leading semiconductor companies as they discuss amongst other things, the toughest challenges facing our industry today and what reforms can be made to address those challenges.
And indeed it did. I wrote a blog a while back suggesting that Aart run for Governor and I stand by that. This panel was one of the best I have seen. Again, buy me lunch and I will discuss it in detail but let me just say this…. WOW! Aart asked some very compelling questions and did not accept non-answers. I was front row center and the audience Q&A was also a WOW!
To give credit where credit is due, the GSA really hit this one out of the park. If you are not already engaged with the GSA here is how you can get started. In addition to the corporate website, you can follow the GSA on LinkedInHERE. Better yet, you can join one of the LinkedIn groups and engage GSA members directly:
These groups are moderated and populated by industry professionals. Ask questions and you will get answers. Also check their calendar of events HERE, a YouTube channel with clips from past events HERE, and the GSA landing page on SemiWiki HERE with expert coverage by Dr. Paul McLellan and myself.

The Global Semiconductor Alliance (GSA) mission is to accelerate the growth and increase the return on invested capital of the global semiconductor industry by fostering a more effective ecosystem through collaboration, integration and innovation. It addresses the challenges within the supply chain including IP, EDA/design, wafer manufacturing, test and packaging to enable industry-wide solutions. Providing a platform for meaningful global collaboration, the Alliance identifies and articulates market opportunities, encourages and supports entrepreneurship, and provides members with comprehensive and unique market intelligence. Members include companies throughout the supply chain representing 30 countries across the globe. www.gsaglobal.org
lang: en_US
Share this post via: