After I published a recent article about Intel, I was contacted by the Irish Development Agency (IDA) where Intel has a large fab presence and asked if I would like to interview them about the Intel site. The interview with Turlough McCormack of the IDA, started with Intel's presence in Ireland but then went on to paint an interesting picture of a country successfully attracting high technology companies. I thought this is interesting not only for what it offers high tech companies but also as a model for the US.
Intel in Ireland
Intel has had a presence in Ireland for 32 years. Intel has 360 acres of land in Leixlip, a town near Dublin and from 1989 to 2015 Intel spent 8 billion euros on the site and between 2019 and 2021 is investing an additional 7 billion euros for a total investment of $15 billion euros. The site currently employs around 5,000 people and will reach around 6,600 people with the new investment. The latest investment will double Intel's manufacturing space in Ireland, be a centerpiece of Intel's 7nm manufacturing and be the most advanced fab in Europe.
Figure 1 summarizes the Intel Ireland site.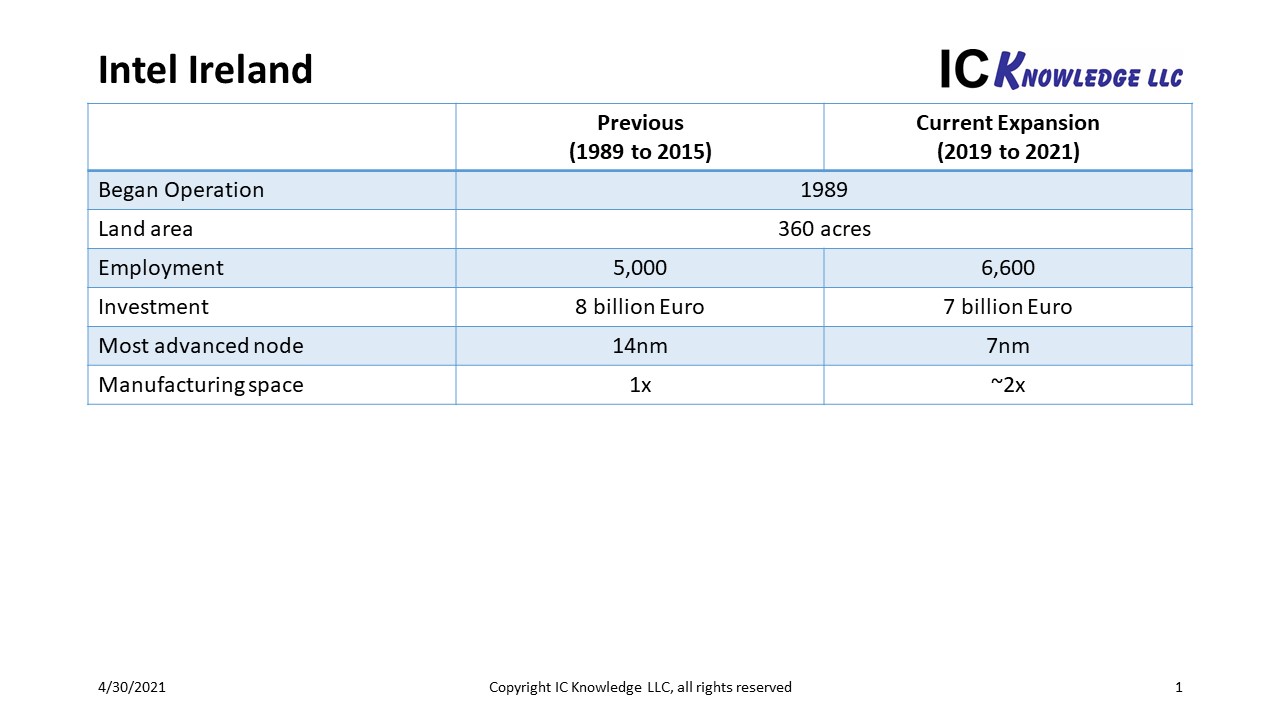 Figure 1. Intel Ireland
Ireland's High-Tech Model
After discussing Intel's presence, we went on to discuss what makes Ireland attractive for high-tech in general and wafer fabs in particular.
There is a lot of discussion going on in the US and Europe about our reliance on Asia in general and Taiwan in particular, for advanced semiconductors. Taiwan is in the middle of a drought and has been dealing with limited water availability for years not to mention being located on an earthquake fault line and the political uncertainty of their relationship with mainland China. Turlough pointed out it rains a lot in Ireland and there is no shortage of water, they also have plenty of power and broadband availability. Ireland is not on a fault line, has no natural disasters and a mild climate. I am also fairly sure England has no plans to invade Ireland unlike mainland China who regularly threatens Taiwan.
The Government of Ireland has a pro-business attitude and has for many years. As a small country companies have access to key decision makers. Ireland has one of the lowest corporate tax rates in the world at 12.5%.
Ireland has an open border policy and is actively trying to attract technical talent to the country with fast-track work permit programs.
The government, universities and science centers are all working together on research initiates and developing talent. The Science Foundation Ireland is funding research in semiconductors and photonics at the university of Cork.
With Brexit, Ireland is the only English-speaking country in the European Union and provides a gateway to Europe.
Figure 2 summarizes Irelands pro high-tech environment.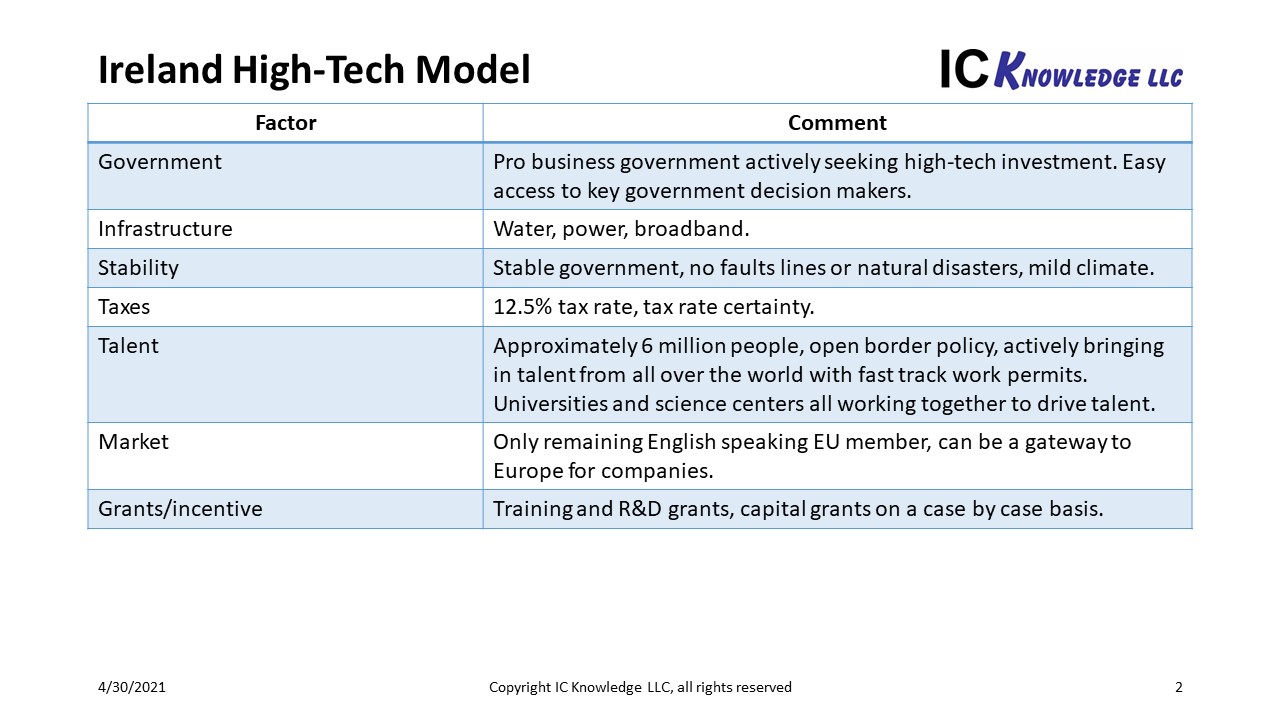 Figure 2. Ireland High-Tech Model.
There are approximately 70 semiconductor companies with a presence in Ireland accounting for over 9,000 jobs and over 14 billion euro a year in 2018 revenue. The 70 semiconductor companies include around 24 smaller Irish companies and 300 million euro of R&D.
Just in the last 12 months announcements have been made for:
Microchip R&D center in Cork providing 200 jobs.
Qualcomm 78 million euro R&D and chip design center.
Huawei 80 million euro investment that will result in 110 jobs
In the last few years Cadence, Maxim Integrated and Logitech have invested in Ireland. I also brought up Analog Device presence in Ireland is I believe their largest manufacturing site. He noted ADI has been in Ireland for 40 year and has employs around 1,000 people in Limerick.
Interestingly, although the US invests more capital into Ireland than Irish companies do into the US, Irish companies employ more people in the US than US companies do in Ireland. He pointed out that Ireland is enabling US companies' expansion into Europe, not taking US jobs.
Conclusion
In conclusion, Ireland has positioned their country as a business friendly, English speaking gateway to Europe. I believe that a lot of their business friendly policies would be useful additions to US policy to in our drive to increase US based leading edge semiconductor manufacturing.
Also Read:
How to Spend $100 Billion Dollars in Three Years
SPIE 2021 – Applied Materials – DRAM Scaling
Kioxia and Western Digital and the current Kioxia IPO/Sale rumors
Share this post via: