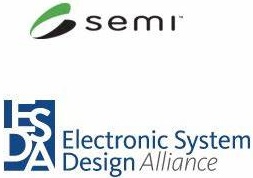 An informal "Fireside Chat" like no other featuring Jim Hogan, managing partner of Vista Ventures, LLC., and Paul Cunningham, Cadence's corporate vice president and general manager of the system verification group, is in the works for Wednesday, April 10.
Hosted by the ESD Alliance, a SEMI Strategic Association Partner, at the SEMI corporate headquarters in Milpitas, Calif., we're planning plenty of time for networking, dinner and insights from Jim and Paul.
Naturally, Jim and Paul have more than enough to talk about in just one hour-long discussion. Paul's experiences are varied and include being an entrepreneur as founder and CEO of Azuro. Azuro subsequently was acquired by Cadence in 2011. He now manages Cadence's system functional verification activities, after moving from physical design tools development 18 months ago.
Attendees can expect to hear about the verification challenges ahead, as well as open source architectures and the necessary development platforms. Paul previously worked in artificial intelligence before it was an industry trend and may be asked about this as well.
The evening begins at 6:30pm with dinner and runs until 9pm. SEMI is located at 673 S. Milpitas Boulevard in Milpitas, Calif., and has ample free parking.
Everyone from the electronic system and semiconductor design ecosystem is welcome to attend. It is open free of charge to all ESD Alliance and SEMI member companies. Non-members and guests can attend for a fee of $40. Registration information can be found at: https://bit.ly/2Ot4azb
Please plan to join us and bring your questions or observations. Be sure to ask us about our newest initiative ES Design West co-located with SEMICON West 2019 July 9-11 at San Francisco's Moscone Center South Hall.

About Jim Hogan and Paul Cunningham
Jim Hogan doesn't really need an introduction from me. He is well-known as an experienced senior executive and tireless advocate for our electronic system and semiconductor design ecosystem who has worked in the semiconductor design and manufacturing industry for more than 40 years. Jim currently serves as a board director for electronic design automation, intellectual property, semiconductor equipment, material science and IT companies.

​Paul Cunningham's product responsibilities at Cadence include logic simulation, emulation, prototyping, formal verification, Verification IP and debug. Previously, he was responsible for Cadence's front-end digital design tools, including logic synthesis and design-for-test. Cunningham joined Cadence through the acquisition of Azuro, a startup developing concurrent physical optimization and useful skew clock tree synthesis technologies, where he was a co-founder and CEO. He holds a Master of Science degree and a Ph.D. in Computer Science from the University of Cambridge, U.K.
About the Electronic System Design Alliance
The Electronic System Design (ESD) Alliance, a SEMI Strategic Association Partner representing members in the electronic system and semiconductor design ecosystem, is a community that addresses technical, marketing, economic and legislative issues affecting the entire industry. It acts as the central voice to communicate and promote the value of the semiconductor design ecosystem as a vital component of the global electronics industry. Visit www.esd-alliance.org to learn more.
Share this post via: