One of the other blog worthy analyst presentations at ISS 2018 was by Len Jelinek of IHS. Len is my kind of analyst, he spent 28 years in the semiconductor industry before going to the dark side so he knows what he is talking about. Len's presentation on Global Semiconductor Market Trends is action packed so I will be doing a lot of cut and pasting here:
IHS forecasts that total semiconductor industry revenue will grow by 7.4% in 2018
Overall semiconductor revenue growth in 2017 is estimated to be 21.7%
In 2018 IHS is forecasting that Memory will grow by 14% and all other semiconductors will grow by 4.5%
Wireless communication is forecast to benefit from next generation handsets incorporating new features like biometrics, AI capability and increased batty life
Automotive electronics continues to grow by focusing on advanced safety features
Consumer electronics benefits from the move toward internet connected devices
Increased servers supporting cloud computing is major driver in Data Processing segment
I really think the semiconductor industry is being a bit conservative here. I would be quite shocked if we did not see double digit growth here. One example, China has more than 900 fabless semiconductor companies designing chips for new applications and I highly expect India and other populous countries to follow suit. This is like the second coming of the fabless transformation we talked about in our first book Fabless: The Transformation of the Semiconductor Industry.
Consumers Identify Increasing Value in Smartphones
Smartphones returned to growth in 2[SUP]nd[/SUP] half of 2017 driven by introductions of revolutionary features
Total smartphones in 2017 are forecast to grow by 7.4% with mid-tier handsets growing by 11.9%
Smartphone shipments are forecast to increase in 2018 to 1.6 billion units with YoY growth rate of 6.8%
Mid-tier smartphones are providing consumers with the most features / value for lowest price. In 2018 IHS anticipates these phones will grow by 12.4%
In my opinion the smartphone business still has plenty of room to grow. TSMC's smartphone forecast for 2018 was even more conservative, which may be true, but my friends at Apple have other plans. Apple is all about the edge device and now that they have higher performance SoCs with embedded AI cores coming we will start to see some amazing things, absolutely. Think Health and Wellness applications.
Revitalization of Consumer Electronics is Underway
Opportunities exist for consumers to benefit from connected products (IoT) which enhance daily lives
China continues to represent the largest single market for consumer electronics with a CAGR of 6%
Wearable devices, home appliances and consumer drones are forecast to outperform the overall market segment
Home appliances are the largest sub segment within consumer electronics and represent one of the largest IoT
Again, I think Len is being conservative here. Another application to watch, especially in China, is crypto currency mining (GPUs and ASICs). TSMC mined the mining market quite well in 2017 and I expect that to continue well into 2018 and maybe even 2019.
Semiconductor Device Growth 2016/2017




Semiconductor Device Forecast 2017/2018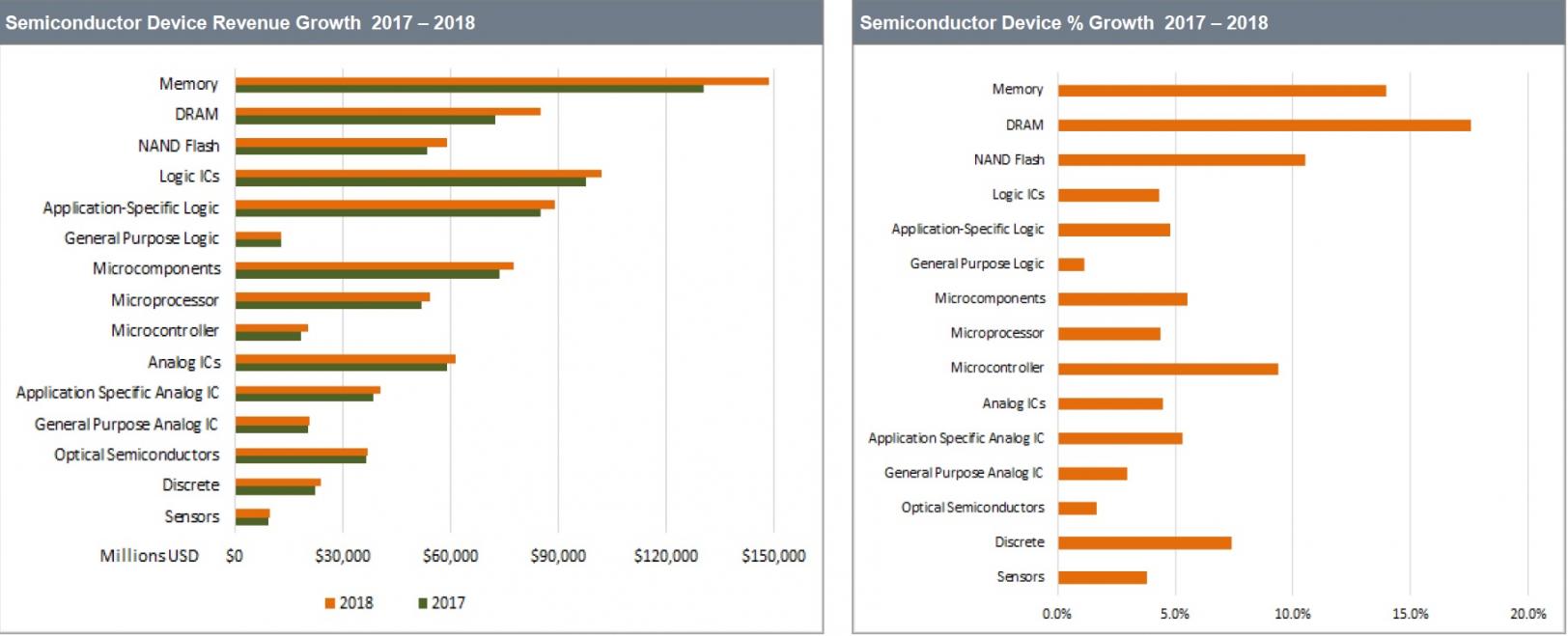 Summary
A strengthening global economy should provide a positive impact on semiconductor industry in 2018:
Consumers and business anticipate positive economic growth in 2018 which should provide stable demands for semiconductor components throughout 2018
IHS anticipates that semiconductor revenue in 2018 will grow by approximately 7.4%
Impact on the semiconductor industry revenue from volatility of memory pricing is forecast to be minimal
Non memory component revenue growth will slow in 2018 to 4.5%, down from 10.3% in 2017
Next generation demand drivers supporting IoT, 5G, and autonomous driving are still several years away from impacting semiconductor component manufacturing:
Next generation 5G wireless communication will start limited trials in 2018, commercialization targeted for 2020
Strong inventory management will impact manufacturing run rates throughout the first half of 2018
Q1 revenue is forecast to decline by 5.3% revenue recovery forecasted to start in Q2
Demand for handsets, PC's, and consumer electronics is forecast to experiences seasonal post-holiday slowing
Capital investments will continue to grow in 2018 by 5.4% supporting new technology development and capacity expansions for memory and advanced CMOS
Absolutely!
Share this post via: