Future of Computing: Innovations in Domain-Specific Architectures
October 19 @ 9:30 AM

-

5:30 PM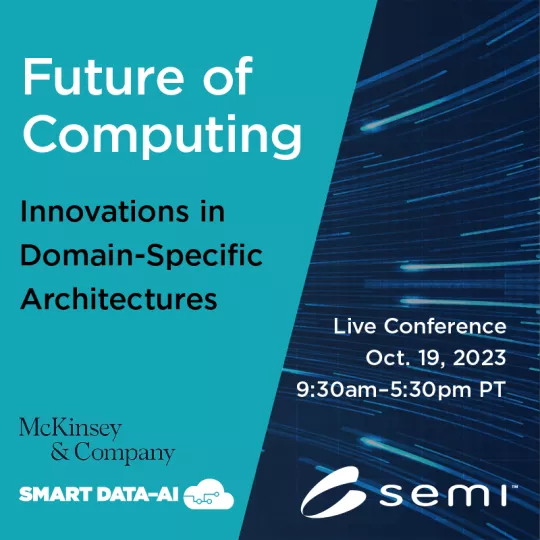 Join us for an impactful day aimed at deepening your understanding of the Domain-specific architecture (DSA) landscape and bridging gaps between startups and established market players. Our array of talks will explore varied aspects like industry trends, challenges, DSA investments, and first-hand startup narratives, providing you with a holistic picture. Please note, seats are limited to 100 attendees.
This event is proudly co-hosted by SEMI and McKinsey.
About
In an era where Moore's Law's infallibility is questioned due to slowing transistor scaling, domain-specific architectures (DSAs) are set to drive a revolution. Predicted to represent $89 billion, or 11% of the global semiconductor market by 2026, DSAs herald both remarkable opportunities and disruptive challenges for the semiconductor value chain.
Our conference convenes leading forces and innovative startups who are sculpting the future of DSA, with a mission to ignite impactful collaborations within the DSA design and manufacturing landscape. It's a unique stage for emerging DSA startups to showcase their trailblazing advancements and foster robust relationships within the semiconductor ecosystem. Be part of this transformative narrative and shape the future of DSAs with us.
Share this post via: