The electrification of cars and the growth of EVs means that more semiconductor content is being added with every new vehicle model from suppliers around the globe. There are unique concerns for automotive IP in terms of reliability, security and safety over the lifetime of the vehicle. I had the pleasure to speak with Pawini Mahajan, Head of Product for Silicon Automotive Solutions at Synopsys over a Zoom call this month to hear what they see happening in the industry.
Automotive OEM Challenges
I was surprised to learn that it can take 8 years to go from concept to showroom floor for a new model of car, while remodels are completed in a much shorter time span. New entrants like Tesla are certainly challenging the status quo for the speed of development and adding features. Chip shortages have plagued new car delivers over the past 2 years, as supply chains became disrupted. Zonal architectures are being used to place electronics in clusters, and ADAS features automate more of the driving for us as Level 3+ emerges. Our phones have frequent Over The Air (OTA) updates, and that trend continues in automotive as the idea of a Software Defined Vehicle (SDV) grows more popular. Hackers are active in efforts to break into auto systems, making security a new burden.
With added automotive IP there are concerns about the lifespan of semiconductor components as issues like electromigration can cause early failures. Increased temperatures actual speed up the aging process in chips. Even the constant vibration present in automotive vehicles adds to mechanically induced failures in wire bonding or even die fracturing. The current flow across transistor channels degrades the Vt and mobility values over time, another aging effect.
Larger chips fabricated at smaller nodes used in automotive IP are prone to analog circuit failures, per the bi-annual Wilson Research Group survey. It's projected that by 2030 the percentage of total car cost will be 50% attributed to electronics, while in 2010 it was 33%.
Silicon Health Monitoring
The idea to meet these challenges of safety, security and reliability is to have monitoring inside of each chip to measure what's going on and be able to predict a failure before it occurs. At Synopsys they use the phrase Silicon Lifecycle Management (SLM) to encompass the sequence of monitoring, gathering data, analyzing then acting on the analysis.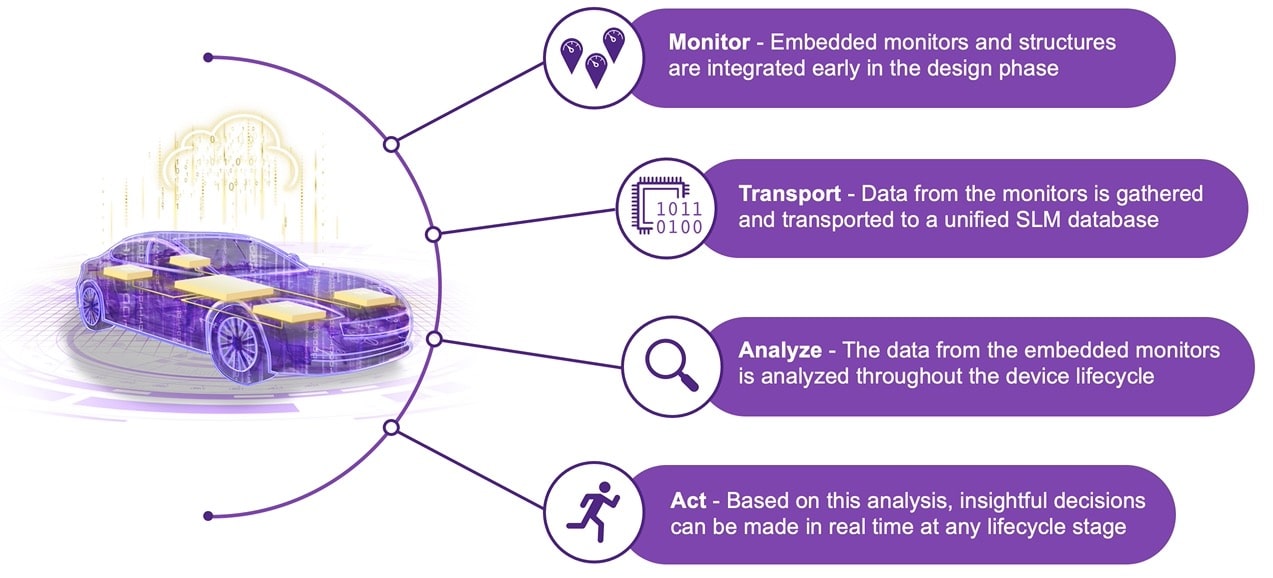 The functional safety for hardware is defined in ISO 26262-5, and there's a classic "Bathtub Curve" showing the failure rate of electronics as a function of time.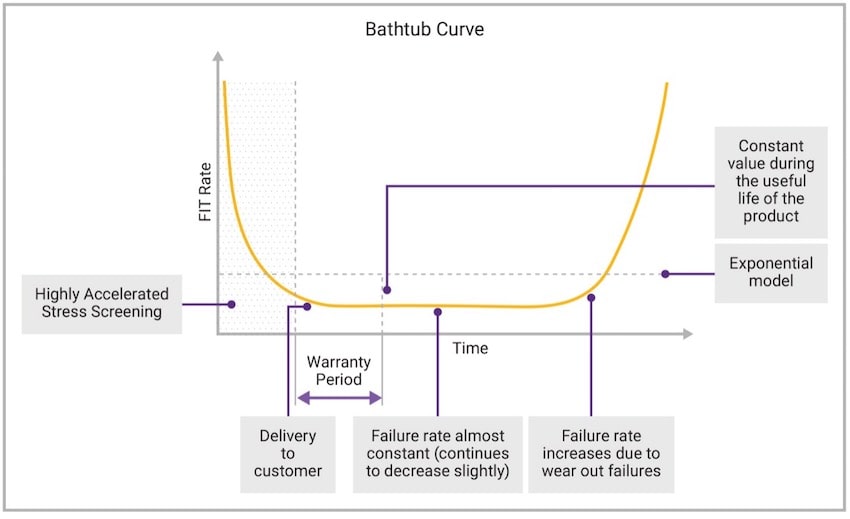 Automotive grade requirements to reduce risks and quicken qualification for automotive SoCs are to follow the ISO 26262 functional safety assessments, meet the reliability standards of AEC-Q100, and pass the quality checks from ISO9001 and ITAF 16949.
PVT IP
Synopsys acquired Moortec back in 2020, adding on-chip IP for Process, Voltage and Temperature (PVT) monitoring. The processor detector measures speed of the silicon, the voltage monitor detects IR drop, and the thermal sensors reveal the precise temperature across multiple locations on the die. Synopsys has included these PVT IP blocks on several popular process nodes, including the N7A node from TSMC for silicon validation, and they are qualified to AECQ-100 Grade 2.
Automotive-specific documents are delivered with this PVT IP from Design FMEA to an ISO 26262 assessment report.
Systematic failures are caused during the design, development and manufacturing while specifying or implementing, and random hardware failures show up from random defects or aging effects. ISOS 26262 covers both systematic and random hardware faults. There are four Automotive Safety Integrity Levels (ASIL):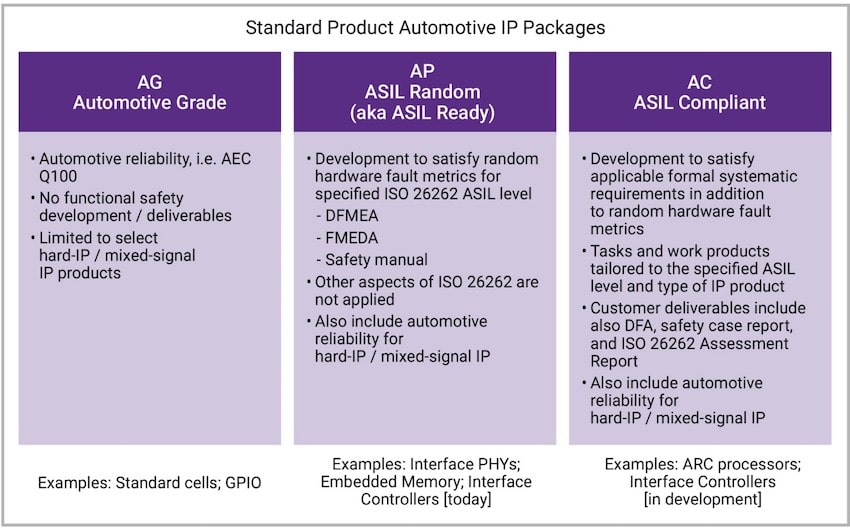 The strictest ASIL-D requires that components have <1% single points of failure, and <10% latent faults.
For reliability standards of SoCs the AEC-Q100 specifies stress testing of automotive ICs across various temperature ranges, and this corresponds to a number of hours testing at a high temperature for electromigration reliability.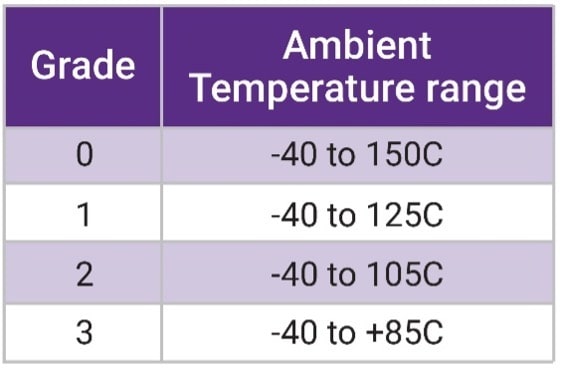 IP at Synopsys is characterized under three product classes:
Automotive Grade (AG), used for hard-IP only, automotive reliability but no functional safety work products
ASIL Random (AP), ISO 26262 Random Hardware Fault Metrics only
ASIL Compliant (AC), ISO 26262 full compliancy Systematic + Random
Summary
As an automotive driver and passenger I really want my trips to be safe, secure and reliable. The automotive industry has the same goals and has established working groups and standards over many years now. EDA and IP vendors like Synopsys have served the automotive segment well by creating the SLM applied to automotive IP certification.
Related Blogs
Share this post via: