We all knew that Apache had filed for an IPO earlier and were just waiting for the timing and price to be revealed. Rumors have been circulating about an acquisition and today we know that the rumors were true asAnsys paid $310 million in cash for Apache.
Ansys stock has surged some 35% over the past twelve months: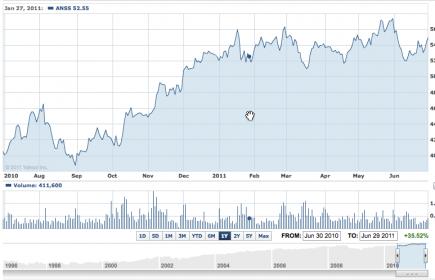 Products
This acquisition looks totally complimentary in terms of products. Ansys also purchased Ansoft back in 2008, so they now have a good mix of software tools across multiple disciplines:
Low-Power IC Design (Apache)
Electromagnetics
Explicit Dynamics
Fluid Dynamics
Multiphysics
Structural Mechanics
It will be interesting to see if Ansys creates a division just for Apache tools or merges it into the Electromagnetics division.
Share this post via: