Ansys HFSS has been the world's trusted gold standard for  electromagnetic analysis for many years. As chip designs get bigger and more complex many users report that they're extremely happy with the gold standard accuracy of HFSS but wish it would run faster. Fortunately Ansys has introduced many capabilities to HFSS over the years that significantly speed up total turn-around time.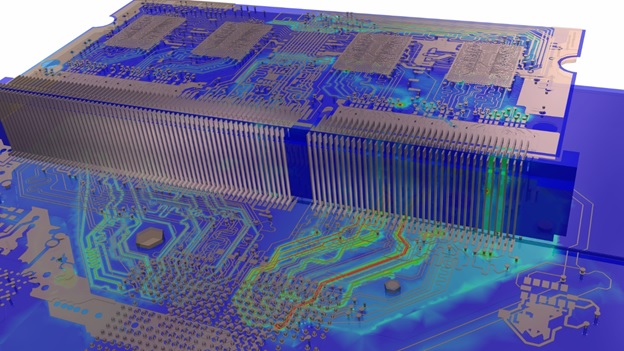 From matrix multi-processing delivered back in 1997, then parallel frequency points in 2005, onto a Distributed Memory Matrix solver in 2016, and enhanced GPU performance in 2020, HFSS has been delivering consistent speed and capacity improvements for over two decades. In addition to algorithmic improvements and better utilization of cluster computing, Ansys has also streamlined the process of HFSS simulation setup. Streamlined model import from layout automatically defines the excitations and bounding regions for the simulations.
Auto solution setup means the user simply defines the frequency range of interest, and then selects a slider bar setting of Speed, Balance, or Accuracy. The user may pick Speed for iteration and design exploration or Accuracy for validation and sign-off. From there Auto HPC takes over to optimally apply the total number of cores and/or machines available, and the solver is off and running. In addition, HFSS automatically distributes the adaptive solution across all the nodes, and then utilizes the same compute resources to distribute the frequency sweep.
However, some users have gotten stuck in the way they solve problems in HFSS. For example, one user designing 112 Gbps high-speed SERDES SoC packaging had been cutting down the design to solve only a quarter of the package. It was the same, now unnecessary, divide-and-conquer approach to electromagnetic solves they have been using for years. With a different solver, they  tried  to model the same subdivided structure. Utilizing just one quarter the number of cores HFSS 2020 solved the problem in half the time. With the solve time down to just an hour they decided to model the entire package in HFSS. To their surprise solving the entire package of 184 ports up to 50 GHz, took only 18 hours.
"We never expected to be able to sign-off a large package design like this in HFSS," said the package design lead at a Silicon Valley based custom ASIC house specializing in high speed networking and communications. "We tried solving this larger structure in another recently released FEM- based solver but were never able to complete the analysis."
Updates to Ansys HFSS over the years are re-defining the possibilities in scale and turnaround time for full-wave electromagnetic sign-off in today's chip, package, and PCB design challenges.
For more information on how to speed up your HFSS simulations, be sure to check out the best practices  webinars. 
About Ansys
If you've ever seen a rocket launch, flown on an airplane, driven a car, used a computer, touched a mobile device, crossed a bridge or put on wearable technology, chances are you've used a product where Ansys software played a critical role in its creation. Ansys is the global leader in engineering simulation. Through our strategy of Pervasive Engineering Simulation, we help the world's most innovative companies deliver radically better products to their customers. By offering the best and broadest portfolio of engineering simulation software, we help them solve the most complex design challenges and create products limited only by imagination. Founded in 1970, Ansys is headquartered south of Pittsburgh, Pennsylvania, U.S.A. Visit www.ansys.com for more information.
Also Read
Executive Interview: Vic Kulkarni of ANSYS
World's Leading Chip Designers at IDEAS Digital Forum Show How to Streamline Design Flows and Reduce Design Cost
Ansys Multiphysics Platform Tackles Power Management ICs
Share this post via: