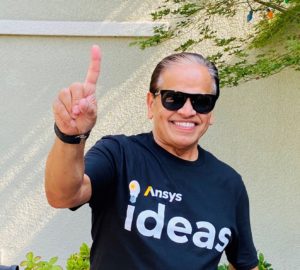 On the eve of the Innovative Designs Enabled by Ansys Semiconductor (IDEAS) Forum I spoke with Vic on a range of topics including his opening keynote: Accelerating Moore and Beyond Moore with Multiphysics. You can register here. 
Vic Kulkarni is Vice President and Chief Strategist, Semiconductor Business Unit, Ansys, San Jose. CA. Vic is responsible for steering the business, technology, go-to-market and product strategy, connecting the dots from chip-package-system design solutions with ANSYS multi-physics simulation technology to address challenges faced by multiple verticals, including 5G, AI, HPC, mobile and autonomous. He drives strategic customer executive relationships and acquisitions with Ansys leadership team.
Q: What are the key trends which are shaping your business?
Hi-tech sector remains strong.
We are witnessing a renaissance in semiconductor and electronic systems. We see an emerging duality between Moore's Scaling Law and the Beyond Moore trend.
On the one hand, compute-intensive demands by a range of markets – including HPC, cloud, storage, autonomous vehicles, 5G, and ML/AI – are driving scaling feature sizes down to 5à4à and now 3nm as Tier-1 semis and hyper-scalers continue to invest in semiconductors. This is due to increased workloads of HPC cloud compute, networking storage, 5G, AI training and inferencing chips like Google TPU.
At the same time, there is an accelerating trend to go Beyond Moore with 2.5/3D ICs, chiplets, and other multi-die configurations driven by edge compute, 3D intelligent sensors for autonomous, and high-bandwidth, low-latency, power, area and cost-sensitive applications.
We believe that pervasive multiphysics simulation and analysis in all phases of the design cycle from ideation to lifecycle management will be an important enabler to accelerate innovation and achieve silicon-to-system success.
Q: How are customers responding to the pandemic?
Despite COVID-19, we kept focusing on our customer support excellence delivery and achieved significant success in pre sales campaigns, customer design tape-outs and customer technical collaboration.
A few cash-poor startups are affected by COVID-19, but that's a small fraction of our business. We see a great momentum of our RedHawk-SC flagship PI-SI signoff product in China. We completed 9 evaluations and have several ongoing/planned product evaluations.
Automotive electronics remains on track, as these companies continue to invest in R&D that enable autonomy.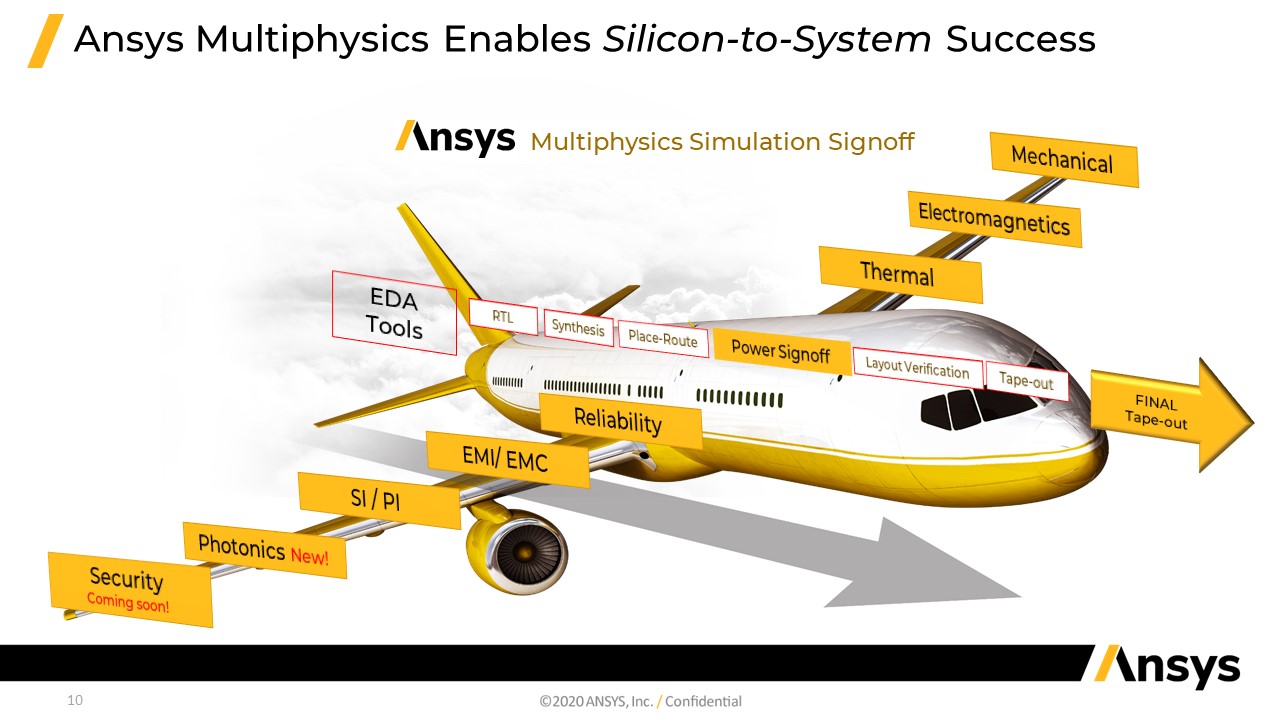 Q: Tell me more about your upcoming opening keynote for the IDEAS Digital Forum.
Vic took me through his presentation which is a great set-up for the first day. He starts with a brief overview of the Ansys Multiphysics Simulation Platform and moves into the benefits of a simulation-driven design from Concept to Design to Validation and the resulting savings. ANSYS has a broad range of customers so these numbers are VERY impressive.
Vic then talks about custom chips by systems companies for differentiation and faster TTM, semiconductor megatrends and technology challenges. The airplane graphic above explains it quite well (ANSYS tools are on the wings).
Bottom line: ANSYS is an important part of the leading edge semiconductor ecosystem for simulation, AI/ML, HPC, 5G, hardware security and autonomous vehicles. And while I miss the ANSYS live events (great food and networking) the ANSYS virtual events are must attend, absolutely.

Also Read
World's Leading Chip Designers at IDEAS Digital Forum Show How to Streamline Design Flows and Reduce Design Cost
Ansys Multiphysics Platform Tackles Power Management ICs
Qualcomm on Power Estimation, Optimizing for Gaming on Mobile GPUs
Share this post via: