In the past ESD sign-off has been accomplished by a combination of techniques. Often ESD experts are asked to look at a design and assess its ESD robustness based on experience gained from prior chips. Alternatively, designers are told to work with a set of rules given to them, again based on previous experience about what usually works and what fails. Tools can come into the mix, many of them using widely ranging methods with widely ranging success. Indeed, engineering teams looking to buy ESD tools are confronted with a confusing set of solutions that may or may not find problems, and just as importantly may report numerous false errors. Some tools require multiple iterations to find real issues, or simply take teams forever to run and review results because of an inability to filter out false violations.
Magwel has been delivering a solid ESD solution for HBM verification for many years. Magwel's ESDi tool strikes the perfect balance of comprehensive checking without creating burdensome simulation workloads. As a result, it reports fewer false positives and gives designers the tools to rapidly trace, debug and fix any issues it finds.
Tool Choices
As was mentioned before, engineers often have to choose between apples and oranges type choices, in the hopes they pick the right tool. Some tools use simple loop resistance to find potential problem paths, then require more detailed simulation to assess the real level of severity. This approach can miss problem paths altogether. Other solutions rely on rules to detect issues. However, the quality of the verification depends heavily on the specifics of the rules. New problems can occur that are not anticipated by the existing rules. Another approach is to rely too heavily on voltage propagation. While this is a step in the right direction, it can miss the nuances that many designs present.
Simulation Approach
Magwel's approach has always been to use thorough and fast simulation, with easily obtainable TLP models for the ESD devices. It has a built-in highly accurate extraction engine tuned for ESD analysis. ESDi looks at each and every pad-pair (or pins in the case of IP) to see where problems are occurring. Self-protecting devices are also easily modeled. Because it uses comprehensive simulation, it can handle multiple parallel discharge paths, which ultimately affect current distribution and voltage levels across devices. Performance is boosted by parallel processing. ESDi typically simulates an HBM test in a fraction of a second and can perform up to 10K tests per hour per parallel thread.
ESDi also checks for missing vias or wires which may lead to unconnected ESD devices, as well as many other common layout issues that can cause ESD related failures. It handles chips with multiple power domains and checks for electro-migration issues.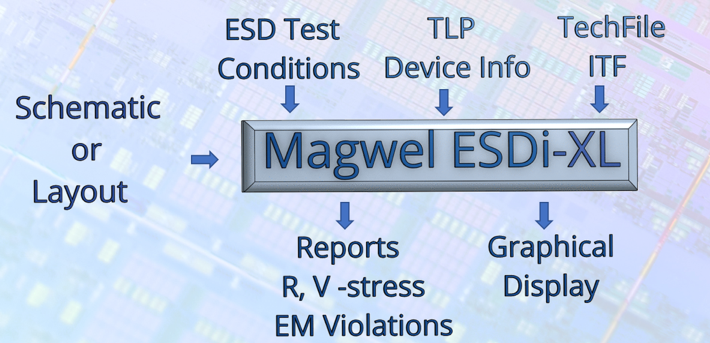 To improve overall ESD design and verification Magwel has just announced a set of new features that expand the ability to detect issues and improve the effectiveness of both front-end and back end design teams. With ESDi-XL design teams can now get an early look at ESD robustness during schematic design. Early design cycle insights into ESD protection effectiveness can save precious design time and avoid unnecessary iterations.
New Analysis Methods
Perhaps most important of all the new features in EDSi-XL is the addition of IO cell and core checking for overvoltage and overcurrent conditions during ESD discharge events. ESDi-XL already has an excellent ability to predict voltage and current flows in IO and ESD cells. Magwel applies this information and uses a proprietary algorithm to rapidly detect when any core devices would be exposed to overcurrent or overvoltage in the course of an ESD discharge event. This is extremely important because even with ESD protections working the potential for internal device damage continues to exist in many designs. Unfortunately, up until now the only way to find these issues was with massive time-consuming simulations or after tapeout on the tester. Magwel's approach is fast and accurate and can save projects from having to make respins.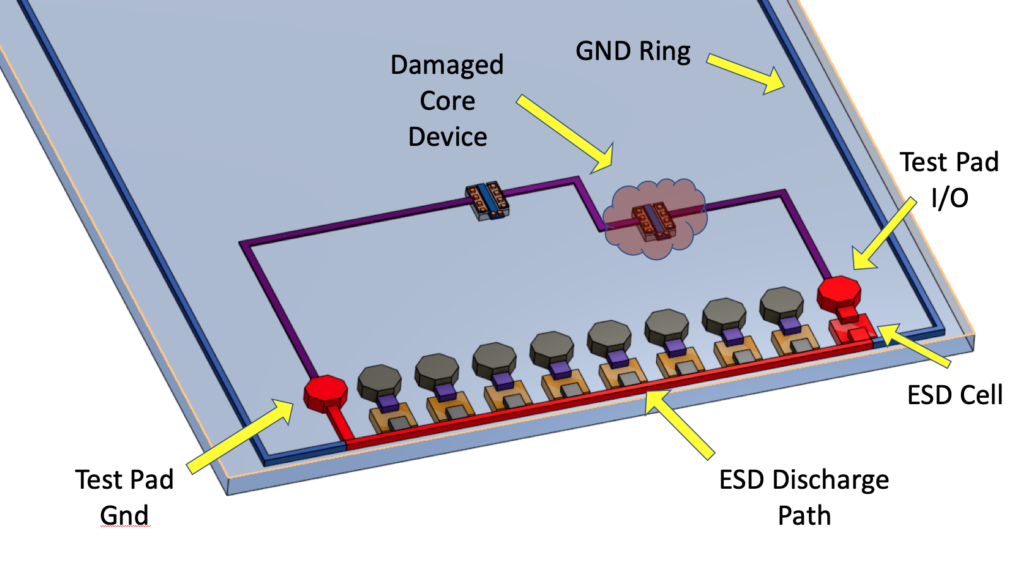 ESDi-XL also performs new expert topological checks, such as the presence and value of protection resistors at gate inputs, presence of secondary protections or W/L aspect ratios of stacked devices.
Conclusion
Magwel's ESDi-XL brings high speed and accurate ESD analysis to the entire flow. It can quickly replace and supplement methods such as cursory checks, tedious simulation and manual review, all of which can be impractical or error prone. If you are going to buy an ESD tool, it makes sense to do it before you experience a project delay or failure. For more information on Magwel's ESDi-XL visit their website.
Share this post via: