PowerMOS devices play a major role in a variety of power converter and control circuits. Some examples of their applications include PMICs, or boost and buck converters. Often these are used in mobile and IoT devices to convert battery voltages to circuit operating voltages.
Due to their size and internal complexity PowerMOS devices have to be analyzed as hundreds or perhaps thousands of smaller devices, connected by a complex web of metallization. The first and most significant effect of this is non-uniform switching, with gate voltage varying across the device during device turn on. This in turn leads to Ids concentrating in some areas and not others.
Transient electrical analysis is capable of showing detailed gate voltages and current densities during the transitions, when devices typically experience their highest power draw. However, there is a second dimension to the problem that influences the electrical analysis – intrinsic device behavior is temperature dependent. As a result, device current values will rise as temperature rises, and the reciprocal is true, temperature will rise as more current flows. In the worst case, this vicious cycle may lead to temperature related device failure if the metal melts and shorts out the junction.
The thermal dynamics depend of the properties of the die, the surrounding package and even the board. Uncoupled electrical and thermal analysis will have difficulty converging on an accurate solution at each time step during circuit operation.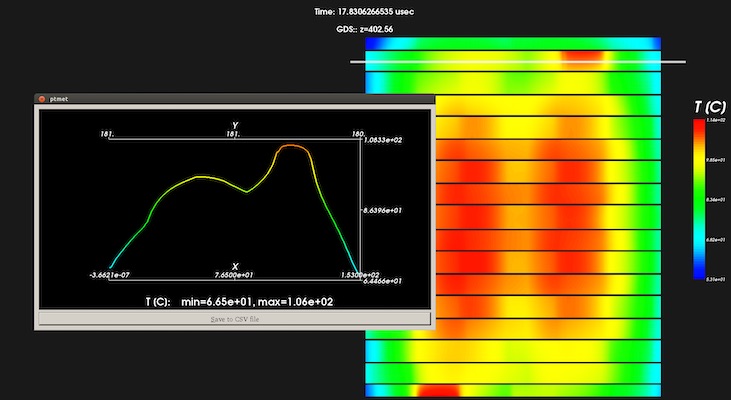 Analysis tools are needed to thoroughly model the internal behavior of these complex devices during their operation. Magwel's PTM-ET tool combines joule heating in the metal interconnect and device junctions with other heat sources and sinks to determine device thermal behavior during circuit activity. PTM-ET concurrently simulates the interdependence between electrical behavior and thermal behavior. PTM-ET's unique concurrent and dynamic simulation of devices in their packaging with user provided stimulus provides an accurate picture of circuit operation over time.
With the information from PTM-ET, designers can make sure that the optimal packaging has been selected, keeping costs down and also ensuring device reliability. Another advantage of electro-thermal co-simulation is that it can help identify hot spots in the device and guide the placement of sense or replica devices.
Magwel offers a free webinar reply covering the topic of concurrent electro-thermal analysis for PowerMOS devices with the goal of understanding impacts on device operation. The talk by Allan Laser, Magwel Field Application Engineer, discusses the challenges of modeling device behavior and predicting the effects of thermal and electrical factors. Magwel's PTM® tools work off of device layout and foundry supplied intrinsic device models and produce a comprehensive look at PowerMOS devices.
Share this post via: