Register Transfer Level (RTL) is a crucial and valuable concept in digital hardware design. Over the years, it has played a fundamental role in enabling design of complex digital chips. By abstracting away implementation details and providing a clear description of digital behavior, RTL has contributed significantly to the advancement and widespread adoption of digital design methodologies. It abstracts away the specific implementation details and technology-dependent aspects, providing a more manageable and technology-agnostic representation of the design. RTL provides a basis for design exploration and optimization. Engineers can modify the RTL code to explore various design alternatives and identify the most efficient solutions.
While the chip design process benefits tremendously from the use of RTL, the designs need to be synthesized and taken through the layout process before the chips can be manufactured. Tools for synthesis and place and route rely on RTL as input to generate the physical layout of the chip. This transition comes with several challenges that designers need to address to ensure a successful and optimal chip implementation. Physical design constraints such as area, power and routability constraints must be satisfied during the layout process while considering the characteristics and limitations of the target process technology and manufacturing process. Power integrity, signal integrity, design for manufacturability (DFM) and many more requirements need to be addressed as well.
As designs grow in complexity, the productivity and turnaround time become significant challenges during the RTL-to-layout transition. The RTL-to-layout transition often involves iterative processes where designers must go back to the RTL level to make modifications and then repeat the layout process. Efficient iteration management is crucial to avoid time-consuming and costly iterations. It is in this context that Cadence's recent announcement highlighting the delivery of the Joules RTL Design Studio takes significance. It promises to deliver up to 5X faster RTL convergence and up to 25% improved Quality of Results (QoR) when compared with traditional RTL design approaches.
Actionable Intelligence
The driving force behind the Joules RTL Design Studio lies in its ability to provide RTL designers with actionable intelligence and rapid insight into physical effects. This capability enables design teams to address potential issues early in the design process, leading to reduced iterations, thus speeding time to market. Front-end designers can now access digital design analysis and debugging capabilities from a single, unified cockpit, streamlining the design process and ensuring a fully optimized RTL design before implementation handoff. This provides the physical design tools a strong starting point.
Intelligent RTL Debugging Assistant System
Joules RTL Design Studio further distinguishes itself with an intelligent RTL debugging assistant system. It provides early power, performance, area and congestion (PPAC) metrics and actionable debugging information throughout the design cycle‑including logical, physical, and production implementation stages. Engineers can thoroughly explore "what-if" scenarios and identify potential resolutions with ease. This not only saves valuable time but also improves the overall design outcomes, leading to more efficient chip designs.
Integrated AI Platform
A key highlight of this solution is its integration with Cadence Cerebrus, an AI-driven solution for design flow optimization, and the Cadence JedAI Platform, which facilitates big data analytics. By leveraging generative artificial intelligence (AI) for RTL design exploration and comprehensive analytics with Cadence's leading AI portfolio, designers gain new insights into design space scenarios, floorplan optimization, and frequency versus voltage tradeoffs. This opens up new possibilities for creative exploration and significantly enhances design productivity.
The software's capabilities are based on proven engines, shared with Cadence's Innovus Implementation System, Genus Synthesis Solution, and Joules RTL Power Solution. This integration allows users to access all analysis and design exploration features from a single intuitive graphical user interface (GUI), ensuring an optimal QoR and a seamless design experience.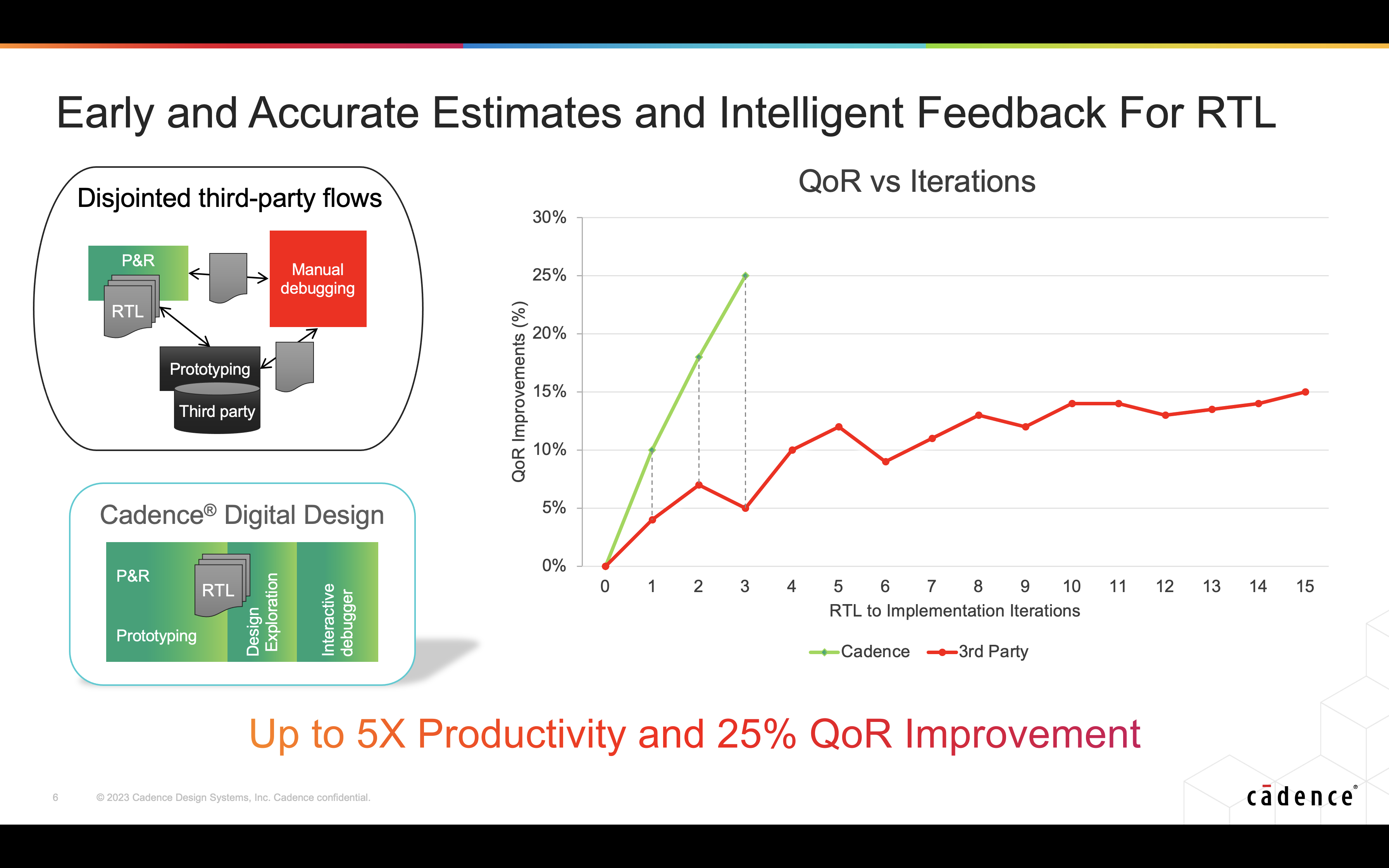 Incorporating lint checker integration, Joules RTL Design Studio empowers engineers to run lint checkers incrementally. This capability helps rule out data and setup issues upfront, effectively reducing errors and accelerating the design completion process. The unified cockpit experience offered by the software caters to the specific needs of RTL designers, providing physical design feedback, localization, and categorization of violations, bottleneck analysis, and cross-probing between RTL, schematic, and layout. This user-friendly interface streamlines the design workflow and fosters productivity.
Intelligent System Design
Joules RTL Design Studio plays a vital role in Cadence's broader digital full flow. This integrated flow offers customers a faster path to design closure, ensuring efficient and successful chip design. The tool aligns well with Cadence's Intelligent System Design strategy, empowering engineers to achieve excellence in system-on-chip (SoC) design.
Summary
The impact of this innovation extends to all aspects of physical design, from power and performance to area and congestion. By incorporating advanced technologies like machine learning, big data analytics, and generative artificial intelligence, Cadence has engineered a powerful solution that empowers designers to achieve optimized RTL designs faster with improved QoR.
Customers from various industries have endorsed its powerful capabilities and the benefits it brings to their design processes. For details, refer to the Joules RTL Design Studio press release.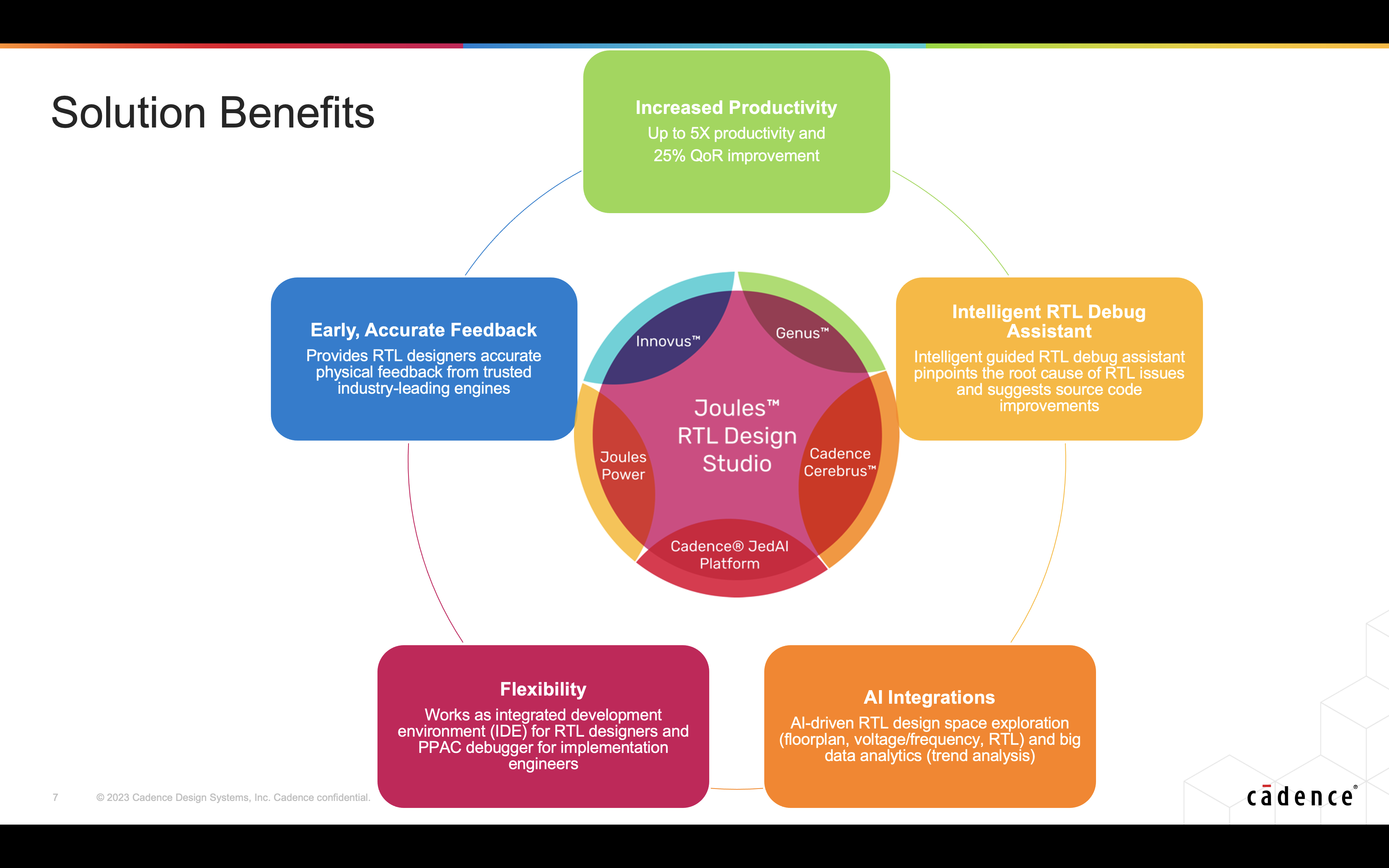 For more information, visit the Joules RTL Design Studio product page.
Also Read:
Automated Code Review. Innovation in Verification
Xcelium Safety Certification Rounds Out Cadence Safety Solution
Share this post via: