DVCon India 2023 | Keynote: "Journeying Beyond AI: Unleashing the Art of Verification" by Sivakumar P R, Founder & CEO, Maven Silicon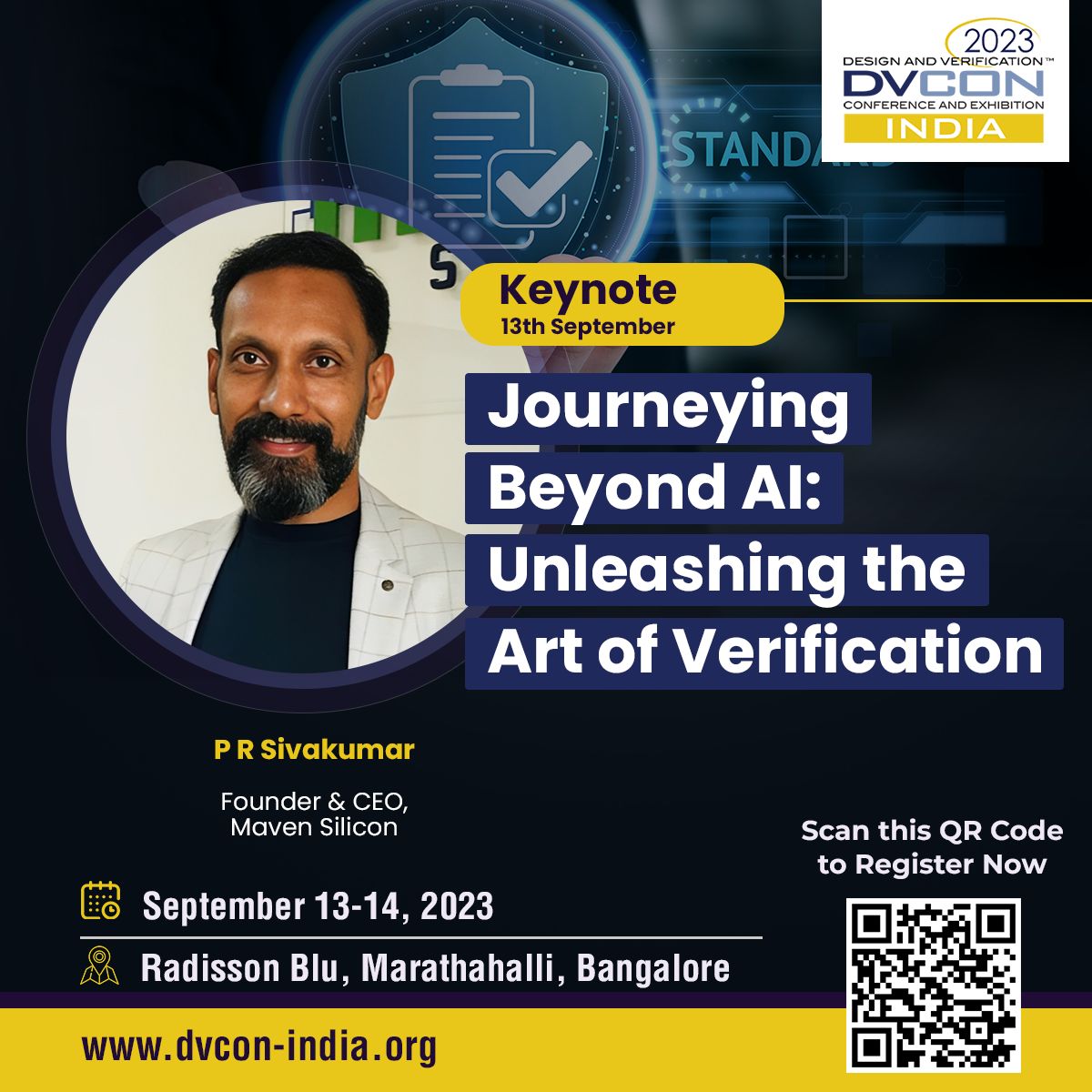 Get Ready for an Epic Tech Odyssey with the keynote, 'Journeying Beyond AI: Unleashing the Art of Verification', by P. R. Sivakumar, Founder, and CEO, Maven Silicon.
The semiconductor industry is undergoing a transformative shift, embracing novel design methodologies and innovative flows to meet the demands of a rapidly evolving technological landscape. In this keynote address, we will explore how these advancements, such as AI-driven Electronic Design Automation (EDA), System of Chips (SoCs) utilizing Chiplets with UCIe, and cutting-edge 2.5D and 3D advanced packaging techniques, are revolutionizing chip production. This transformative journey positions the semiconductor industry to emerge as a trillion-dollar market by 2030, fueled by the creation of complex chips boasting trillions of transistors.
The rise of disruptive technologies, such as AI, cloud computing, and autonomous vehicles, has sparked a pressing need for sophisticated SoCs and chips specially designed to cater to these domains. These intricate designs incorporate standard CPUs, GPUs, FPGAs, and specialized AI accelerators, providing the foundation for groundbreaking innovation. With AI serving as a key driver for progress, its pervasive influence is permeating every industry sector.
Within the realm of EDA, machine learning has emerged as a vital tool, significantly enhancing the efficiency of the design and verification processes. Leveraging the power of machine learning, we are propelled towards the adoption of AI-driven EDA, facilitating the creation of advanced chips that fuel the growth and proliferation of emerging technologies. During this keynote, we will delve into the uncharted territory of verification challenges stemming from these new designs. Furthermore, we will illustrate how AI-driven EDA empowers verification engineers to efficiently validate these state-of-the-art chips, enabling them to unleash their creative potential and innovate with unprecedented freedom.
To know more, click here
About Maven Silicon
Maven Silicon is a trusted VLSI Training partner that helps organizations worldwide build and scale their VLSI teams. We provide outcome-based VLSI training with our variety of learning tracks i.e. RTL Design, ASIC Verification, DFT, Physical Design, RISC-V, and ARM etc. delivered through our cloud-based customized training solutions. To know more about us, visit our website.
Also Read:
Upskill Your Smart Soldiers and Conquer the Chip War in Style!
Maven Silicon's RISC-V Processor IP Verification Flow
Share this post via: