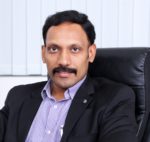 Sivakumar P R is the Founder and CEO of Maven Silicon. He is responsible for the company's vision, overall strategy, business, and technology. He is also the Founder and CEO of Aceic Design Technologies.
Sivakumar is a seasoned engineering professional who has worked in various fields, including electrical engineering, academia, and semiconductor, for more than two decades. In the semiconductor industry, he has worked as a Verification Consultant for the top EDA companies Synopsys, Cadence, and Mentor Graphics and helped various ASIC and FPGA design houses deploy and use various verification methodologies effectively, resulting in successful tape out of IPs, Chips, and SoCs.
He now specializes in offering Verification IPs and consulting services, EDA flow development, and has delivered corporate training courses for the top EDA and VLSI global MNCs. He is also the author of all our online VLSI courses.
He is the recipient of the "Outstanding Technical Achievement" award from Cadence Design Systems and holds a degree in Electrical and Electronics Engineering from Madurai Kamaraj University.
Maven Silicon has been prominent as a top-class VLSI finishing school in India for more than a decade. Can you share with us how your journey has been?
Our journey has been meaningful and exciting as we produce 500+ highly skilled VLSI engineers every year. We have deployed 3000+ chip designers in the Indian semiconductor industry during this decade long journey. Most of our alumni have grown as experienced engineers, some of them are more experienced as tech leads who hire their juniors, and some of the exceptional Mavenites have gained the confidence to found their start-ups. It's amazing to watch their incredible growth, and we are very thankful to all our industry partners who hired and made them experienced engineers.
We have also been partnering with the VLSI companies as their training partner and upskilling their engineers. Now we offer cloud-based online VLSI training solutions to upskill their engineers worldwide. We have partnered with a wireless MNC and trained 300+ VLSI engineers last year during this pandemic as part of the multi-year training contract to train 600+ engineers worldwide using our online training platform. No one has delivered the VLSI training at this scale. We have introduced this online training model to many more tier-1 product and services VLSI companies and have now emerged as a VLSI Centre of Excellence globally.
During this journey, I founded a design services company called Aceic Design Technologies. We had a team of 50+ verification engineers who had worked for the global VLSI MNCs ADI, Rambus, Cypress, Broadcom as verification consultants. Most of them, 80% of the workforce, had been directly hired from Maven Silicon and deployed successfully as billable resources on the customer projects, mainly because of our training quality. Later they all emerged as verification experts whom the customers could rely on for their successful project execution.
At Aceic, we had also developed VIP for Wireless MAC 802.11 ac and Bluetooth 5.0 to support some wireless MNCs. Despite a small start-up with 50+ engineers, we had always worked as a direct vendor for our customers because of our domain expertise, and it was the main reason why our team and VIPs had been acquired by a US based MNC that mainly wanted to acquire verification domain expertise and our clientele. I would like to share this success story with any VLSI company interested in hiring top-class VLSI engineers from Maven Silicon.
Maven Silicon is the training partner of RISC-V, and Siemens EDA is your EDA partner. How does it help the VLSI engineers and the semiconductor industry?
The semiconductor industry is going through a vast transformation that would enable us to create new and more powerful chips to support the evolving technologies like IoT, AI, Cloud, and 5G. The processor is one of the essential components of the chip so we need to train the next generation of semiconductor designers on processor design and empower them to innovate and create new and all kinds of processors.
At Maven we use the open-source RISC-V processor as a project to train the VLSI engineers on RTL design and verification. Also, it helps the engineers to acquire processor domain expertise as an added advantage and explore the job opportunities in the global MNCs like Intel, AMD, ARM, SiFive, Nvidia, etc., that are specialized in making CPU and GPU chips, in addition to the other VLSI companies.
Our EDA partner is Siemens EDA [Mentor Graphics] that offers complete EDA flow, RTL to GDSII, to train our engineers at Maven Silicon. As Siemens EDA tools are widely used in the industry for chip design, it helps the engineers to bag the job offers, projecting their EDA tool expertise as an added advantage.
How does Maven Silicon address the challenges of the semiconductor industry and academia using its training solutions?
We have 250+ industry partners who hire the trained VLSI engineers from Maven Silicon. Currently, we deploy 400+ VLSI engineers every year in the Indian semiconductor industry that is dominated by fast-expanding design services companies.
In addition, the global VLSI MNCs hire an army of engineers directly from the university campus every year to scale up their operations worldwide. The traditional ILT [Face-to-Face Classroom] training is not feasible to train at this scale across different countries worldwide. So we use our cloud-based online training solution to address this challenge. As mentioned earlier, we have partnered with tier-1 global MNCs as their training partner and trained their engineers in bulk worldwide. It's possible because of our unique training licensing business models which are cost-effective as it's less expensive for the high-volume training needs.
We also offer a library of VLSI courses that includes various foundation and advanced courses like RTL design, Verilog HDL, ASIC Verification, SystemVerilog, UVM, DFT, STA, CDC, Low Power DV, RISC-V, ARM SoC, Bus Protocols, Wireless, Bluetooth, etc., to upskill the experienced engineers. It can be used as their reference to learn continuously while working on the projects. Supporting the engineers to upgrade their skills helps the company retain them for a long while, improving their productivity. The engineering staff attrition is very high in the semiconductor industry. So this is how we help global MNCs to retain their skilled VLSI engineers.
Also, Maven Silicon bridges the gap between the industry and academia by upskilling the engineering graduates using our online VLSI training solutions. We offer some free foundation VLSI courses, webinars, and faculty workshops to support academia, while offering similar corporate B2B training licensing models to the academia, but at a lower cost as a university training package. It helps us inspire and attract bright engineers to the semiconductor industry before considering the lucrative offer from the software giants. We are also an active member of IESA to support their training initiatives that align with our vision.
Can you explain the uniqueness of your pedagogy and how it helps the engineers?
I worked extensively in the EDA industry, Mentor Graphics [EDA channel partner], Cadence and Synopsys, on various verification methodologies and technologies like ABV, Linting, Simulation, Formal Verification, VMM, AVM, eRM, HW-SW Co-verification, UVM, etc., as a verification consultant for their customers, before founding Maven Silicon. So, I have created the VLSI course curriculum for Maven Silicon leveraging my experience to produce highly skilled VLSI verification engineers. It is the main reason why Maven Silicon emerged as a top-class VLSI finishing school in India, and today, we are supporting the semiconductor industry and academia globally as their VLSI COE.
At Maven Silicon, we emphasize learning design fundamentals before the engineers choose any specialization like RTL Design, Verification, DFT. We designed our foundation course so that they learn the VLSI design basics thoroughly and choose their specialization on their own. It helps them to succeed and build their long-term career in the semiconductor industry.
We use real-time industry-standard projects like RISC-V processor, ARM SoC, Bluetooth VIP, AMBA- AXI, AHB, APB VIPs, etc., to train them on RTL Design, UVM Verification, and DFT. It helps them to build the domain expertise and grow as hands-on project-ready VLSI engineers. Every theory module includes case studies, labs, and pilot projects, and it makes them perfectly ready to work on their projects independently.
We offer blended VLSI courses that include self-paced online videos with daily/weekly Q&A support. Our video courses are unique and engaging as they directly learn from me through a dedicated 1:1 session. As an author, I give them a big picture for every topic to motivate and help them to understand the reason why it's important, for example,  Why Processor? , and show them the real time applications while explaining the concepts, for example, SystemVerilog Class-based VE . This is how we differ from the other online courses and textbooks.
We have a dedicated team of highly experienced verification engineers and trainers for the Q&A and project support. We also provide online access to our servers for the labs & projects while offering the VLSI courses through our cloud-based online LMS and mobile app to learn theoretical concepts.
How has the pandemic affected Maven Silicon and its customers?
We had introduced online foundation VLSI courses proactively a few years before the pandemic started in 2019, mainly to democratize the expensive VLSI training in India and attract bright engineers for the semiconductor industry. So, it had already become popular among the engineers with their acceptance before the pandemic. It had helped us transform all our offline courses to online during the pandemic. Though there had been some challenges initially, we improved the online model through our iterative implementation processes and made it stable as a blended course. Now we can train hundreds of engineers in parallel.
We have trained 500+ engineers worldwide for the global MNCs during this pandemic. So, I would say the pandemic has transformed our traditional classroom training into complete online training, and this transformation has helped us support our customers globally.
Final Thoughts:
We partner with the global semiconductor industry and academia as their VLSI Centre Of Excellence and upskill their VLSI engineers worldwide using our cloud-based online training solution. We collaborate with our industry and EDA partners and support academia by offering free foundation VLSI courses, webinars, and faculty workshops during this pandemic. I want to thank all our staff, industry, and EDA partners for their incredible support, especially during this pandemic.
Also Read:
Ten Lessons Learned from Andy Grove
CEO Interview: Deepak Shankar of Mirabilis Design
CEO Interview: Prakash Murthy of Atonarp
Share this post via: