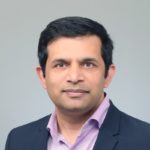 Prakash Murthy is the co-founder & CEO of Atonarp, a leading molecular diagnostics company HQ in Tokyo Japan. Murthy has two decades of experience in engineering management and entrepreneurial ventures. Murthy also co-founded Inspiration Technologies and C2Silicon Software and served as the CEO of Core Solutions Inc. Murthy has a diverse background in analytical instrumentation, high performance computing, compiler development, networking, and multimedia systems. Murthy has authored 20 patents.
Please tell us about Atonarp?
Atonarp is leading digital transformation of molecular diagnostics, the company is headquartered in Tokyo Japan, with offices in US and India. We are focused on the two largest markets for molecular diagnostics, namely semiconductor manufacturing and life sciences.   We've developed highly differentiated products for these two markets.
The semiconductor metrology applications are supported by our highly differentiated mass spectrometer platform, called Aston.  Aston is custom designed for advanced semi applications like ALD and I'll explain what problems we're solving and what unique features we added for the semi market and in a moment.
The life science's applications are supported with our advanced nonlinear optical spectroscopy product called ATON-360.  ATON-360 is set to revolutionize the medical diagnostics market with its fast, pain free point of care testing, there is nothing else like it.  You can read more about that product on our web site.
Finally, the output of our products is to provide actionable data via our cloud software, whether that is a blood test for preventative health care or a quantified partial pressure measurement of the process gases in an ALD semiconductor atomic level deposition step.
Okay so what keeps FAB managers and Process Engineers up at night?  What problems are you solving?
We are enabling virtual metrology, which is an enabling method to predict the properties of a wafer based on in-situ production equipment and sensor data.  No costly physical measurement of the wafer properties in-line, after processing is needed. Additionally, there is relentless pressure to roll out new technologies, advanced process nodes, reduce the cost of manufacturing and making it more profitable, but that must be balanced by uncompromising line and product yield expectations. Add to that the new processes must quickly scale to pre-production and then to high volume, often at Fab sites halfway around the world; there is a lot going on for Fab managers to deal with.
But the biggest issue right now is capacity and throughput as process geometries get smaller their complexity increases dramatically.  There are a couple of reasons: Firstly, advanced memory and gate all around processes use selective processing with single atomic layer etch and deposition – or ALE and ALD.  ALE and ALD are very precise, but are slow processes, unless you are using molecular metrology to determine end points during each step of the process. Secondly, advanced lithography solutions are often double, or quadruple patterned to get the smaller feature sizes.  Multi-patterning lithography requires many additional depositions and etch steps and each step requires high precision on advanced processes.   These are complex problems with very demanding process margin requirements.
Looking beyond capacity throughput challenges there are significant opportunities for long term cost savings come from optimizing, simplifying or removing processing steps and real time, accurate and actionable data is critical to enabling these tasks.  We call this EPCO – Equipment and Process CO-Optimization and it's a combination of good engineering and applying machine learning to the manufacturing process and equipment.  For example, statistical process controls for advances processes are now looking at the real effects of chamber to chamber, machine and run to run differences that you see on the same equipment with the same recipe.  Process control has become a lot more complicated as critical dimensions have shrunk along with the margin for error and individual chamber management is becoming fundamental to ensuring high line yield with tight statistical process control.  This is what EPCO is all about, ensuring the equipment, chambers and the process are optimized together, often using advance machine learning techniques, it's a new important layer of detail.
Atonarp has spent a lot of time understanding the FAB and equipment manufacturers problems and challenges.  The result of those efforts is Aston – our robust molecular sensor.
What makes Atonarp and your Aston product unique for Semiconductor metrology?
We have developed a high performance, miniature mass spectrometer and created a robust in-situ tool with a unique dual inlet architecture that is powered by our uPlasma ionization source and provides fast response.  Aston uPlasma ionization source can survive in corrosive gas environment up to 100x longer than legacy residual gas analyzers.  We already have several clients that are deploying our solution for advanced memory and gate all around processes.  For ALD processing they are very positive on the throughput improvements, along with the robustness of our sensor.  Approximately a 60% improvement in processing time for cycle intensive ALD processing was seen by one client, when using Aston for end point detection.  That results in remarkable throughput and cost savings for high layer count 3D-memory technologies and gate-all-around processes.
ALD and ALE is very challenging for legacy metrology, like optical emission spectroscopy, where low signal to noise ratio and pulsed or no plasma results in no light emitting species, making OES ineffective.   The other common metrology solution, Residual Gas Analysis, has problems with corrosive process gases effecting the electron impact ionization source, which reduces their operating life to an impractical few hours before they must be serviced.  Aston has solved both problems:  our uPlasma ionization source is up to 100x more robust than RGAs and it works with or without a process plasma, which OES needs to function.  Add to that high sensitivity and repeatability and you have a one-of-a-kind solution for semiconductor ALD process metrology.   We are working with leading Fabs across the world right now on their evaluations – it's a very exciting time at Atonarp.
Which markets is Atonarp targeting?
The greatest customer pull has been in ALD and ALE applications so far.  There is also significant interest in dry pump vacuum protection, chamber management like clean end point optimization and chamber seasoning for better SPC.  Additional interesting use cases are as a precision source of actionable data for machine learning process optimizations and emerging uses in advance lithography like EVU light source tin hydride monitoring and EUV pellicle manufacturing.
Final thoughts on the semiconductor FAB market?
The semiconductor FAB market is an exciting place to be, fast paced, data and results driven, detail oriented, constantly striving to improve and always looking for lower cost solutions.  Semiconductors are vital technology and their importance to the world's economy and our quality of life has never been greater.  I'm excited for the significant differentiated capabilities that Atonarp's products bring to the semiconductor metrology application space and the true advancements our technology enables in semiconductor process control.
Also Read:
CEO Interview: Toshio Nakama of S2C EDA
COO Interview: Michiel Ligthart of Verific
CEO Interview: Srinath Anantharaman of Cliosoft
Share this post via: